Centre not sending allocated quantity of oxygen: Delhi government
Centre not sending allocated quantity of oxygen: Delhi government
Written by
Nikita Gupta
(Sourced from PTI)
Apr 29, 2021, 12:44 pm
3 min read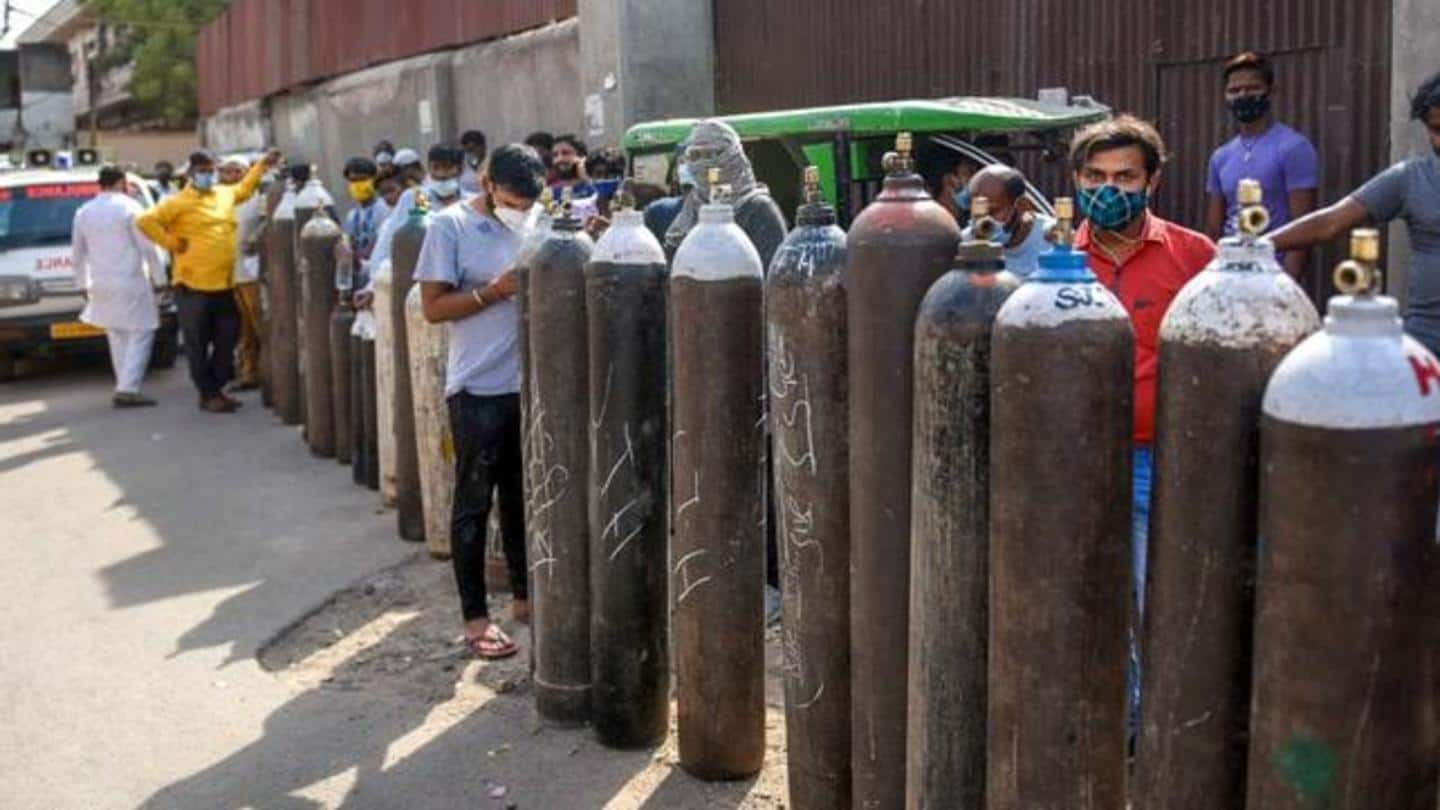 The Delhi government on Wednesday claimed that it is not receiving the oxygen quantity allocated to it by the Centre even as an official order has been issued to allot a detailed proportion of the supply of the life-saving gas to hospitals. We received 402 metric tonnes of oxygen yesterday and the day before that 408 metric tonnes, the AAP claimed in a statement.
A 'detailed allocation of oxygen' to hospitals has been prepared
"The government has been allocated 490 MT of oxygen and has worked out a "detailed allocation of oxygen" to the hospitals on the basis of bed capacity and requirement of oxygen for ICU and non-ICU beds," an official order said.
Actual supply to hospitals subject to actual delivery in Delhi
The order said the allocation has been worked out based on the standards for calculation for the requirement of oxygen for ICU/non ICU beds and the hospital bed capacity. The actual supply of oxygen to the hospitals shall be subject to the actual delivery of oxygen in Delhi, which is seen to be lower than the allocated quantity, the order claimed.
Calculations for allocation based on certain standards
The calculations for the requirement of oxygen for ICU/non-ICU beds have been done according to these standards, 10 liters/minute of oxygen supply to a non-ICU bed and 24 liters/minute to an ICU bed. The supply of oxygen is subject to change as per the allotment to Delhi and the requirement and availability of the number of COVID-19 facilities and the actual delivery of oxygen.
Hospitals can also arrange oxygen from other manufacturers
To maintain smooth distribution to pre-existing arrangements with hospitals, the suppliers may also pick up oxygen from any other manufacturer allotted to Delhi within the overall quota of such a manufacturer. Hospitals that use oxygen cylinders may receive supply against the allocation provided in this order either through their refiller plant or any other direct or indirect arrangement with allotted manufactures and suppliers.
Delhi government to set up 44 oxygen plants across hospitals
Chief Minister Arvind Kejriwal on Tuesday announced his government will import 18 cryogenic tankers from Thailand and 21 ready-to-use oxygen plants from France. Within a month, the Delhi government will set up 44 oxygen plants at various hospitals, including 21 that will be imported from France. The Centre will install eight oxygen plants by April 30, Kejriwal had said.
Delhi records over 300 deaths due to COVID-19
Delhi logged a record 381 COVID-19 deaths on Tuesday, while the positivity rate stood at 32.72 percent. This was the sixth day on the trot that Delhi has recorded over 300 deaths due to coronavirus. The national capital had recorded 20,201 cases on Monday, 22,933 on Sunday, 24,103 on Saturday, 24,331 on Friday, 26,169 on Thursday, and 24,638 on Wednesday.