'Avengers: Endgame' needs $28 million to break Avatar's record
'Avengers: Endgame' needs $28 million to break Avatar's record
Written by
Trivesh Sharma
Jul 01, 2019, 09:24 pm
2 min read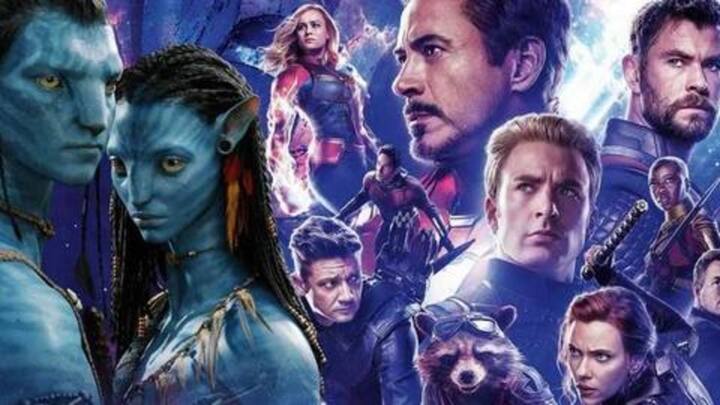 Once again, Russo brothers have proved their mettle with the phenomenal Avengers: Endgame. The bedazzling flick of superheroes was re-released last week on Friday, and has garnered a whopping $5.5 million in the American market and $2.3 million worldwide. But to dethrone James Cameron's Avatar, which is the top grossing movie worldwide, Endgame is still $28 million away on the circuit. Here is more.
'Endgame' reaches $2.76 billion, 'Avatar' still the highest grosser
Endgame has grossed $2.76 billion till now in total. However, it falls short of $28 million to break the record of Avatar, which garnered $2.79 billion worldwide, making it the highest grosser in the world for 10 years. Endgame features Iron Man (Robert Downey Jr.), Captain America (Chris Evans), Captain Marvel (Brie Larson), Black Widow (Scarlett Johansson) and Ant-Man (Paul Rudd), among others.
Re-released version of 'Avengers Endgame' needs $28 million for jackpot
Reports: 'Endgame' might need another re-release to defeat 'Avatar'
Reportedly, if Endgame manages to earn $15 million in next one week, it would still need a theatrical re-release to topple Avatar. Comparatively, Avatar is way ahead of Endgame in key markets: France (Avatar $175.6mn; Endgame: $59.3mn), Japan (Avatar $172mn; Endgame: $54.7mn), Germany (Avatar: $162.3mn; Endgame: $63mn), Russia (Avatar: $117mn; Endgame: $45.6mn), Spain (Avatar: $110mn; Endgame: $32.5mn) and Italy (Avatar: $83.5mn; Endgame: $33.8mn).
Re-released version contains Stan Lee tribute and new Hulk scene
In Endgame's re-released version, we can see some deleted scenes and new content, which were excluded from the movie initially. It also includes a Stan Lee-tribute, one of Hulk's deleted scene, an introduction video by director Anthony Russo and a short clip of Spider-Man Far From Home, which released on June 28 (Japan). Will we see Iron Man and Black Widow's return in this?
Did you know: 'Endgame' was to feature another Thanos attack?
Talking of Black Widow, her sequence with Hawkeye on Vormir was an extremely emotional one. Notably, Jeremy Renner, who plays Hawkeye, said that the original sequence was to have an attack by Thanos. "It's a re-shoot we did about six months ago. The original was a lot more complicated with an attack by Thanos," Jeremy said at Ace Comic-Con in Seattle.