Disney nabs rights to Sony films after Netflix window expires
Disney nabs rights to Sony films after Netflix window expires
Apr 23, 2021, 12:43 am
2 min read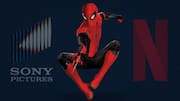 Disney has inked a deal with Sony Pictures that will make sure that all their films including Spider-Man titles hit Disney platforms after the expiry of their Netflix window. The content licensing agreement covers all theatrical releases starting from 2022 and will go on till 2026. Sony and Disney haven't publicized the financial aspect of the contract but it is expected to be massive.
Here's how the content deal will pan out
To simplify the deal, here's how it will essentially work from next year. When Sony Pictures release a film in 2022, it will hit theaters first. After that, paid rentals, VOD, and DVD/Blu-Ray purchases will follow. It will then move to Netflix as per their current deal with the streaming giant and after that, it will finally head to the various platforms on Disney.
A big library of films is coming soon to Disney
The library of current titles that will be heading to Disney includes Marvel characters that come under Sony, as well as franchises like Hotel Transylvania and Jumanji. Sony's upcoming 2022 releases like Uncharted, Morbius, Bullet Train, and the Spider-Man: Into the Spider-Verse sequel will also be included. This will help unite more of the Marvel Cinematic Universe (MCU) properties in a single spot.
Landmark multi-year, platform-agnostic agreement, Disney executive says
The two names behind the intriguingly complex deal are Chuck Saftler (Disney) and Keith Le Goy from Sony's end. Saftler called the deal a "landmark multi-year, platform-agnostic agreement" that will be a win-win for fans. Meanwhile, Le Goy called the pact "groundbreaking" and talked about their intention of making their films "available to consumers across all windows with a wide range of key partners."
Early this month, Sony struck a 'forward-thinking agreement' with Netflix
Recently, Sony joined hands with Netflix too by giving the streamer exclusive rights in the United States to stream its 2022 theatrical releases. Under the agreement, Netflix will also be able to license an unspecified number of older titles from Sony. Netflix global film head Scott Stuber said that they are "thrilled" to partner with Sony Pictures and called the deal a "forward-thinking agreement."