#IshaAmbaniWedding: Abhishek explains why SRK, Aamir served food to guests
#IshaAmbaniWedding: Abhishek explains why SRK, Aamir served food to guests
Dec 17, 2018, 04:25 pm
2 min read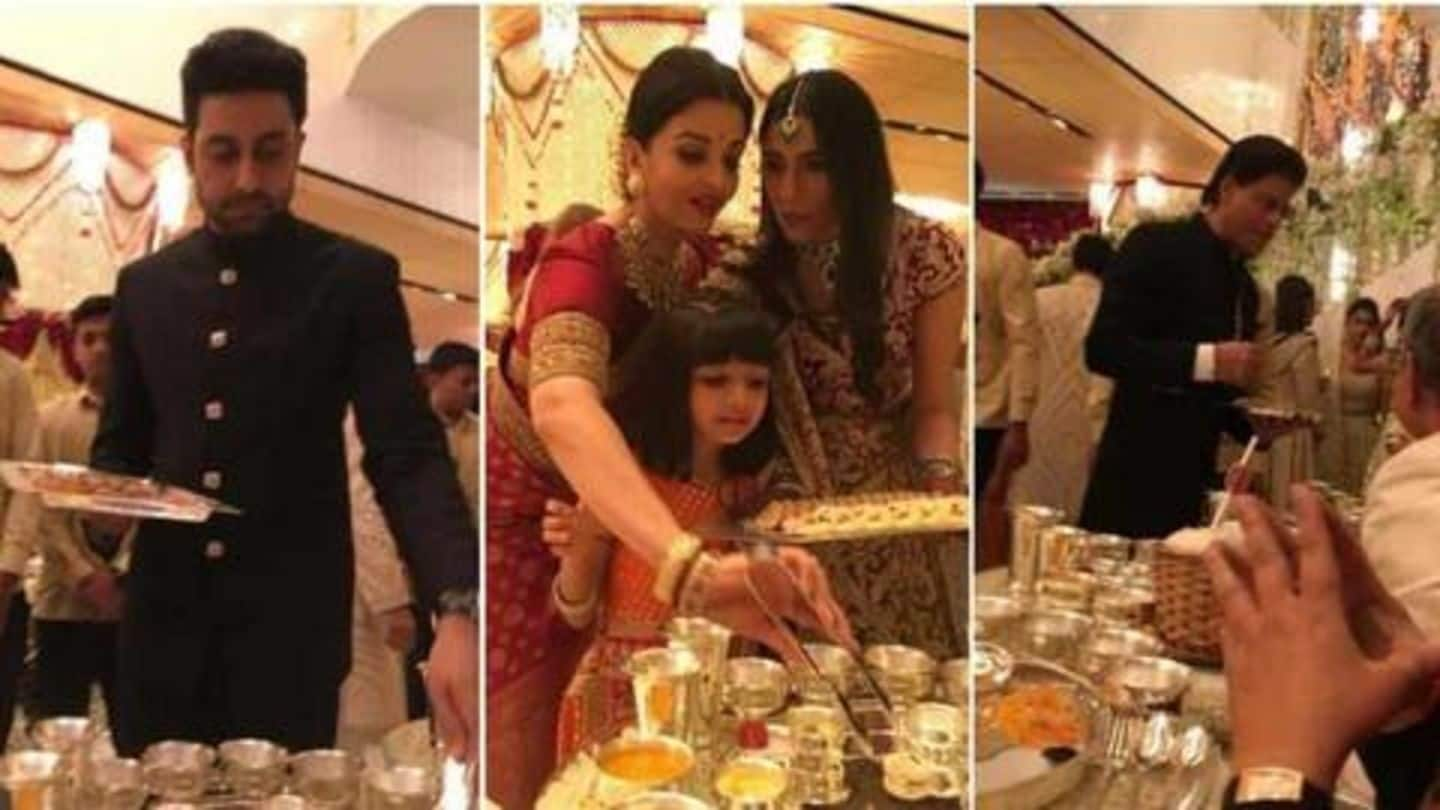 When Isha Ambani married Anand Piramal last week, entire Bollywood got into a festive mood. The celebrations of the influential Ambanis got bigger when celebrities danced and sang. In a viral video, Bachchans and Khans were also seen serving food to guests. This video got netizens thinking (and joking) about Mukesh Ambani's power. Now, Abhishek Bachchan has revealed the reason behind this gesture (?).
Bollywood celebrities served food to the Piramals
In the video, Bollywood biggies like Amitabh Bachchan, Shah Rukh Khan, Aamir Khan, were seen being the perfect hosts to the Piramals. Now the wedding redefined extravagance but the cine stars, who enjoy a huge fan following, serving food took it to another level altogether. While many lauded the celebrities for their humility, several wondered the real reason for this sycophancy.
The 'Shahenshah' of Bollywood became the perfect ladkiwala
It's a Gujarati tradition, explains Abhishek
Putting all questions (and memes) to rest, Abhishek Bachchan said the stars participated in a Gujarati tradition called sajjan ghot. Abhishek explained to a Twitter user that as part of this tradition the bride's family feeds the baraatis. Notably, the Twitter user appreciated the tradition.
Abhishek Bachchan puts the questions to rest
It is a tradition called "sajjan ghot". The brides family feeds the grooms family.

— Abhishek Bachchan (@juniorbachchan) December 16, 2018
Notably, Amitabh Bachchan also became the 'master of kanyadaan'
While the video highlighted Bollywood's strong connection with the Ambanis it didn't end there. Apart from serving food to the guests, Amitabh Bachchan was given another major responsibility - to be the 'master of kanyadaan'. He had to recite the meaning of the ritual. As expected, Big B did the job perfectly by delivering an emotional speech during the ceremony.
Big B's speech was all about father-daughter love