'Kabir Singh' review: Shahid Kapoor is the only saving grace
'Kabir Singh' review: Shahid Kapoor is the only saving grace
Jun 21, 2019, 06:53 pm
4 min read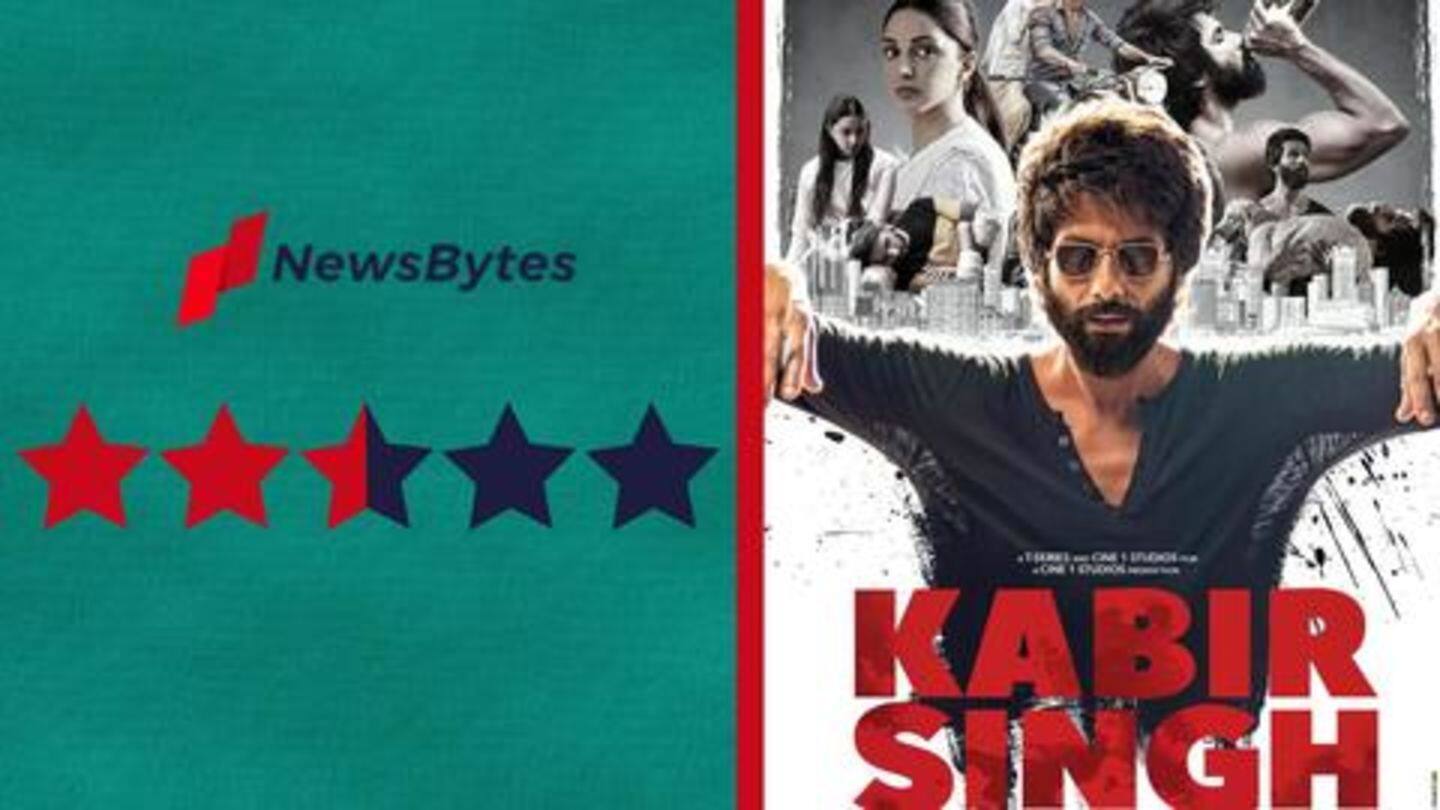 Whether a feeling or an emotion, whatever undying love is, it boasts of an indomitable character. What scares me about love is that it deals in extremes. And that it's complex. One extreme facet of love is explored in Sandeep Vanga's Kabir Singh, a remake of his own Telugu blockbuster Arjun Reddy (2017). Here is our review.
A rebellious medical school senior falls for a chary fresher
Kabir Singh (Shahid Kapoor) is the quintessential college heartthrob at a reputed Delhi medical school. Whether in class or on football field, he is the undisputed winner. However, rebellious prodigy reflects his softer side when he encounters college fresher, Preethi (Kiara Advani) and falls head-over-heels for her, right away. And thus begins a fairytale college romance between two contrasting characters.
A fairy tale love story soon takes an unfortunate turn
Perpetually charged with passion and marred by anger management issues, Kabir is essentially a maniac. He does everything with heat and heart. And so he loves. The way he looks at Preethi is how every girl craves to be looked at. You soon realize, though, that it's not a fairytale but an intense love capable of turning dangerously obsessive and destructive, as it does.
One thing that impressed me early on in the film is the fiery and intense chemistry between the two lead characters. Their passionate relationship is, often times, reminiscent of the viewer's own tryst with love.
'Kabir Singh' is symbolic of obsession in several ways
In more ways than one, Kabir Singh is a film that symbolizes and (unfortunately) stylizes obsession. To begin with, it's a copy-cat remake of an already hit film from the same director, which clearly reeks of obsession. Then, of course, there is our 'brilliant' surgeon protagonist who loves so obsessively that he can't make any sense throughout the (exhausting!) three-hour narrative of the film.
And, it's riddled with too many cliches
Kabir and Preethi share a relationship that only goes uphill through the years, even survived the long-distance phase after Kabir's graduation. But, a disagreeing father comes their way and Preethi is eventually married off to another man. Now, I don't necessarily hate cliches, but when you handle them with immaturity and insincerity (as this film does), it ends up ruining your product.
The high notes of first-half are ruined by stretchy second-half
To be fair, Kabir Singh isn't without its moments. In fact, the first-half of the film is genuinely engaging and entertaining, with some really high notes. By the time the film breaks for intermission, the platform is set. But some seriously stretchy scenes (that don't add up to anything) and unabashed length ruin things eventually. The makers could totally do with some cutting here.
Shahid slips into Kabir's soul and owns him
Riddled with cliches, unnecessary length, and too many loose ends, Kabir Singh's only saving grace is a breathtaking performance by Shahid Kapoor. Clearly, what Shahid has done here is more than acting. It's as if the man slipped into the soul of Kabir and breathed life into him for the screen. If nothing else, Shahid's utterly brilliant screen presence is worth your time.
Such exemplary performance surely deserved a (way) better film
It's not as if Shahid has displayed his genius for the first time. He has proved his mettle in the past with films like Udta Punjab and Haider. Witnessing such exemplary performance leaves you wishing that the man had been supported by a nicer script.
Unfortunately, Kiara Advani is only good in parts
Unfortunately for the film, Kiara Advani (M.S. Dhoni: The Untold Story, Lust Stories) as Kabir's love-interest Preethi is only good in parts. In fact, often times, she ends up underplaying her role or comes off as downright unconvincing. Maybe Shahid's overshadowing presence and lack of character depth are to be blamed. The supporting cast also includes Nikita Dutta, Suresh Oberoi, and Arjan Bajwa.
All in all, 'Kabir Singh' is a major disappointment
If you happen to be a Shahid Kapoor fan, turn in to the theater now and marvel at the unabashed display of his amazing acting acumen. Otherwise, given the cliched storytelling, mediocre writing, and too much resemblance to the source material, the film packs way too many flaws that even Shahid can't redeem it, by the end of it all. Final verdict: 2.5/5 stars.