'Love Aaj Kal': CBFC modifies Sara and Kartik's intimate scenes
'Love Aaj Kal': CBFC modifies Sara and Kartik's intimate scenes
Feb 13, 2020, 12:22 am
3 min read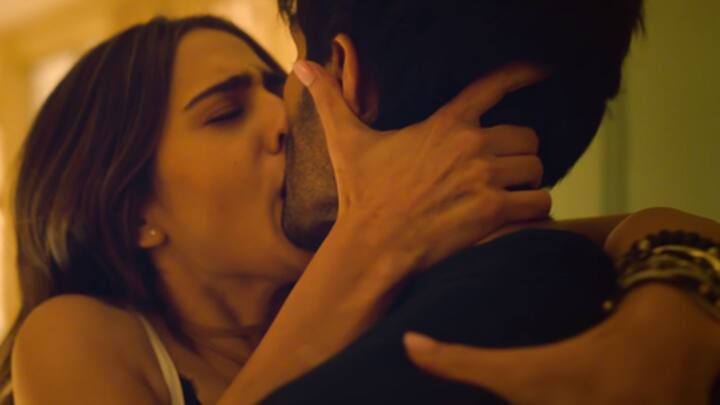 Even as the Central Board of Film Certification (CBFC) passed Imtiaz Ali's upcoming movie Love Aaj Kal with a U/A certificate, it axed several intimate scenes from it. According to reports, the censor board has cut short, modified, and even removed a number of intimate scenes shared by the lead actors Sara Ali Khan and Kartik Aaryan. The sanskari board has struck again!
CBFC handed the certificate on February 5
According to the CBFC's cut list, a kissing scene at the beginning of the movie has been "reduced to flash", while another intimate scene has been modified. Meanwhile, the censor board has also blurred the visuals of cleavage, appearing after the intimate scene. In another scene, shots of actors undressing have also been removed. The CBFC reportedly handed the certificate on February 5.
Sexually abusive word replaced, F-word muted
Further, a certain sexually abusive word has been replaced with "a**". Reportedly, the F-word has also been muted at various places. Meanwhile, the word "H*r**m*****n" has been replaced with "S**le besharmo". The total length of the movie now stands at 2 hours and 21 minutes.
Recently, 'Malang', 'Gully Boy' also became victims of censorship
Quite recently, Mohit Suri's romantic thriller, Malang, starring Aditya Roy Kapur and Disha Patani, was awarded an adults-only [A] certificate by the censor board. Further, words relating to drug use (such as "pot" and "joint") were chopped off. The makers were also asked to add special disclaimers. Previously, a certain intimate scene in Alia Bhatt and Ranveer Singh's Gully Boy was also trimmed.
The movie's trailer was heavily slammed
To recall, the Love Aaj Kal trailer, that released last month, was heavily bashed. It garnered poor reactions, with many pointing out how it was blatantly similar to Imtiaz's own movie by the same name from 2009. The trailer was also criticized for a lack of chemistry between the lead actors, Sara and Kartik's unimpressive acting, and weak dialogs.
For the first time, it actually hurts: Sara on criticism
Reacting to the criticism, Sara had said, "I don't mind being trolled for being fat...But I am here to act. That is my job. That is my profession. That is serious." "So, when I am trolled for that...it is harder for me to sit there and say ignore the trolls. For the first time, it actually kind of hurts," she had shared.
'Love Aaj Kal' to release this Valentine's Day
Love Aaj Kal marks the first onscreen collaboration between Sara and Kartik. It is also the actors' first outing with Imtiaz. Similar to the original one, the story of the new movie is also set in two separate time periods, this time in 1990 and 2020. Also starring Randeep Hooda and Arushi Sharma (who worked in Tamasha), the movie will release on February 14.
The original 'Love Aaj Kal' was declared a super-hit
For the unversed, the original Love Aaj Kal, starring Deepika Padukone and Sara's father Saif Ali Khan in the lead, became a favorite among the audiences and was also a box-office success. It also starred Rahul Khanna, Rishi Kapoor, and Giselli Monteiro in pivotal roles.