'Sharmaji Namkeen' review: Rishi Kapoor's last film is savory, sweet
'Sharmaji Namkeen' review: Rishi Kapoor's last film is savory, sweet
Written by
Shreya Mukherjee
Mar 31, 2022, 04:46 pm
2 min read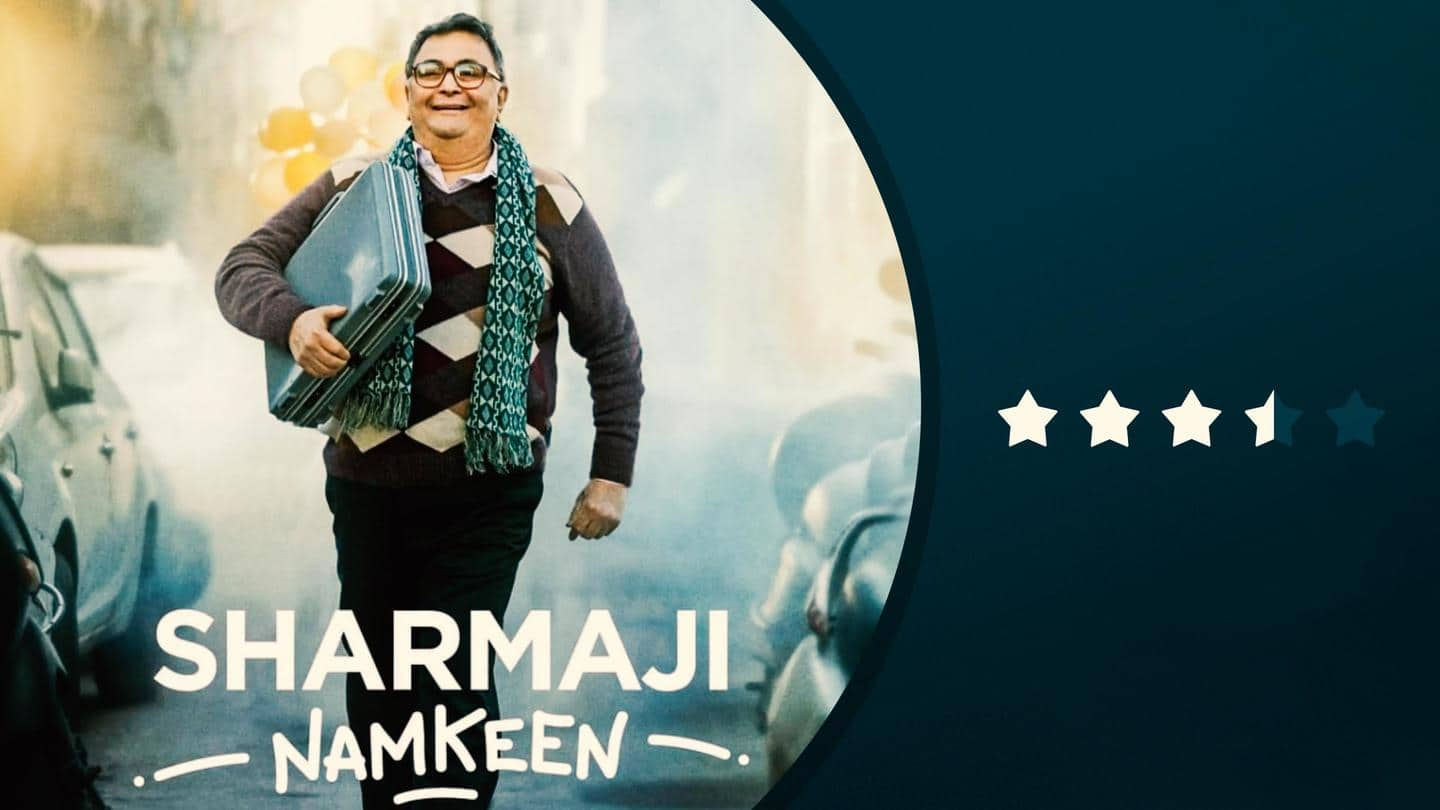 Rishi Kapoor's last Hindi film Sharmaji Namkeen debuted on Amazon Prime Video on Thursday. While he had shot the major part of the comedy, he could not finish it and Paresh Rawal stepped in to complete the production. How did the two actors mesh onscreen while playing Brij Gopal Sharma, a 58-year-old retired man who loves to cook? Here's our detailed review.
No meaty story to explore here, but an experience
As far as the plot is concerned, there's no layered tale waiting to be discovered here. Instead, debutant director Hitesh Bhatia focuses on the life of Sharma, how he was sent on forced voluntary retirement at 58, and how he's constantly looking for things to keep himself busy. To complement this premise, we get the all-too-familiar setting of a middle-class Delhi household and society.
Sharma has a keen interest and mastery in cooking, a hobby that mostly gets unnoticed/underappreciated by his near ones. But things change when he gets the opportunity to professionally cook at a gathering. Of course, Sharma is apprehensive about this new endeavor, given the anticipated sour reaction from his two sons and kin. Will he succumb to societal ideals or listen to his heart?
Bittersweet to witness Kapoor's magic onscreen one last time
As Ranbir Kapoor said before the start of the movie, getting two actors to play the same character in a movie is "extremely rare." I was also apprehensive about relating to two actors. However, watching Kapoor in his charming element and Rawal trying to emulate the same wins you over. It was heartwarming to witness Kapoor's magic on celluloid, one last time.
Watch this light-hearted gem with your family
The simple yet touching dialogs are quite fulfilling. Juhi Chawla gets a small yet fleshed-out role, so does Suhail Nayyar as Sharma's eldest son. Aside from them, Isha Talwar, Sheeba Chadha, Taaruk Raina, Satish Kaushik, Ayesha Raza Mishra, Parmeet Sethi are adequate in their parts. Sharmaji Namkeen does a good job of reminding us how our passions feed our souls. Verdict: 3.5/5 stars.