'Shikara' has its flaws, and the burden is on Bollywood
'Shikara' has its flaws, and the burden is on Bollywood
Written by
Shikha Chaudhry
Feb 10, 2020, 05:32 pm
3 min read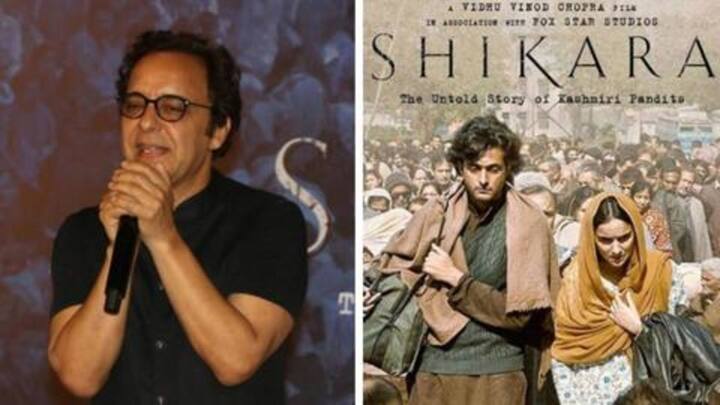 Shikara is a movie that managed to hurt everyone, across the spectrum. Kashmiri activists felt that the Muslims were portrayed in a bad light, Kashmiri Pandits asserted that their genocide was whitewashed, and clueless liberals (like always) called it Islamophobic. The ones like me who went to see the blood clots in the moon were left disappointed. Filmmakers would argue they used their creative freedom, but when you decide to tell a tough story, don't take a simple path.
Disclaimer: A young author at NewsBytes gave it 3.5 stars
It should be noted that NewsBytes did give the movie 3.5 stars. Our reviewer was impressed, we didn't curtail his freedom of expression and we co-exist. But, I am scared that our youngsters are this impressionable. That's the story for another day, though.
First, the good parts, because there aren't many
The movie didn't set out to play entirely safe, it was 'almost' safe though. It showed the death of protagonist's brother (they conveniently didn't show who killed him), their house was burnt (they conveniently showed how one neighbor saved them), there were newsreels of Benazir Bhutto (they conveniently missed to show the Indian politicians). There were azaadi slogans, but they conveniently missed this one 'Asi gachchi Pakistan, Batao roas te Batanev san' (We want Pakistan along with Hindu women, but without their men).
Narrative was simplified to guns, radical Islamists got a free-pass
The safe part is tolerable, simplification of the narrative is not. Genocide in Kashmir didn't happen because some youngsters like Lateef (protagonist's best friend) were given guns by the US. Women weren't gang-raped because they didn't wear hijab. Kashmiri Pandits weren't butchered by their neighbors because it was some religious dispute. It happened because the radical Islamists wanted freedom from India. They were a problem then, they are a problem now.
True to Bollywood's style, even 'Shikara' was Hinduphobic (in parts)
If over-simplification wasn't enough, the movie on the brutality suffered by Kashmiri Hindus at the hands of radical Islamists was, in fact, Hinduphobic in parts. The most striking bit was when kids in the refugee camps were shouting "Mandir wahin banayenge". Though our protagonist handles the sloganeering with humor, the irony is rather intense. The pertinent question remains: Was it insensible or sinister? I'd go with latter.
Shikara isn't Vidhu Vinod Chopra's truth, it could be Pandita's
Having said that, the aim of this author is not to vilify Rahul Pandita, one of the writers of the movie. He was one of the Kashmiri Pandits who went through the atrocities leveled at them, he can choose to not hold a grudge against them, and he can decide to showcase his experience in a less gruesome manner. In a world of binaries, I am not calling him a hero or a villain, but a survivor.
But, Vidhu Vinod Chopra needs more introspection
End of it, it wasn't even a good love story
Even the makers can't defend their product, and hence changed its title from 'Untold story of Kashmiri Pandits' to 'A Timeless Love Story'. But, as a viewer, I won't even call it a good love story. There was no character build-up, there were too many loose ends, and cinematography was, at best, mediocre. Bollywood lived up to its reputation: mediocre, insensible and mediocre again.
Wadi tera beta hu, main pandit hu
Quoting a line from the movie, Ek din tumse milne vapas aaunga, Kya hai dil main sab kuch tumhe bataunga, Kuch barso se tut gya hu, Khandit hu, Wadi tera beta hu, Main pandit hu. We shall wait for that day, Bollywood!