#SeriesInFocus: After Meghan, Patrick's exits how's 'Suits' faring? We decode
#SeriesInFocus: After Meghan, Patrick's exits how's 'Suits' faring? We decode
Written by
Shuvrajit Das Biswas
Sep 09, 2018, 04:56 pm
3 min read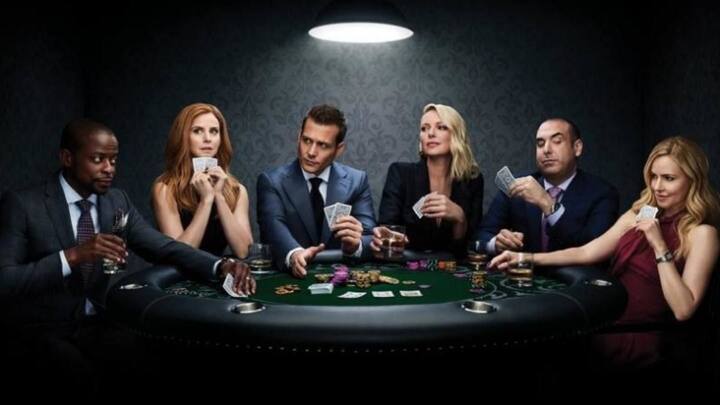 Season 8 of the hit-show 'Suits' saw the beloved law firm undergo another change. The firm which had started off as 'Pearson Hardman' became 'Zane, Specter, Litt'. Interestingly, Season 6 had seen Gina Torres' character, Jessica Pearson exit the show. And, by the end of Season 7, two major members, Patrick J. Adams (Mike), and Meghan Markle (Rachel) both left. Still the new season came out with panache!
Happiness for some, season change for others
Notably, Markle got engaged to Prince Harry on November 27, and the actress announced her exit from the show the next day. Markle played Rachel Zane, a smart endearing paralegal and one of the protagonists, Mike Ross' fiancee. Along with Markle, Patrick, who played Mike, also left. With two major characters exiting, the story needed a new direction and Season 8 did exactly that.
If you recall, in Season 7 the protagonist Harvey Specter welcomed a powerful attorney Robert Zane into his firm in order to save it. However, it soon led to a power struggle as to who would be the top dog. Harvey is not one to back down from a fight, but Zane tried showing him his place. As Zane takes charge, Harvey has found a new Jessica.
Hey Harvey, meet female Harvey
One of the best parts about 'Suits' was the chemistry between Mike and Harvey. The former's sharp wit and the latter's style made for a great combination. However, with Mike leaving, the show introduced an extremely different angle. Samantha is a fixer, a powerful attorney. Most importantly, she hates losing. The competition and mutual respect between Harvey and Samantha are now highly enjoyable.
At the law-firm, it's all about power play
Louis Litt, another named partner, sees a massive character development, as the show continues to explore his insecurities and humanizes and endears him to us. Alex Williams, who was introduced last season, seems to be fascinating enough in some moment but does not hold a candle to the top tier politics that goes on in the firm. The new characters keep the workplace interesting!
What's in it for the Suitors? Same wine, new bottle
While Season 8 brought a lot of changes on the surface, everything appears the same. Harvey is back to the second place in the firm, the leader is a powerful person (reminiscent of Jessica). Harvey and Louis still have their moments of friendship and rivalry. However, the most difficult replacement has been done flawlessly. The Harvey-Samantha equation has successfully eclipsed the Mike-Harvey one.