Seven top sports movies even non-sports lovers will enjoy watching
Seven top sports movies even non-sports lovers will enjoy watching
Written by
Pallabi C Samal
Sep 20, 2019, 03:54 pm
3 min read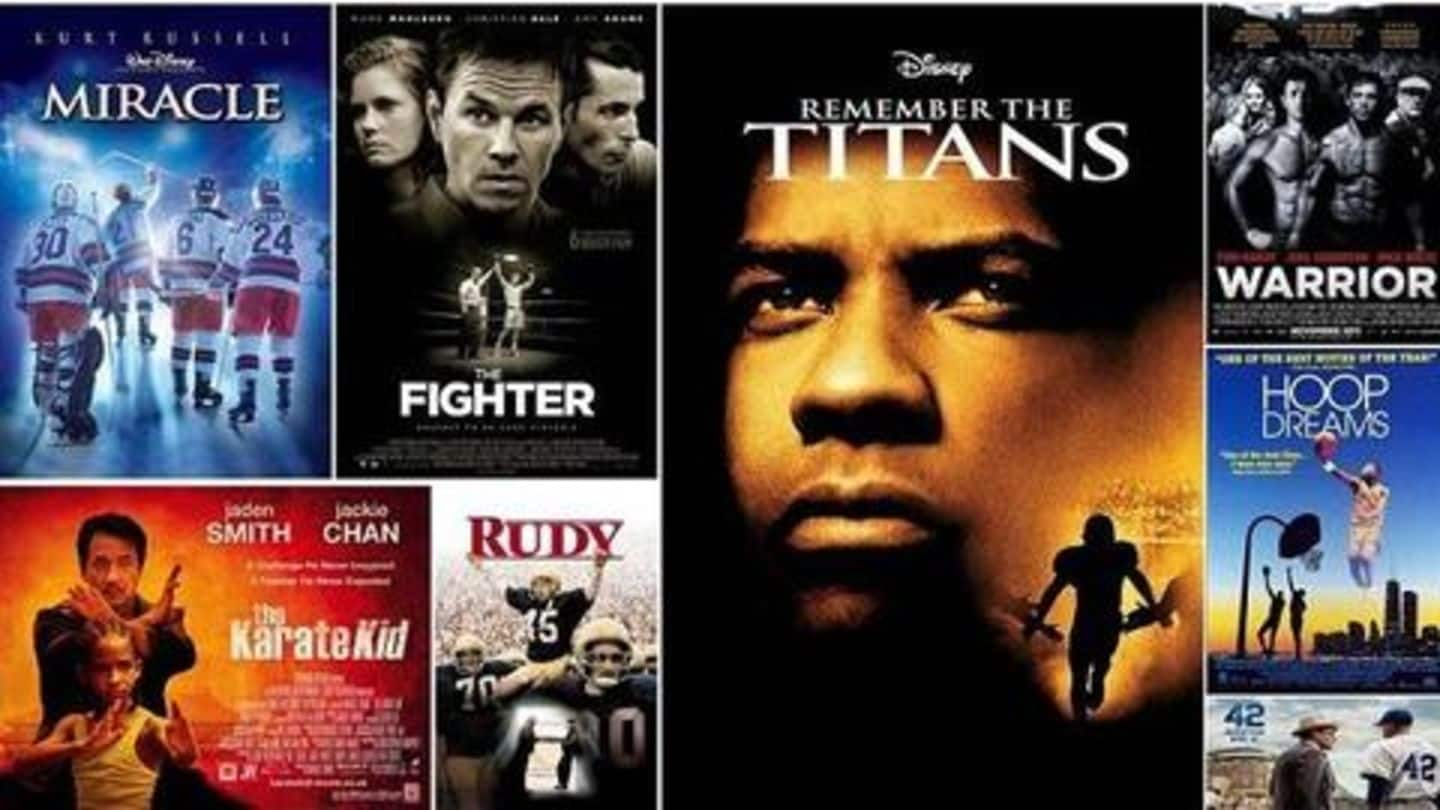 Sports genre films are entertaining and inspiring at the same time, and don't show much gore. In this type, sport is usually not the central theme; rather it is how the protagonist masters the game after being trained under a worn-out coach, and emerges successful. Here's a compilation of seven top movies you can watch and enjoy, even if you aren't a sports fan.
'The Karate Kid': Kung fu can be taught differently
Every scene of The Karate Kid has a lot of emotions. The Jaden Smith-Jackie Chan starrer shows how an unlikely bond between Dre Parker (Jaden) and Mr. Han (Jackie) paves way to something extraordinarily beautiful. The film also highlights how kung fu can be taught in two different ways: One through love, benevolence with the necessary aggression, and another through brash moves and brutality.
'Invictus': Sports drama set against backdrop of post-Apartheid era
Boasting a 7.3 IMDb rating, Invictus remains an eternal favorite sports film, mainly because of the tricky post-Apartheid era backdrop, and excellent performances by Morgan Freeman (Nelson Mandela) and Matt Damon (Francois Pienaar). This biographical drama, a Clint Eastwood directorial, is set in South Africa, before and during the 1995 Rugby World Cup. Both Freeman and Damon got Academy Award nominations.
Sylvester Stallone became one of Hollywood's greatest through 'Rocky'
The film that established Sylvester Stallone as one of the bankable action stars of Hollywood, Rocky, upon its release was a sleeper hit, but went on to collect a stunning $225mn worldwide. The film gave rise to seven sequels, the latest one being Creed II, which released last year. The boxing sports drama, written by Stallone, also won three Academy Awards, including Best Picture.
'Ali' earned Will Smith his first Academy Award nomination
Ali focuses on one of the greatest boxers of all time Muhammad Ali. It covers a lot of things: Ali's conversion to Islam, Vietnam war criticism, banishment from boxing, his return, and finally reclaiming of title, all set against the upheaval US went through after Malcolm X and Martin Luther King Jr. were killed. Will Smith got his first Oscar nomination for this.
Hillary Swank won an Oscar for 'Million Dollar Baby'
Another Eastwood directorial featuring Freeman, Million Dollar Baby shows how an under appreciated boxing trainer (Frankie Dunn played by Eastwood) helps an amateur boxer to become a pro. Having sports in the backdrop, this 2004 drama won four Academy Awards, including Best Picture and Best Actress for Hillary Swank. Swank trained for five hours daily to play the underdog sportswoman, Margaret "Maggie" Fitzgerald.
'Cinderella Man': Based on a real life heavyweight boxing champ
Easily one of Russell Crowe's best performances, Cinderella Man is a biographical drama that released in 2005. Inspired by the story of heavyweight boxing champion James J. Braddock, the film shows how he emerged from being a small fry to defeating the seemingly invincible Max Baer, eventually becoming the world champion. The film opened to positive reviews and was nominated for three Academy Awards.
Also real life, boxing acts as backdrop in 'Raging Bull'
A Martin Scorsese masterpiece, Raging Bull has all elements of a potboiler: Sexual jealousy, self-destructive rage of the protagonist, and shattering of familial ties. And all of these were shown while chronicling the life of Jake LaMotta, an Italian- American middleweight boxer, who was known as a rough fighter in real life. Robert De Niro portrayed him on screen, for which he gained 27kgs.