Trump calls Taj Mahal 'timeless testament' to India's cultural beauty
Trump calls Taj Mahal 'timeless testament' to India's cultural beauty
Written by
Siddhant Pandey
Feb 24, 2020, 07:07 pm
2 min read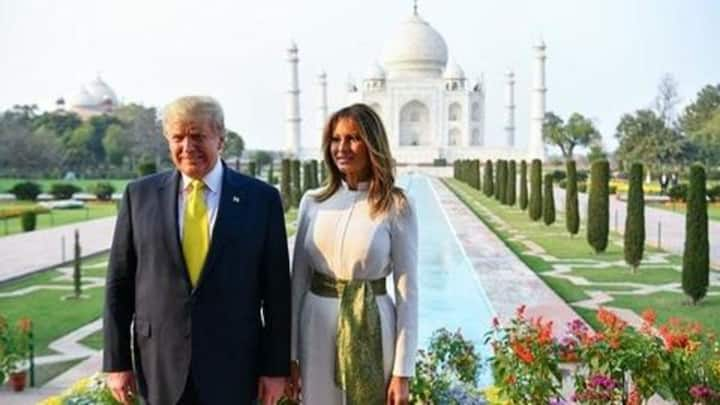 United States President Donald Trump on Monday visited the historic Taj Mahal monument in Agra, Uttar Pradesh, describing it as a "timeless testament" to India's beauty. The US President is on a two-day visit to India and is accompanied by the First Lady Melania Trump, his daughter Ivanka Trump, son-in-law Jared Kushner, along with other top officials of his administration. Here are more details.
Taj Mahal inspires awe: Trump wrote in monument's vistor's book
Trump was welcomed by UP Chief Minister Yogi Adityanath and Governor Anandiben Patel at Agra's Kheria airport. Thereafter, the President's cavalcade headed to the Taj Mahal. The Trumps visited the monument for about an hour, following which, the US President wrote in the visitor's book: "The Taj Mahal inspires awe. A timeless testament to the rich and diverse beauty of Indian culture."
Donald and Melania Trump walk inside Taj Mahal complex
Ivanka Trump, Jared Kushner also visited the Taj
Trumps arrived in Ahmedabad earlier today
The Trumps landed in India at Ahmedabad's Sardar Vallabhbhai Patel international airport earlier on Monday. The US President's arrival kicked-off the "Namaste Trump" event: a reciprocation of last year's "Howdy, Modi!" event in Houston, Texas. Trump addressed a huge gathering at the Motera Stadium, speaking on strengthening India-US ties and supplying India with the "most feared military equipment on the planet."
Trump visited Sabarmati Ashram in Ahmedabad
During his brief stay in Gujarat, Trump also visited the Sabarmati Ashram, which is among the many residences of Mahatma Gandhi. Controversially, Trump made no mention of Gandhi in the Ashram's visitor's book, only choosing to thank Prime Minister Narendra Modi for a "wonderful visit."
After Agra, Trumps to visit Delhi
After Agra, Trump and his company are scheduled to travel to Delhi. Delhi will be the third and last stop in the Trumps' visit to India, following which, they will return to the US. In Delhi, Trump is expected to meet some delegates on Tuesday and attend a banquet. The First Lady is scheduled to attend a "Happiness Class" at a Delhi government-run school.