CAA protesters attack cops in Ahmedabad, seven youths save them
CAA protesters attack cops in Ahmedabad, seven youths save them
Dec 20, 2019, 12:52 pm
3 min read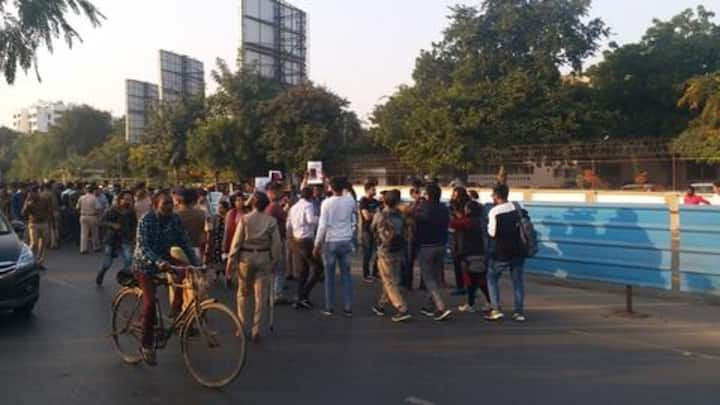 Currently, those who are protesting against the Citizenship (Amendment) Act are seeing police personnel as villains. Across India, cops, tasked with maintaining law and order, are being targeted. And things got out of hand in Gujarat's Ahmedabad when police officers were cornered by a murderous mob. To the cops' fortune, they were saved by seven young men. Here's what went down.
Context: To protest against CAA, India came on streets
Tensions have been rising across India, courtesy, controversial CAA, which will expedite Indian citizenship for non-Muslims from Bangladesh, Pakistan, and Afghanistan. Yesterday, defying prohibitory orders, thousands came on streets to slam the Centre, led by BJP. However, the situation took a violent turn in cities like Ahmedabad, Mangaluru, Lucknow, and Sambhal. To note, two died in Mangaluru and one in Lucknow.
In Ahmedabad, four cops were cornered and attacked
Amid tensions, one particular incident from Ahmedabad, the largest city in Prime Minister Narendra Modi's home state Gujarat, has gained attention. In the Shah-e-Alam area of the city, hundreds of protesters gathered, and nearly 30 people were detained. Thereafter, an angry mob attacked a police vehicle and pelted stones. As chaos raged, four cops were cornered and a ruthless mob hurled bricks at them.
To save cops, Muslim youths stepped up, waved tricolor
Left helpless, one of the cops tried shielding himself using a plastic chair. Just then, a Muslim youth came to their rescue and asked the mob to stop the madness. Seeing the first one, six others joined him. One among them even waved a tricolor. Later, the saviors helped cops leave the area safely. A local politician, Badruddin Shaikh said humanity prevailed at last.
Here's a video of the incident
Miscreants will be identified and FIR lodged, promised top cop
About the untoward incident, Ahmedabad police commissioner Ashish Bhatia said the perpetrators will be identified and FIR will be lodged against them. He said barring this incident, things were almost normal in the area and revealed that some people were detained. Police said markets remained closed in Muslim-dominated places like Juhapura, Jamalpur, Gomtipur and Teen Darwaja. Apart from this, there was no major impact.
Meanwhile, MLA Jignesh Mevani condemned cops' action
To note, Gujarat MLA Jignesh Mevani, who is a staunch critic of BJP, was also detained. He claimed people had not gathered to seek votes, but to raise their voices in a democratic manner. "The manner in which police detained Ramachandra Guha in Bangalore and resorted to lathi-charge in Ahmedabad is condemnable," Mevani said, just before he was taken away by cops.