The inspiring story of the Indian teens who conquered Everest
The inspiring story of the Indian teens who conquered Everest
Written by
Shiladitya Ray
Aug 26, 2018, 12:59 am
4 min read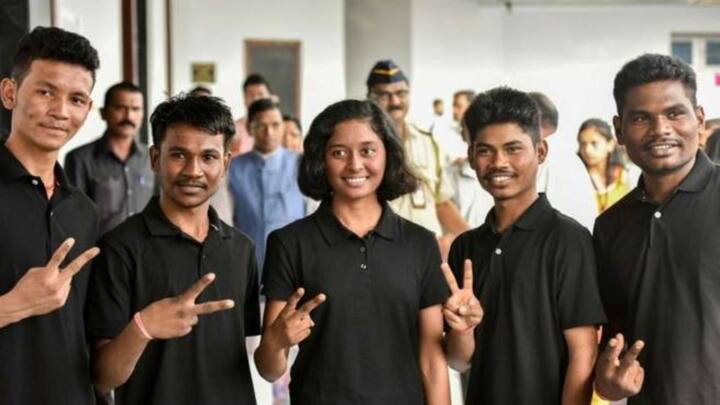 In May this year, five Indian teenagers from the rural district of Chandrapur etched their name in history by scaling Mount Everest. Although they started with a team of 10, only five made it to the top. Tracing their 11-month-long journey from their village to the summit of Mount Everest, the BBC wrote an article documenting their inspiring story. Here's what we learnt.
It all started with an idea
It all started with a senior district official, Ashutosh Salil, who floated the idea of sending tribal children for an Everest expedition. Owing to expenses involved, Salil convinced the Maharashtra government to earmark Rs. 4 cr ($570,560) for the mission. 47 children from the largely tribal district of Chandrapur, Maharashtra, were shortlisted, but only 10 made it through the 10 months of gruelling training.
What comprised the 10-month-long intensive training
The selected students were made to go through intensive training. First, they had to learn rock-climbing in the hilly district of Bhongir in Telangana. Then, they were trained at the Himalayan Mountaineering Institute in Darjeeling, before being sent to Ladakh to get accustomed to high altitudes. At the end of it all, only 10 students were left standing for the expedition.
The students came from poor backgrounds
Veteran mountaineers Avinash Deoskar and his wife Bimla Negi trained the students for the expedition. Deoskar told BBC that the hardest part of training the students was keeping them well-fed and rested. The students largely survived on dry fruits as their families could barely afford meat or milk. Neither had the students heard of Mount Everest before they were picked for the expedition.
Five among the 10 had to abandon the expedition
Then began the expedition. Like most aspiring Everest climbers, the team of 10 youths attempted the feat from the Nepalese side. However, the journey was full of hurdles. Four of the 10 had to abandon the expedition after they fell ill at different points of their journey. Another, Indu Kannake, was also forced to come back owing to her sherpa having to leave.
One teenager had to climb 21,000 feet twice
However, despite seemingly impossible odds, five - Manisha, Umakant Madavi, Parmesh Aale, Vikas Soyam and Kavidas Katmode - succeeded. Among them, Vikas had to climb 21,000 feet twice after his friend fell ill and he had to escort him down the mountain. Determined not to give up, Vikas then climbed all the way back up again.
Vikas recounts his gruelling double climb
"I left from the base camp but my friend who was with me fell ill on our way up. I returned with him from a height of 21,000ft because if I had waited for a few more hours, he could have died," Vikas told BBC.
One of the teens had to endure a ghastly sight
It wasn't easy for the others either. One of them, Manisha, had a trying moment when she caught the ghastly sight of a dead body near the summit. She recounted her legs trembling, but said that instructions from her sherpa inspired her to carry on. She reached the summit just two hours after the ordeal.
All's well that ends well
But, it all ended well. While the five who managed to reach the summit were given Rs. 25 lakh each, the other five received Rs. 10 lakh each. Talking about their plans, Kavidas and Parmesh said they'd use the money to improve farms back at home, while Manisha plans to go to college. However, given the chance, they all said that they'd scale a mountain again.
The teens achieved something that thousands fail to do
"We were surprised to see how quickly they adapted, learnt their lessons and used their common sense to do what thousands of mountaineers fail to achieve. What is remarkable about is that they stuck together as a group," said Negi proudly.