#HealthBytes: 7 health benefits of drinking Beetroot chai
#HealthBytes: 7 health benefits of drinking Beetroot chai
Aug 25, 2018, 08:40 pm
2 min read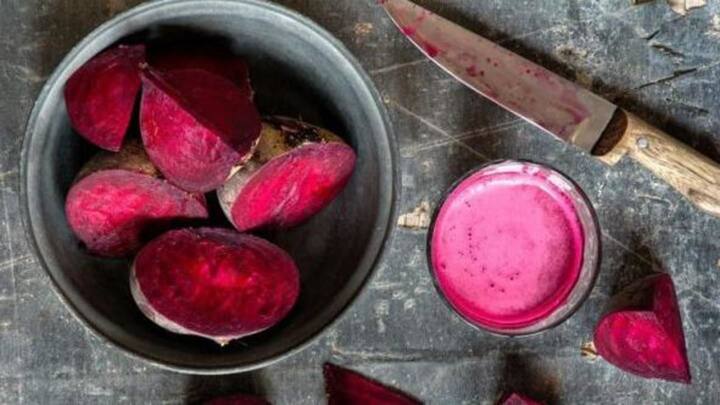 You may or may not have heard of it, but sipping beetroot chai is unbelievably good for health. Known to have miraculous health benefits for pregnant women, the caffeine-free brew has recently started gaining popularity among women (Mira Rajput was spotted sipping some!). Packed with a decent bunch of minerals and antioxidants, beetroot chai has these 7 health benefits to offer.
Drinking Beetroot chai aids in detox; improves digestion
Detox: Rich in phytonutrients that have great antioxidant and anti-inflammatory properties, beetroot helps in natural detoxification of the body. This helps you stay healthy and younger-looking in the long run. Digestion: Betaine, a compound present in beetroot, aids in the production of stomach acid, thus improving your digestion. This helps prevent the risk of gastric issues.
Beetroot chai is packed with minerals; gives you golden-glowing skin
Source of Minerals: Having a good balance of minerals in the body is crucial to our general well-being. Talking about beetroot, it comes packed with potassium, calcium, iron, magnesium, phosphorous, sodium, zinc, and copper. Such a hidden super-food, isn't it? Skin: As beetroot contains Vitamin-C and works as a natural blood purifier, beetroot chai gives a sparkling glow to your skin, and evens your skin tone.
Beetroot lowers systolic, diastolic blood pressure: Study
Researchers have found out that drinking 8 ounces of beetroot juice lowers both systolic and diastolic blood pressure in drinkers. This happens because nitrates present in beetroot juice convert into nitric acid in the blood and help widen blood vessels.
Beetroot tea helps prevent anaemia; is good for pregnant ladies
Anaemia: Beetroot chai, prepared with a bit of amla juice naturally helps raise levels of iron in the blood, thereby preventing risk of iron deficiency. Pregnancy: Folic acid present in beetroot tea helps in proper development of the foetus. Additionally, sipping beetroot tea during pregnancy helps in maintaining healthy levels of haemoglobin and blood sugar in the body.
Here's how you can prepare Beetroot chai
To make Beetroot chai: Take a saucepan, and add - water, tea, cardamom, cinnamon, ginger and beet powder- to it. Start boiling. Once it is sufficiently boiled, pour milk. After a couple of more boils, add maple syrup, vanilla, and rose water. Simmer the solution for about ten minutes. Using a strainer, pour the tea into cups. Garnish with dried rose petals. Serve it hot!