Explained: Why are doctors protesting the National Medical Commission Bill
Explained: Why are doctors protesting the National Medical Commission Bill
Jul 30, 2019, 05:56 pm
3 min read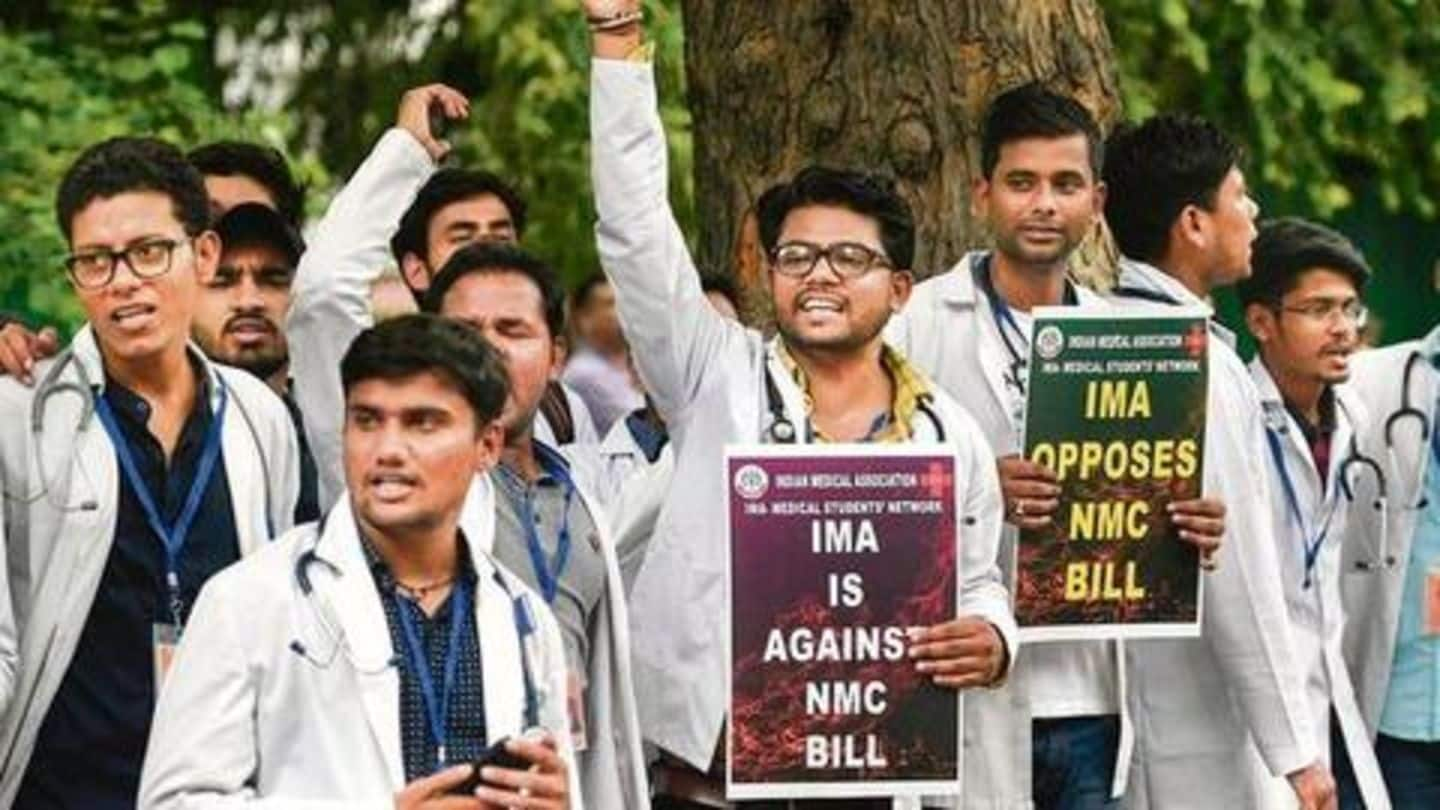 Starting 6 AM on Wednesday, all non-emergency medical services across the nation will remain shut for 24 hours, courtesy a protest called by the Indian Medical Association. The top body of medical professionals is protesting against the National Medical Commission Bill, which was passed in Lok Sabha on July 22. Wondering why is the entire medical fraternity upset with the government? Read on.
All students have been asked to boycott classes in solidarity
In a statement released on Tuesday, IMA said emergency, casualty, and ICU services will function normally. However, public demonstrations and protests will be organized by all the local and state branches of the IMA. "All members of the modern medical fraternity are requested to participate. All the medical students are requested to boycott the classes and proclaim solidarity," IMA's statement read.
But what is the Bill which has angered doctors?
While moving the Bill in the Lok Sabha this week, Union Minister of Health and Family Welfare, Harsh Vardhan, called it the biggest reform, but the medical fraternity disagrees. The IMA has been opposing the Bill since 2016, and the new one has only undergone cosmetic changes. Medical professionals opine the NMC Bill favors private medical colleges and is unfair towards the profession.
Soon, MCI will be a thing of the past
The NMC Bill was proposed as an alternative to the Medical Council Act of 1956. For long, MCI overlooked medical education in the country, but after it was hit by charges of corruption, there have been demands to replace it with a more effective organization. While NMC Bill does that, it also proposed an "exit exam" which doctors will be mandated to appear for.
Students will have to appear for an additional exam
According to the Bill, undergraduate medical students will have to sit for the National Exit Test (NEXT), in addition to final year exams. NEXT will determine who are eligible to apply for post-graduate courses. Moreover, students who have completed their medical course from abroad will have to clear NEXT to get a license to practice in India. Many feel this will put undue pressure on students.
Further, "bridge courses" are causing friction between doctors and government
The NMC Bill also seeks to introduce "bridge courses" which will "train" students from paramedical courses (like physiotherapy and nursing) to give primary healthcare in rural areas. IMA feels this will only promote quackery as no one can become a medical expert through a "bridge course". Doctors argue this is only a quick fix to make up for lack of doctors.
Does the government want to create quacks: IMA's former president
"Even if someone is remotely connected with modern medicine, be it a lab technician, they can now directly practise modern medicine. This is like creating 3.5 lakh, legally, registered quacks in India," said Dr. Ravindra Wankhedkar, former national president, IMA.
IMA has called the Bill anti-poor and anti-student
Moreover, NMC Bill suggests regulation of fees for 50% of seats in private medical colleges and deemed universities. This move will only make medical education costlier, claimed IMA's general secretary RV Asokan. IMA thinks the Bill is an attempt to privatize medical education. Further, IMA has alleged the Bill is anti-democratic, anti-federal, anti-poor, anti-student and will lower the country's medical standards.