BJP to use funds from #NaMoMerchandise sale for cleaning Ganga
BJP to use funds from #NaMoMerchandise sale for cleaning Ganga
Written by
Ramya Patelkhana
Mar 04, 2019, 09:53 pm
2 min read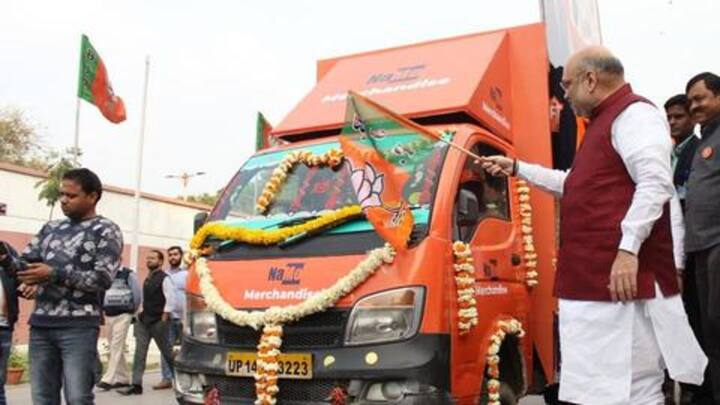 Ahead of the 2019 Lok Sabha elections, BJP chief Amit Shah launched a fleet of NaMo Rath -NaMo (Narendra Modi) merchandise stores on wheels- at the party headquarters in Delhi. Items for sale include collectibles like hoodies, cups, masks, etc.; NaMo Raths will sell merchandise across India. BJP said funds from the sale of NaMo merchandise would be used for cleaning the Ganga River.
Amit Shah flags off NaMo Rath in Delhi
Here's what the Bharatiya Janata Party tweeted
NaMo Merchandise on the wheels
Modi government launched Namami Gange project with Rs. 20,000-crore budget
BJP stated the proceeds from the sale of the NaMo merchandise will be channeled into the Namami Gange project for cleaning up the Ganga River. The Modi government launched the project with a Rs. 20,000-crore budget in 2014. NaMo merchandise, items themed on Prime Minister Narendra Modi, is aimed at seeking people's support for the Prime Minister and BJP in the upcoming elections.
People can order merchandise on official NaMo mobile app
While NaMo Raths will be available at the majority of places, people at areas where these vehicles cannot reach can order merchandise on the official NaMo app. PM Modi earlier in January appealed to citizens to provide feedback through a survey on the app; people were asked to rate the government, BJP leaders, and if the "Mahagathbandhan" in their respective areas will work.
Your feedback matters, says PM Modi to citizens
In a video posted on Facebook and Twitter in January, PM Modi appealed to citizens saying, "I want your direct feedback through the survey on the NaMo app. Your feedback matters. Your feedback on various issues will help us take important decisions." "Will you all fill that survey and also urge others to do so?" he asked.