Bipin Rawat named India's first Chief of Defense Staff: Reports
Bipin Rawat named India's first Chief of Defense Staff: Reports
Dec 30, 2019, 05:40 pm
3 min read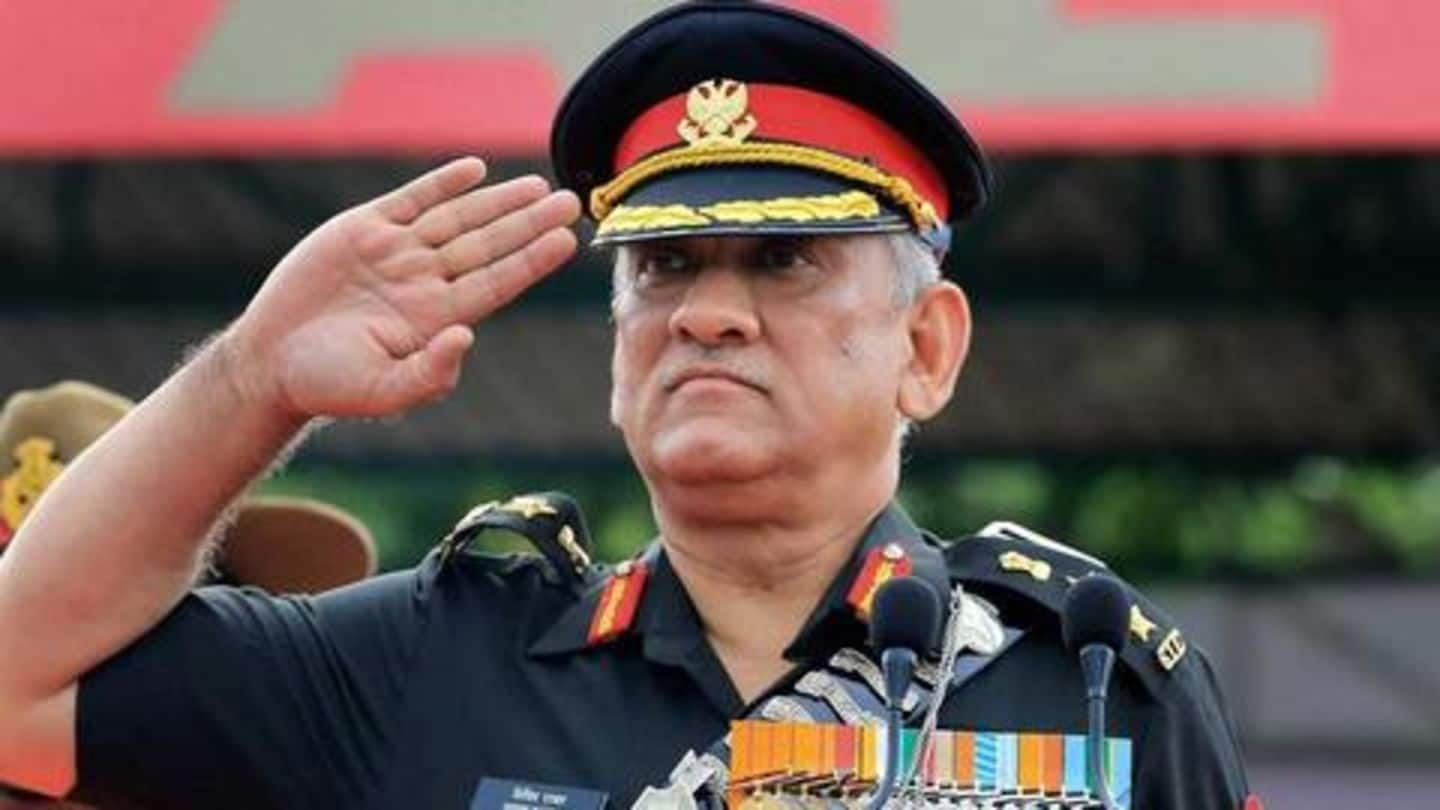 General Bipin Rawat, who will retire as Army Chief on December 31 (tomorrow), was on Monday announced as the first Chief of Defense Staff, according to India Today. The much-acclaimed post, which will act as a bridge between government and all three services (Army, Navy and Air Force), was approved by the Cabinet a couple of days ago. Here are more details.
Background: PM Modi had announced CDS post in August
From the ramparts of Red Fort on Independence Day, Prime Minister Narendra Modi had announced that his government would create a post of CDS, fulfilling one of the long-standing demands of forces. He said the CDS would strengthen forces and make them more effective. Last week, the Cabinet Committee on Security (CCS) approved the post and also released the charter and duties of CDS.
But why does India need a CDS?
In 2001, the Kargil review committee, formed to assess the damage of war, recommended setting up such a post. Had a CDS been present initially, the losses would have been minimized and there would have been better coordination among forces. Listing the duties of CDS, the Cabinet said the person has to streamline operations, logistics, training, support services, communications, repairs, and maintenance.
So, will the CDS be superior to service chiefs?
No. Like the tri-service chiefs, he will also be a four-star general. He will be ahead only in protocol and advise Defense Minister on tri-service matters. The chiefs will apprise the minister on their respective services. Remuneration-wise, the CDS will draw the same amount as service chiefs. Notably, the government amended Army Rules, 1954 and put a maximum age limit of 65 years on the post.
India's first CDS has experience in high-altitude warfare
Rawat, who served as 27th Chief of Army, will be India's first CDS. He assumed office on December 31, 2016 and would retire after completing three years. Incidentally, his family has been serving in the Army for generations; his father Laxman Singh Rawat was a Lieutenant General. Rawat is from the Gorkha regiment and has experience in high-altitude warfare.
However, Rawat is no stranger to controversies
However, Rawat's tenure as Army chief hasn't been sans controversies; the latest one being when he gave spoke on anti-CAA protests. He slammed leaders for driving students and citizens towards "violence and arson". Several Opposition leaders, including Congress' Digvijaya Sing and AIMIM's Asaduddin Owaisi, berated him saying that since he holds an apolitical post, Rawat should know his limits.