Two-day Bharat Bandh: Banking services partially hit across country
Two-day Bharat Bandh: Banking services partially hit across country
Written by
Pratyush Deep Kotoky
Mar 28, 2022, 01:00 pm
3 min read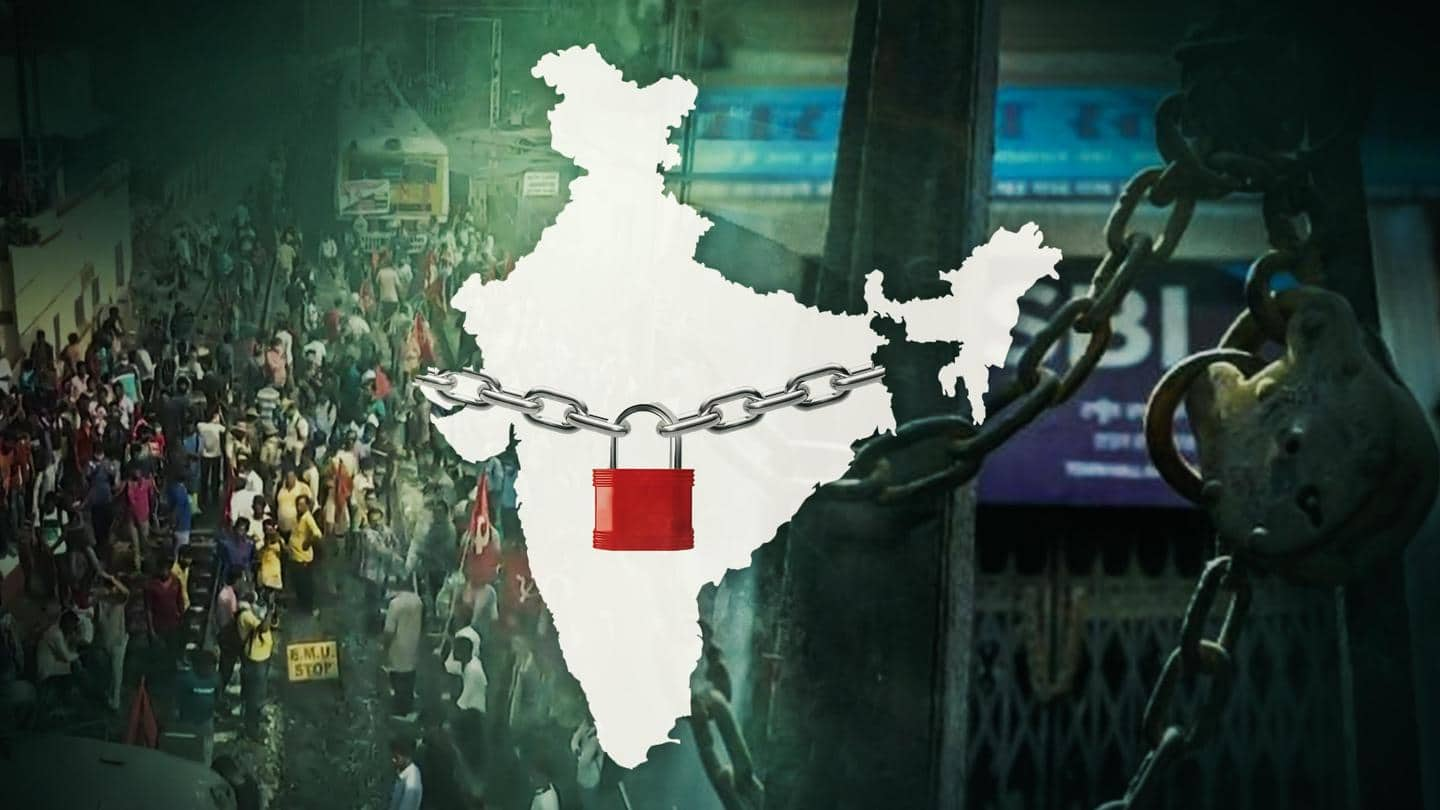 The 48-hour Bharat Bandh called by various central trade unions, including banking staff, has begun across the country on Monday. The strike has partially impacted banking services as a section of employees didn't report for duty. Transactions at many public sector banks were impacted and delays were expected in check clearances. However, there was no such impact on the functioning of private sector banks.
Why does this story matter?
The strike was announced after a meeting of the joint platform of central trade unions on March 22 to protest against the central government policies affecting workers, farmers, and people.
Bank employees have also joined the protest opposing the government's move to privatize two public sector banks, wage cuts, and the Banking Laws Amendment Bill, 2021, among other issues.
Strike is prominent in eastern India: Union leader
All India Bank Employees Association (AIBEA) General Secretary CH Venkatachalam said the impact of the strike is most prominent in eastern India, with many branches of public sector banks there closed. Whereas in other regions, branches are open since officers are present, but services are being impacted as many employees are participating in the strike, Venkatachalam added.
Impact of the strike evident in Kerala
In Left-ruled Kerala, roads were reportedly seen deserted on Monday, with only a few private vehicles plying on them. All Kerala State Road Transport Corporation (KSRTC) buses were off the roads. However, emergency services have been excluded from the strike in the state. The Kerala Police has also made arrangements for those in need of emergency travel facilities to reach railway stations and hospitals.
Left Front blocks railway tracks in West Bengal
Even though the West Bengal government had asked all offices to remain open and ordered employees to report for duty, trade unions were seen protesting on the streets. Left Front members also gathered at Kolkata's Jadavpur Railway Station in huge numbers and blocked railway tracks.
Over 20 crore workers are expected to join strike
All Indian Trade Union Congress's General Secretary Amarjeet Kaur said they are expecting participation of over 20 crore formal and informal workers in the strike across the country. Workers in the whole coal mining belt in Jharkhand, Chhattisgarh, and Madhya Pradesh have joined the protest, she added. The railways and defense sector unions are also expected to mobilize workers in support of the strike.
Who else has joined the strike?
Workers of roadways, transport, and electricity departments have decided to participate in the strike. Apart from them, those from sectors such as steel, oil, telecommunications, coal, postal, income tax, copper, and insurance have also joined the strike.
Ensure round-the-clock electricity supply: Power Ministry
Meanwhile, the Power Ministry issued an advisory asking all state-run utilities and other agencies to remain on high alert. It also asked them to ensure round-the-clock electricity supply and stability of the national grid. Power supply to those engaged in essential services like hospitals, defense, and railways must also be ensured, it said. It further suggested the setting up of a 24x7 control room.