No nationwide NRC announced, says government as CAA protests continue
No nationwide NRC announced, says government as CAA protests continue
Written by
Siddhant Pandey
Dec 21, 2019, 12:35 pm
4 min read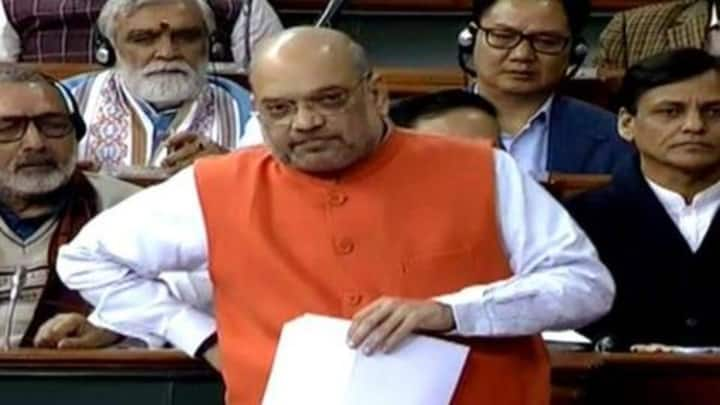 The protests against the Citizenship Amendment Act (CAA) and the National Register of Citizens (NRC) have spread across the nation in just over a week. The nation has witnessed violent protests since last week when the citizenship law was passed in the Parliament and given Presidential assent. Back then, Home Minister Amit Shah had announced nationwide NRC. Now, the BJP says otherwise.
'No plan of NRC in other parts of the country'
Union Minority Affairs Minister Mukhtar Abbas Naqvi told The Indian Express that the NRC is limited to Assam adding, "There's no plan of NRC in any other part of the country. You're talking about an unborn baby." Further, BJP General Secretary and Northeast in-charge Ram Madhav added, "It's premature to talk about NRC as the government hasn't yet made any details about it available."
Premature to talk about nationwide NRC: Madhav
Madhav elaborated, "Right now, the focus is on CAA. NRC is a proposed activity Home Minister has announced to be taken up in 2021. No details have been made available to us. It's premature to talk about it. There are no details available about it." 
Naqvi added, "Rumors are being spread to misguide people about CAA, some people are using NRC to spread anarchy."
Why are people protesting against the CAA, NRC?
The CAA accords Indian citizenship to non-Muslim illegal immigrants from Bangladesh, Pakistan and Afghanistan, if they arrived in India on or before December 31, 2014. The NRC is a register to enumerate citizens. It was first drafted in 1951 and recently updated for Assam, excluding 19 lakh people. Critics fear the two together could work to target the poor and marginalized, but especially Muslims.
Government also released ads saying 'no nationwide NRC announced'
The government's dismissal of citizens' fears as "rumors" is nothing new. In fact, on Thursday morning, they published advertisements in Hindu and Urdu newspapers stating "rumors and incorrect information being spread." "No nationwide NRC has been announced," the ad states. "If it is announced in the future, the rules would be drawn in such a way that no Indian citizen is inconvenienced."
Nationwide NRC will be conducted: Shah (literally 2 weeks ago)
So, where did the news of nationwide NRC come from? Shah, of course! While discussing the citizenship law in the Parliament as recently as December 9, he had said that NRC would be conducted across India. He said in April, "We will remove every single infiltrator from the country, except Buddha, Hindus, and Sikhs." Notably, the BJP deleted the tweet with the above statement.
Will expel illegal immigrants from entire country: Shah on NRC
In September, too, Shah said at the BJP-led North-East Democratic Alliance (NEDA) conclave in Guwahati, "Our intention is to expel illegal immigrants from the entire country and not just Assam." Needless to say, there are countless other statements announcing nationwide NRC.
Here's what Naqvi and Madhav said about Shah's statements
When asked about these statements, Naqvi responded with a non-answer, "Tell me, NRC is for whom? It's for Indian nationals. Does NRC say anywhere it's for Indian Muslims? No. NRC, if it happens...no government is bringing it surreptitiously." Madhav explained that Shah may have announced the NRC, but the exercise will happen two years later and no details have been released to the public.
Intent decided, schedule unprepared: MoS for Home on nationwide NRC
MoS for Home G Kishan Reddy told The Times of India, "We've announced our intent to prepare a national NRC. But no date or schedule has been decided for the NRC exercise. All-India NRC rules have not been drafted or run through the legislative department."
Work on NRC already begun: Reports
Work on the National Population Register, which lays the groundwork for the NRC, has already taken off, according to Scroll.in. Reportedly, government employees are being trained to conduct NPR across states. Recently, both West Bengal and Kerala had put the work on NPR on hold, given the public anxieties over NRC. Chief Minister Pinarayi Vijayan's office said, "The NPR deviates from constitutional values."