Karol Bagh hotel fire: Three members of same family died
Karol Bagh hotel fire: Three members of same family died
Feb 13, 2019, 12:55 pm
3 min read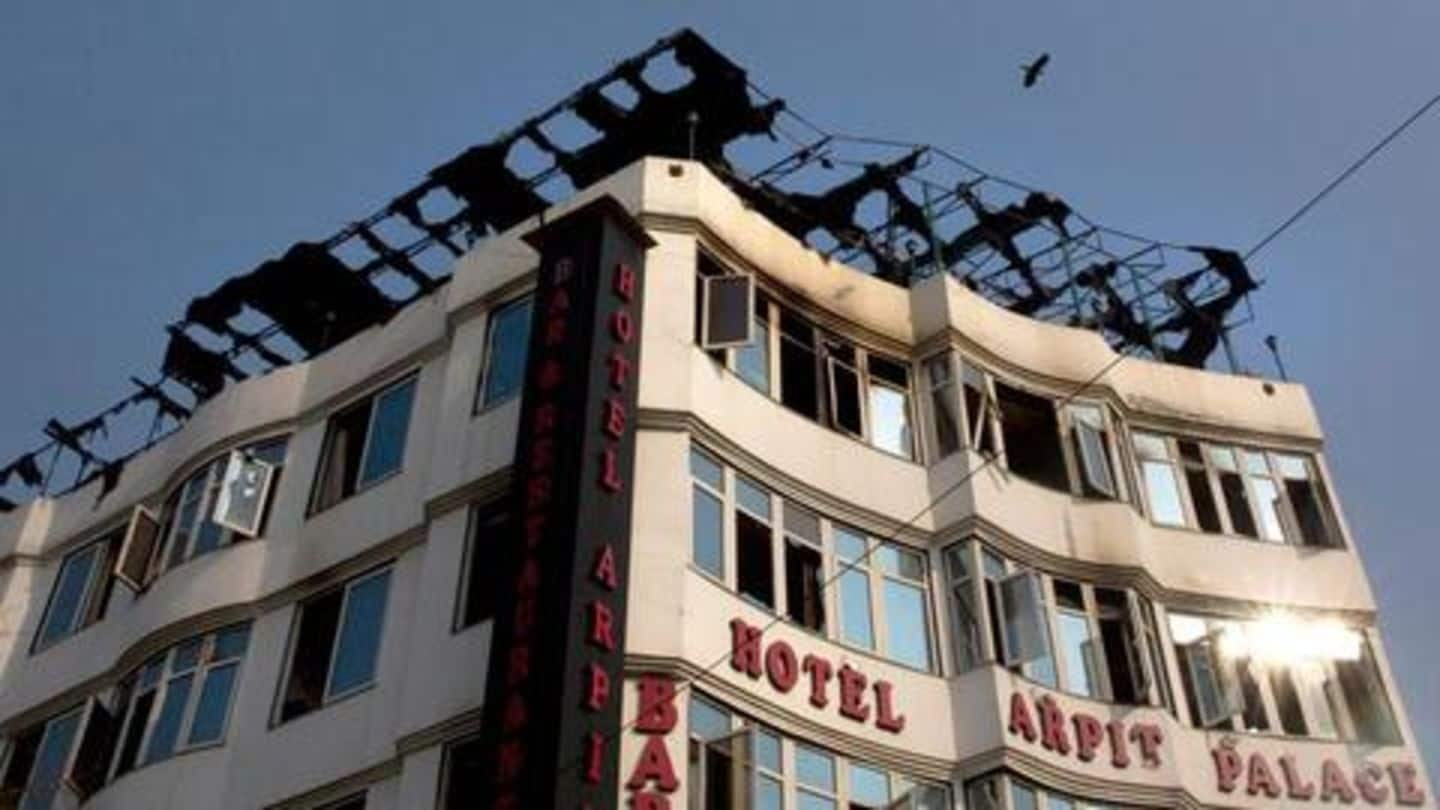 A Kerala family which came to Delhi to attend a wedding, and was hoping to visit Haridwar, lost three members after the hotel they were staying at caught a massive fire. Hotel Arpit Palace situated in Karol Bagh went up in flames early on Tuesday, killing 17 people. Three of the deceased were Keralites and five bodies are yet to be identified, reports DNA.
Recalling horror, relative says there was smoke and smell everywhere
The family came from Ernakulam district in Kerala to attend a wedding in Ghaziabad and had booked four rooms. Their relative Surrender Kumar said the family was ready to go to Haridwar. He said when he came out of the bathroom, there was a power cut and hotel staff switched on the generator. "This was followed by heavy smoke and smell," he said.
Mother and her kids die in fire
"We could not escape. Ten of us were rescued by police and fire team. We lost three members of the family identified as Naliniyamma and her kids Jayashree and Vidhya Sagar," he added.
A trip of tourists took a deadly turn
Separately, two women tourists from Myanmar also lost their lives, revealed their tour operator Gyandeep, who hails from Tripura. The person who organized the tour called Gyandeep to inform about the mishap, and he rushed to help. He added seven tourists from UP, Bihar, and Nepal Lumbini were part of the group. They were due to visit a temple in Santnagar.
Man who came to celebrate wedding anniversary also died
The fire also claimed the life of Suresh Kumar, who worked with the Income Tax Department. The 45-year-old, a resident of Panchkula, came to Delhi to celebrate his wedding anniversary. He died after he jumped outside the hotel to save himself. Tara Chand, a chef at the hotel, also died in a similar way, the report added.
The fire also took life of a single mother
An HPCL engineer Praveen K Bhaskar, who came to Delhi for Petro tech conference, also died. Advocate Rabiya Menam, who was in Delhi for a hearing in High Court, lost her life too. Menam was a single mother and was due to meet her son.
It was a disaster waiting to happen
The tragedy has shown establishments aren't serious about fire safety. Though the hotel had a fire license, it flouted several rules. The hotel had a rooftop restaurant and a bar in the basement. Apart from this, the narrow emergency exit was also locked, claimed reports. Moreover, sealed windows made rescue difficult. Furthermore, the staff wasn't trained in handling firefighting equipment.
Notably, firefighters couldn't start operation for hours
The location of the hotel also increased the problems of firefighters. Though they received the first call at 4:30 AM, the fire came under control only at 7 AM as congestion in the area made it impossible for them to access the hotel. Notably, the hotel's general manager, Rajender, and manager, Vikas have been arrested by Delhi police. But the owner is at large.