#DUSUelections: ABVP winners celebrate victory, NSUI alleges cheating in results
#DUSUelections: ABVP winners celebrate victory, NSUI alleges cheating in results
Sep 14, 2018, 01:31 pm
2 min read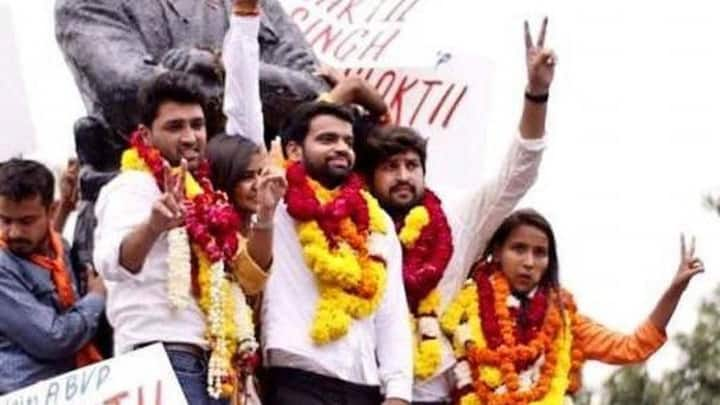 The ABVP candidates who won the Delhi University Students' Union (DUSU) elections yesterday celebrated their victory and vowed to fulfill the promises made in their manifesto even as the sole NSUI winner alleged cheating in results. ABVP's Ankiv Basoya, who won the President's post, is pursuing an MA in Buddhist Studies. He has been associated with the Akhil Bharatiya Vidyarthi Parishad (ABVP) since 2015.
Will work towards making campus safer for woman: Basoya
"Our election manifesto said we would dedicate 50% of DUSU budget to women safety, so I'll now work towards making the campus safer for women," Basoya said, adding, "Our party has worked for the welfare of students and we will continue to do so."
National-level boxer Shakti Singh won the Vice-President's post
ABVP's Shakti Singh, who won the Vice-President's post, is a national-level boxer. He completed his graduation from MIT Pune and is a student of DU's Faculty of Law. "Since I'm a sportsperson, I will work towards promoting sports culture in the university, as was mentioned in our manifesto," he said. Meanwhile, ABVP's Jyoti Chaudhary won the post of Joint Secretary.
NSUI's Aakash Choudary won the post of Secretary
The Congress-backed National Students' Union of India's (NSUI) Aakash Choudary, who won the post of Secretary, was the Union President of Sri Aurobindo College from where he did his graduation. He's currently pursuing law. "This victory has been possible because of the students' love for me," he said. Choudary had also alleged that his party lost the other posts because of cheating.
Seven EVMs not taken into consideration while counting: Choudary
"There has been cheating on the other posts and we will fight against the unfair treatment meted out to us. Seven EVMs were not taken into consideration while counting and we want them to reveal the data of those EVMs," Aakash Choudary said.