Hyderabad: Diamond-studded tiffin box, ruby cup stolen from Nizam Museum
Hyderabad: Diamond-studded tiffin box, ruby cup stolen from Nizam Museum
Written by
Pallabi C Samal
Sep 04, 2018, 11:15 am
2 min read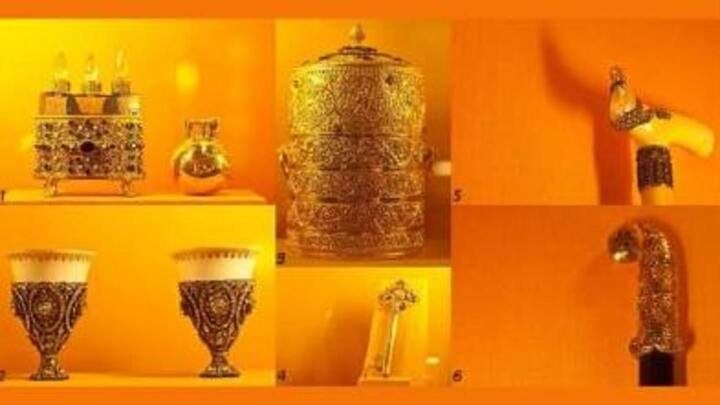 A precious gold tiffin box weighing 2 kg, a ruby-studded cup and saucer, and a spoon, were found stolen from Nizam's Museum in Hyderabad yesterday. Cops suspect the theft might have been happened on Sunday, when burglars entered the museum through a wooden ventilator. The antiques, which were used by the last Nizam of Hyderabad, could fetch at least Rs. 50cr in international auctions.
Museum remains closed on Sunday, suspected day of crime
The museum, at Purani Haveli, remains closed on Sunday, and on other days it operates from 10AM to 6PM. On Monday around 9AM, when security guards opened the museum, they found the cupboard where the antiques were displayed broken. They immediately informed the Mir Chowk police station, after which top cop Anjani Kumar and other senior officers visited the site and sealed it.
CCTV footage being scanned, ten teams deployed to nab accused
Preliminary investigation revealed the burglars entered the first floor using a rope by removing the iron-grilled wooden ventilator, which was found broken. They exited via the same route. Cops are suspecting it to be an insider's job, as the CCTV camera just below the ventilator was expertly twisted. Ten teams have been deployed to hunt for the accused. A case has been registered.
Tiffin box was a gift to last Nizam of Hyderabad
The museum, one of the popular tourist attractions, is run by a trust owned by the Nizam family. It exhibits items belonging to the rulers, like the ones stolen, and also a variety of gifts the Nizams had received. Like, the diamond-studded three-storied tiffin box was a gift to Mir Osman Ali Khan, Nizam VII, who was the richest man globally in 1937.
Trivia: Last Hyderabad Nizam was known for his lavish gifts
Among the 450 items on display is a 1930 Rolls Royce, a 150-year-old manually-operated lift and wardrobe of sixth Nizam, Mir Mahbub Ali Khan. Historians said Osman, known for his lavish gifts, gained reputation when he gifted a diamond necklace and tiara to Queen Elizabeth.