Bhima-Koregaon case: Rao says fight against fascist policies not conspiracy
Bhima-Koregaon case: Rao says fight against fascist policies not conspiracy
Aug 30, 2018, 04:23 pm
2 min read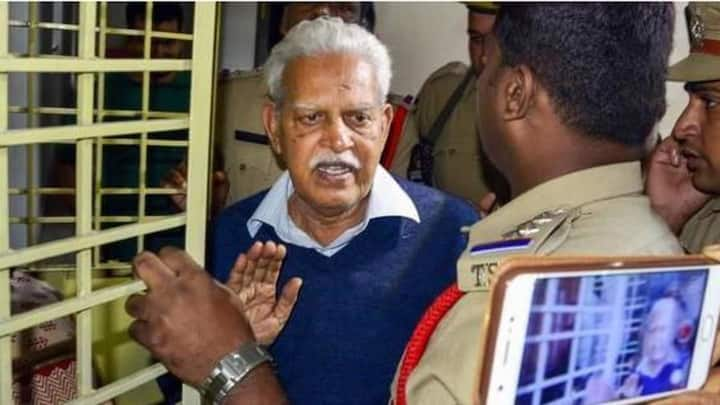 Dubbing the case against him and other activists over Maharashtra's Koregaon-Bhima violence as false, Leftist poet-writer Varavara Rao insisted today their fight against "fascist policies" cannot be called a conspiracy. The Supreme Court yesterday ruled that the five prominent human rights activists arrested by Maharashtra police for their alleged Maoist links won't be lodged in jail but kept under house arrest till September 6.
Here are the names of the other four arrested activists
Apart from Rao, human rights activists Vernon Gonzalves, Arun Ferreira, Sudha Bharadwaj, and Gautam Navlakha were arrested from different states on Tuesday for their alleged links to Naxalites.
Case should be filed against Maharashtra govt and Center: Rao
Varavara Rao said the case for Koregaon-Bhima clashes should have been filed against the Maharashtra government and the Center and not activists. "If the fight against fascist policies is called a conspiracy, then there cannot be a bigger conspiracy than this (calling the fight a conspiracy)," Rao, who was brought to Hyderabad by Pune Police in the morning, told reporters at the airport.
Police not permitting even lawyers to meet Rao
According to Rao's wife Hemalatha, he was flown to Hyderabad from Pune at 7 am in the morning and barring his close relatives nobody was allowed to meet him. Rao's counsel said Telangana police was not permitting even his lawyers to meet him. Telangana Deputy Commissioner of Police (Central Zone) Viswa Prasad said Hyderabad police was enforcing the apex court's order of house arrest.
Prasad says only wife, children of Rao allowed inside house
Prasad said since Rao was under house arrest, he was not allowed to come out of confinement or make public appearances. He said only his wife and children if they are living with him in the same house, will be allowed in.
SC had pulled up Maharashtra police for arresting the activists
The SC had yesterday questioned the decision of Maharashtra police for arresting the activists nine months after the violence between Dalits and upper caste Marathas in Koregaon-Bhima village near Pune following 'Elgar Parishad', a conclave of Dalits, on December 31 last year. Provocative speeches allegedly made at the conclave had triggered the violence in the village which spread to several districts of Maharashtra.