#RIPArunJaitley: Seven things to know about the late BJP stalwart
#RIPArunJaitley: Seven things to know about the late BJP stalwart
Written by
Ramya Patelkhana
Aug 24, 2019, 03:26 pm
3 min read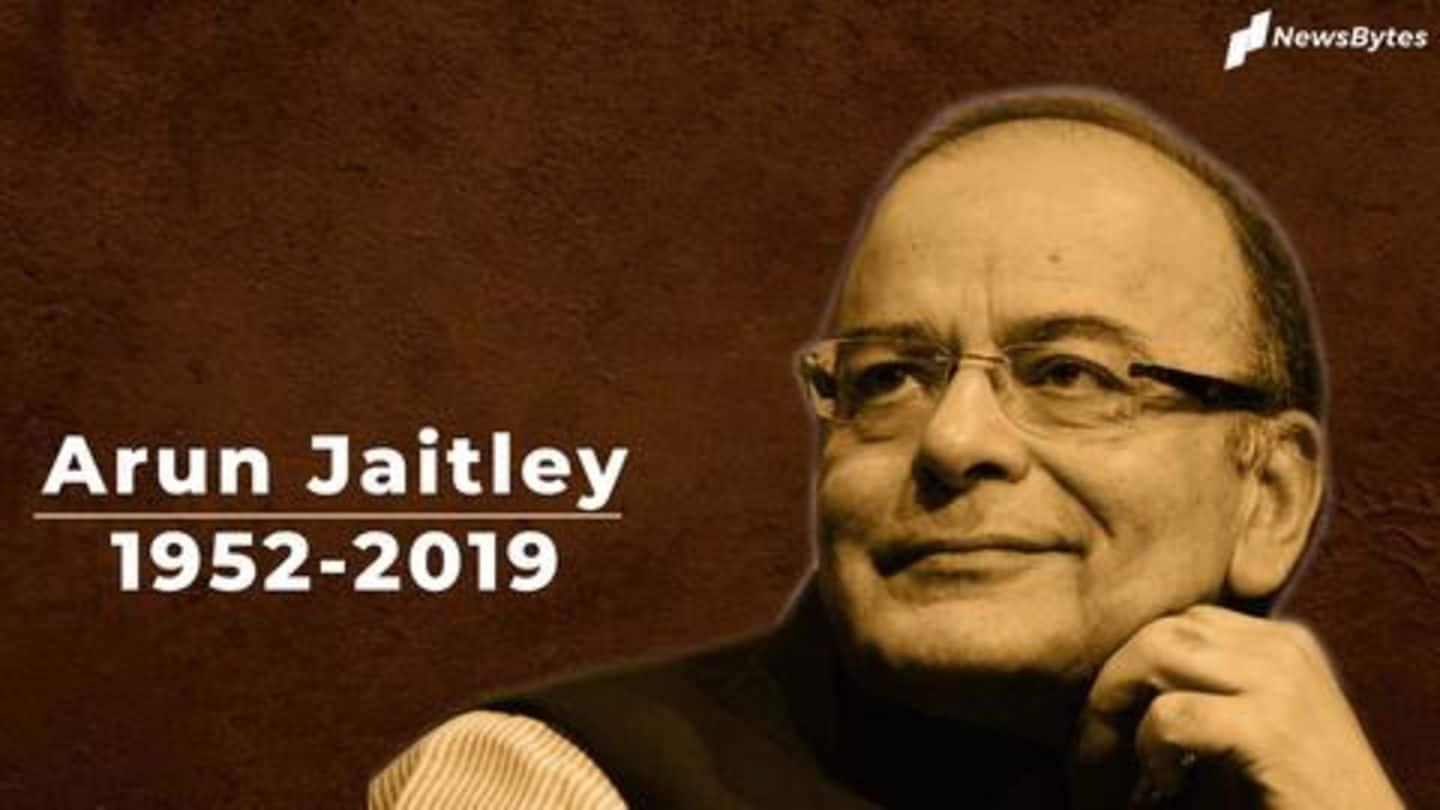 Former Union Finance Minister and BJP stalwart, Arun Jaitley, passed away on Saturday after a prolonged illness. He was admitted to AIIMS, New Delhi, where he had been undergoing treatment since August 9, and breathed his last at 12:07 pm. He was 66 years old. Here are seven things to know about Jaitley, who was one of the most prominent faces of BJP.
Jaitley was arrested during the Emergency crackdown in 1970s
Jaitley pursued BCom from Shri Ram College of Commerce and LLB from Delhi University. It was during this time that he developed an interest in politics. In the 1970s, he served as ABVP's Delhi President and All India Secretary. He was also the President of Delhi University Students' Union. Notably, during the 1975-77 Emergency, he went to jail where he met several senior politicians.
Jaitley began his career with the BJP's Youth Wing
Jaitley spent 19 months in jail during the Emergency. After being released, he joined Jan Sangh. Later, in 1980, when BJP was formed, he became its Youth Wing President. He was responsible for transforming youth leaders into mature politicians at a time whenBJP was struggling to become a mainstream party. He also worked under veteran leaders like Atal Bihari Vajpayee and LK Advani.
#3: One of the finest legal brains in India
Apart from being a prolific politician, Jaitley is also known as one of the finest legal brains in India. He was one of the most prominent lawyers and had practised law in the Supreme Court as well as several High Courts in the country.
Jaitley led BJP to victory in 2014 as Strategy Planner
Jaitley was an exceptional leader and a great orator who was instrumental in leading BJP to a massive victory in the 2014 elections as the Chief Strategy Planner. In his nearly four-decade political career, he guided BJP through troubled waters many times. He was the Finance Minister during PM Narendra Modi's first tenure and had held key portfolios in former PM Vajpayee's Cabinet too.
A lawyer-turned-politician with friendship across party lines
Jaitley enjoyed cordial relations with political leaders across parties and also earned the respect of many of his political opponents. His commitment to BJP didn't deter him from building friendships with leaders of all political hues. He reportedly maintained cordial relations with the leaders of Akali Dal as well as with Bihar CM and JD(U) chief, Nitish Kumar, among others.
Jaitley helmed some of the biggest reforms during his tenure
During his tenure as the Finance Minister, Jaitley took several crucial economic initiatives and helmed some of the biggest reforms. Under his supervision, the Modi government launched the demonetization drive in 2016 and implemented the Goods and Service Tax (GST) regime in 2017. Also, it was during his tenure that the decision of merging the General Budget with the Railway Budget was taken.
A cricket lover, Jaitley also served as BCCI Vice-President
Jaitley was also a self-confessed huge fan of cricket. Notably, he had served as the President of the Delhi and Districts Cricket Association (DDCA) from 1999 to 2013. He was also appointed as the Vice-President of the Board of Control for Cricket in India (BCCI) in 2009. However, he resigned from the BCCI post after the IPL spot-fixing scandal came into light in 2013.