In a first, Kochi Metro launches breastfeeding pods at stations
In a first, Kochi Metro launches breastfeeding pods at stations
Feb 08, 2019, 08:12 pm
3 min read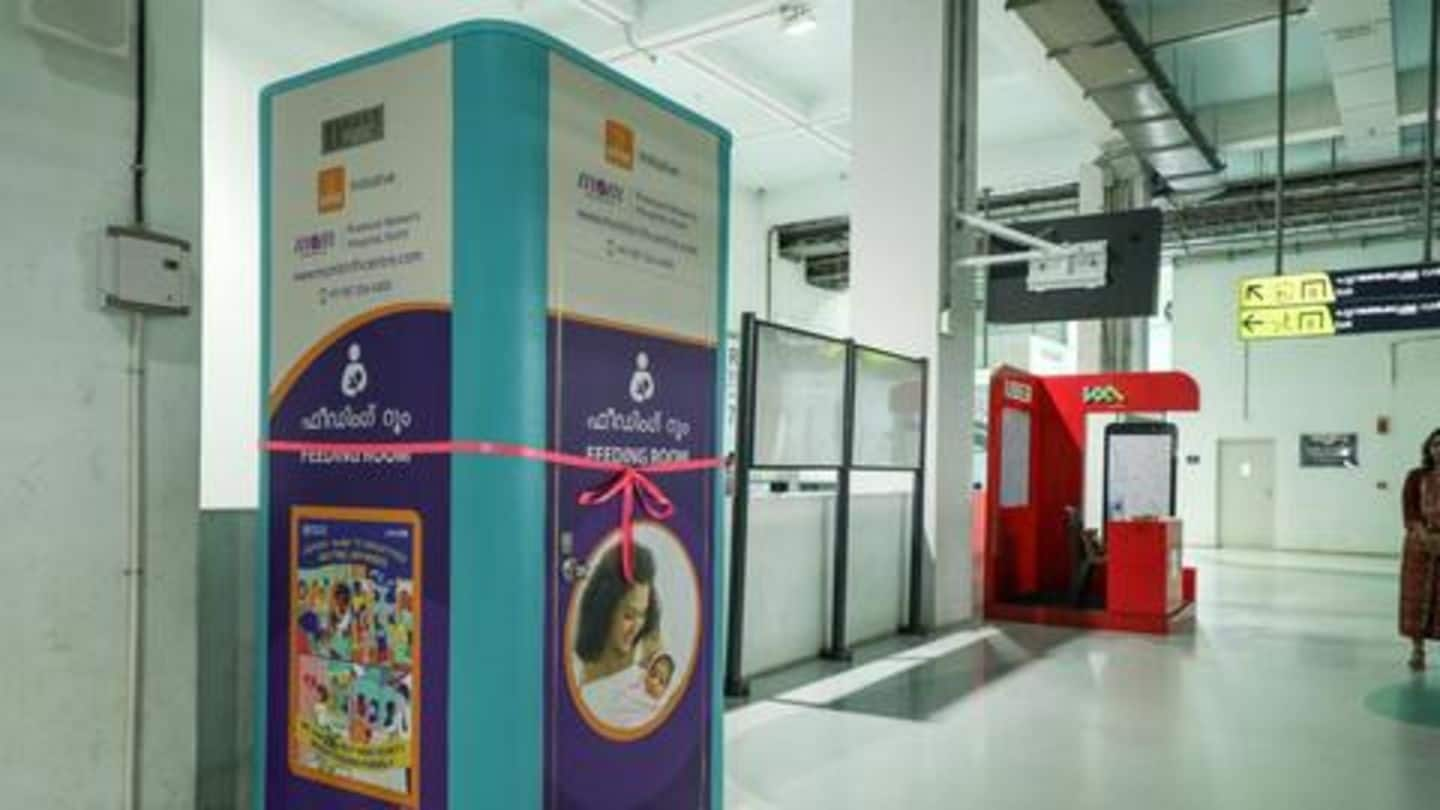 In a heartening development, the Kochi Metro Rail Limited (KMRL) is now providing breastfeeding pods for mothers at four stations across its network. KMRL has tied up with a health start-up and a private hospital for this service. This marks the first such breastfeeding facility provided at any metro train system across the country, although the system is in place at airports. Here's more.
Pods are sized 4*4ft; made from fiber-reinforced plastic
On Friday, KMRL Managing Director, APM Mohammed Hanish, inaugurated the first breastfeeding pod at the Aluva train station. The pods are designed by wellness start-up 'I love 9 months'. They are essentially 4ft x 4ft compact rooms made from fiber-reinforced plastic allowing mothers a safe, private space for lactation. They have comfortable seating arrangements, adequate lighting, ventilation, fan, hand-sanitizer holder and cell-phone charging point.
Each pod costs Rs. 1.5 lakh plus GST
Each pod comes equipped with information about breastfeeding for mothers and costs Rs. 1.5 lakh excluding GST. In case any problem arises or to provide feedback, people can connect with the start-up's virtual support team via a phone placed inside the pods. The initial phase of the pods have been sponsored under the corporate social responsibility initiatives of Kochi-based CIMAR Hospitals.
'Message is simple: Create safe, hygienic spaces for women'
"The message that we are trying to send is simple: to create more safe and hygienic spaces for women in our society. This has been done considering how difficult it is for mothers to breastfeed their babies in public," Hanish told reporters. "After we launch in the first four stations, we'll take feedback and then think about expanding it to other stations," he added.
Pods at three more stations to be launched soon
After Aluva, three more stations- Edappally, MG Road and Lissie stations - are expected to get the pods in the next one month. According to Ganga Raj, one of the three co-founders of the all-women start-up- 'I love 9 months', the pods proposal at KMRL premises was 'readily accepted' by the latter during talks. Thereafter, the process gathered pace, she said.
Earlier, start-up held discussions with Indian Railways for similar pods
"The most challenging part for nursing mothers is to feed in a public space. When they're traveling, it's all the more difficult," Ganga said. The wellness start-up also had discussions with the Indian Railways to build similar breastfeeding pods across major stations from Kanyakumari to Thrissur. It is now looking for a uniform sponsor to fund these pods on the railway network.
Start-up has also launched lactation pods at Technopark, Thiruvananthapuram's IT-hub
'I love 9 months', incubated at the Kerala Startup Mission, has also designed larger pods known as 'lactation pods' for working mothers elsewhere in the state. These pods are equipped with a mini-fridge where breast milk can be stored along with breast pumps. The first of such lactation pods was inaugurated at Technopark, which is home to dozens of IT companies, in Thiruvananthapuram.