Gauri Lankesh murder: 'Accused' claim SIT bribed them to confess
Gauri Lankesh murder: 'Accused' claim SIT bribed them to confess
Sep 30, 2018, 01:11 pm
2 min read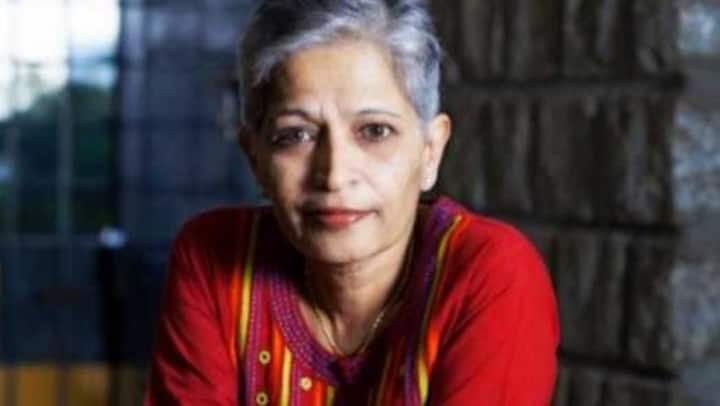 In what is bound to steer investigation into the murder of journalist Gauri Lankesh in a new direction, two accused have claimed they are innocent and were coerced by the SIT of Karnataka police to confess. Lankesh was killed in September 2017, sparking widespread outrage about the state of dissenting voices in the country. An SIT officer refused to comment. Here's more about this.
One accused was offered Rs. 25L, another's family was threatened
Parashuram Waghmare was being taken to court when he made the sensational claim that SIT offered him Rs. 25 lakh to confess the murder. Waghmare alleged he was tortured in prison and sleuths threatened to implicate his brothers in false case. Another accused, Manohar Edave also denied any involvement and said, "They threatened to implicate my family and friends unless I confessed to the murder."
Was forced to sign blank papers, claimed Waghmare
"I was offered Rs. 25-30 lakh by an officer. They threatened that they would fix my brothers. During eight days of interrogation, they forced me to sign blank papers. While video recording my statement, the officials told me what I had to tell," Waghmare said.
Why didn't they tell judge about this, asks SIT head
BK Singh, Additional Commissioner who heads the SIT, rubbished the allegations, saying it didn't deserve attention. "I feel that it is not worth reacting to their allegations. Why they did not open their mouth before the judge when they were produced before the court after their arrest?," Singh told NIE. The SIT has arrested 14 suspects in this case.
An eminent journalist, Gauri was murdered right outside her house
Gauri Lankesh, a household name in Karnataka, was known for her weekly Kannada tabloid 'Gauri Lankesh Patrike'. The tabloid did not take any advertisements and was known for its vocal criticism of communal violence, the caste system, and right-wing Hindutva politics. She was murdered in cold blood right outside her house. CCTV footage showed she tried to run, but the murderer chased her.