Central govt employees to undertake cleanliness drive on office premises
Central govt employees to undertake cleanliness drive on office premises
Sep 17, 2018, 04:26 pm
2 min read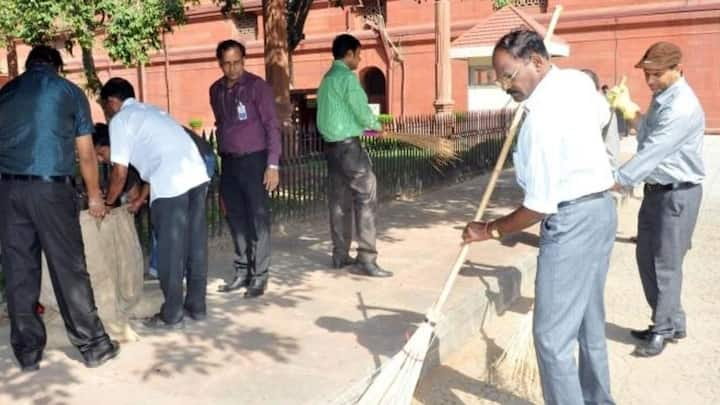 The Center has asked all departments under it to undertake cleanliness drive on their premises, according to an official communique. All central government employees have been asked to contribute six hours of 'shramdaan' (labor) during the ongoing fortnight-long cleanliness drive, Ministry of Personnel said in the directive issued to secretaries of all central government departments. Here are more details.
Modi launched 'Swachhta Hi Seva' movement on September 15
"Shramdaan activities may include cleaning of office complexes, residential colonies, and public places including cleaning of drains, public toilets, waste collection drives, and awareness campaigns," the Ministry said. Prime Minister Narendra Modi launched the "Swachhta Hi Seva" movement on September 15. It will continue till October 2. The movement is aimed at generating greater public participation towards cleanliness.
'Swachh Bharat Mission' to mark fourth anniversary on October 2
"The Prime Minister has given a clarion call to citizens from all walks of life, including government employees, to join 'Swachhata Hi Seva 2018'," Personnel Ministry said. The movement is being organized in the runup to the fourth anniversary of the 'Swachh Bharat Mission', on October 2, 2018, which will also mark the commencement of the 150th birth anniversary celebrations of Mahatma Gandhi.
Ministry asked employees to upload details of 'shramdaan' on portal
"All employees are also requested to upload details of scale and nature of the undertaken 'shramdaan' activities along with pictures on a portal, sbm.gov.in/shs, through mobile-based OTP login," the communique said. The directive, issued by Personnel Secretary C Chandramouli, asked secretaries of the departments to lead their respective ministries/departments in conducting 'shramdaan' activities. There are 48.41 lakh central government employees.