Gujarat: Train hawker, who mocks politicians, arrested
Gujarat: Train hawker, who mocks politicians, arrested
Jun 02, 2019, 03:43 pm
2 min read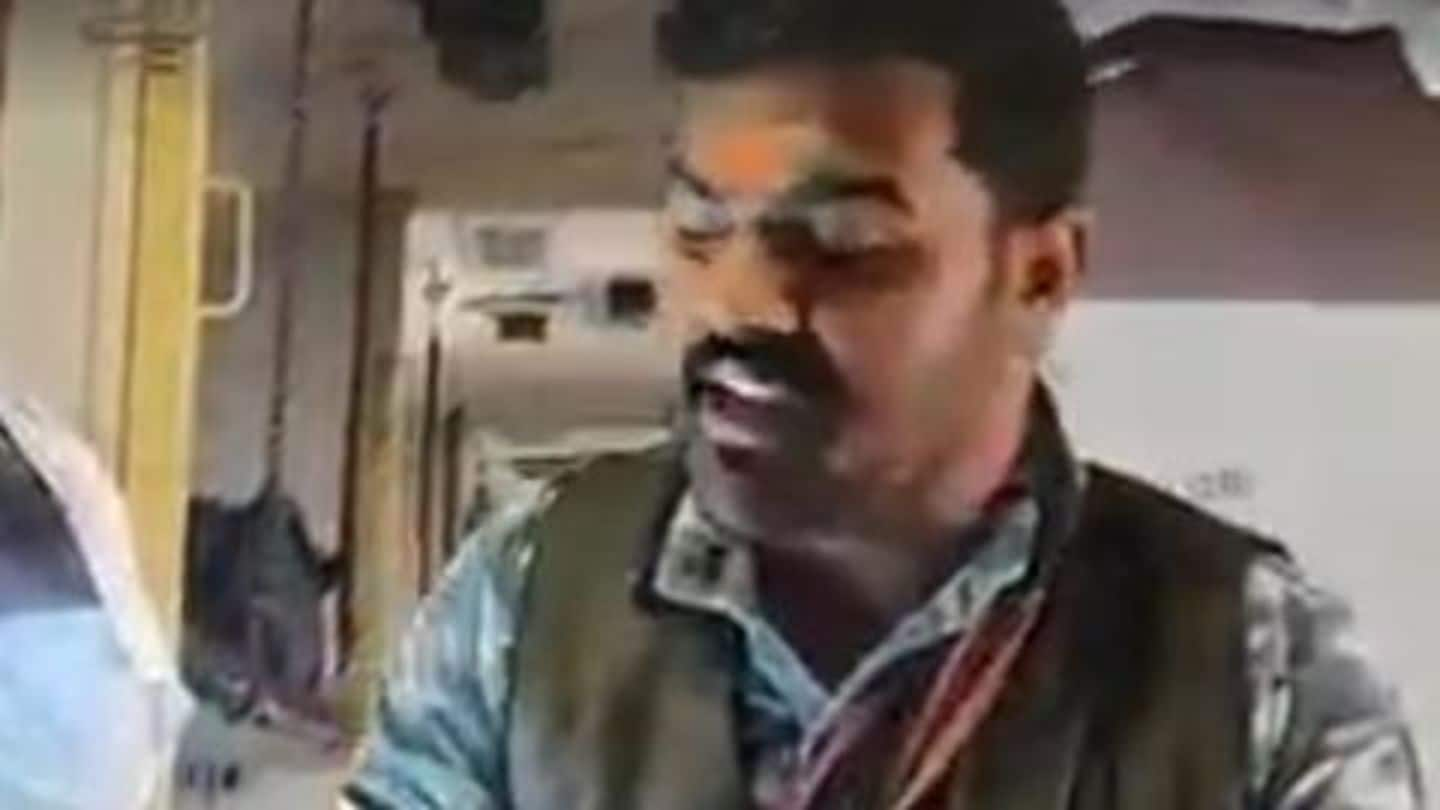 If you have been active on social media, you must have come across a video featuring a train hawker. The man, identified as Avdhesh Dubey, became a star owing to his unique way of selling products and his political statements. However, in a surprising turn of events, Dubey was arrested by Railway Protection Force (RPF) at Surat railway station on Friday. Here's what happened.
Dubey belongs to Varanasi, came to Gujarat in 2017
According to reports, Dubey hails from Varanasi, Uttar Pradesh, and migrated to Valsad two years ago. He sells toys between Vapi and Surat. In the video, which made Dubey a rage on social media, he can be heard asking passengers to use Paytm. He spoke about Prime Minister Narendra Modi and mocked leaders like Rahul Gandhi, Mulayam Singh Yadav, and Arvind Kejriwal.
Here is the video which got attention
The video not only made Dubey a hot topic among netizens but also turned RPF's attention towards him. An FIR was registered against him under some sections of Railway Act, including Section 44 (prohibition on hawking and begging), 145B (spreading nuisance or using abusive language in railway carriage), 147 (unlawful entry into the train). A senior inspector said Dubey was arrested for "unauthorized vending".
"We have charged Avdhesh Dubey for unauthorized vending. The video clip of Avdhesh Dubey has become very popular on social media and we also received his video. In video clip he was seen making remarks on the political leaders," said RPF inspector Ishwar Singh Yadav.
Dubey violated Railway Act several times, admitted to his crime
After Dubey's arrest, social media went abuzz. Many opined he was booked for mimicking politicians but turns out that is not the case. Reportedly, he has been a serial defaulter and had been selling products illegally for long. He violated the Railway Act's Section 144, 12 times, including the latest incident. When produced before a magistrate, he admitted to unauthorized hawking since 2005.
Dubey was sent to 10 days of judicial custody
"He was apprehended during unauthorized vending in train no 17204 sleeper coach at Surat Railway station," an RPF official said. The magistrate sent Dubey to 10 days of judicial custody and levied a fine of Rs. 3,500 on him.