UP: Viral-picture shows lynching-victims dragged in cops' presence, police apologize
UP: Viral-picture shows lynching-victims dragged in cops' presence, police apologize
Jun 22, 2018, 01:45 pm
2 min read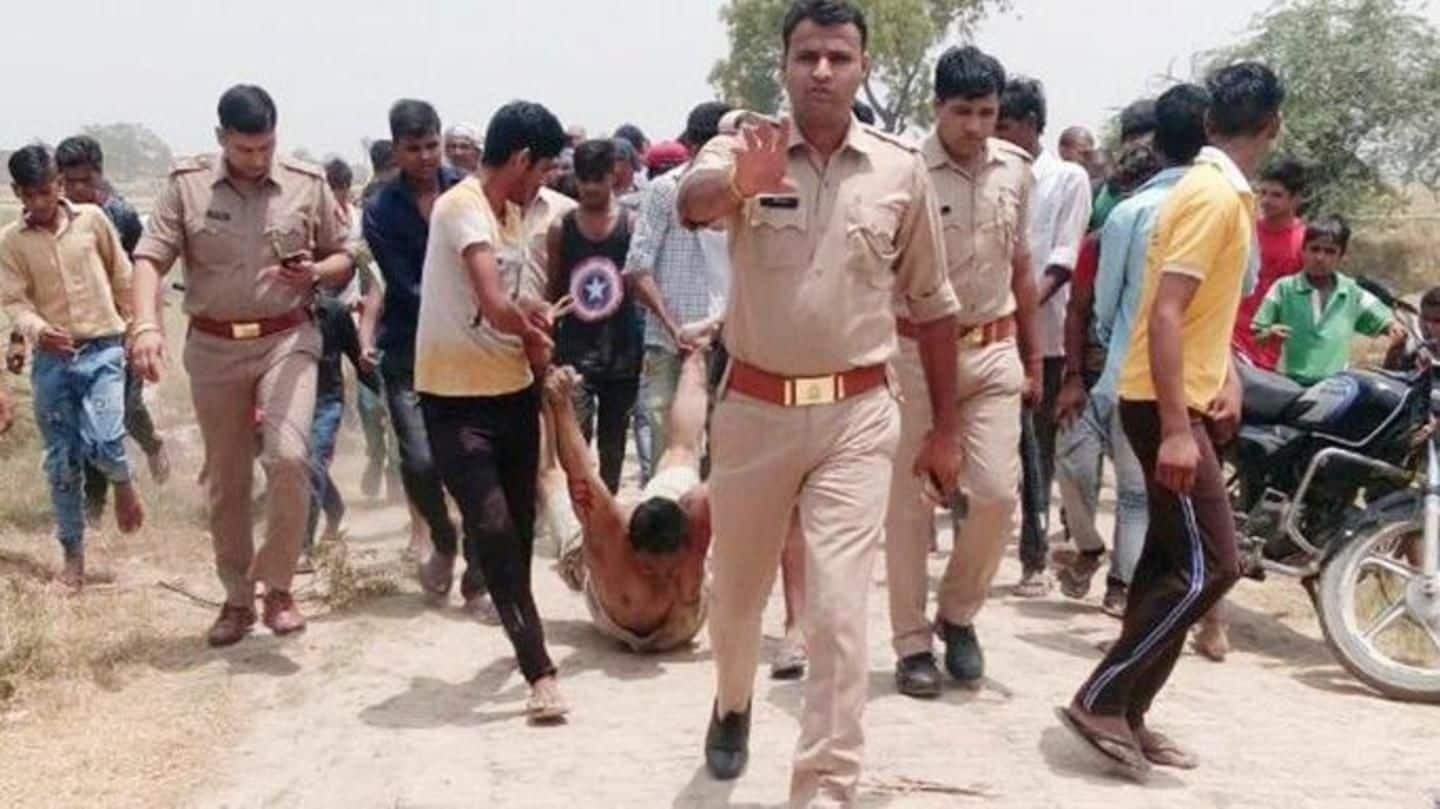 The Uttar Pradesh police have apologized for the viral image that showed a man being dragged by villagers in Hapur, after being lynched, in the presence of officers. In its apology, UP police admitted the fault and said the officers should have been more sensitive. They have now been transferred. On Monday, two Muslim men were attacked by a mob in Bajhera Khurd village.
Families of victim claimed cow angle, police believed otherwise
The incident occurred on Monday afternoon at sugarcane fields. While the family of injured claimed Kasim and Samadeen were thrashed due to a cow-related argument, police said a minor motorcycle incident might have been the reason. However, they are investigating all angles to it. On being taken to the hospital, Kasim succumbed to injuries and Samadeen is recuperating after violence.
Speaking on the incident, Hapur SP said the image was taken after the incident and officers admitted the injured - Kasim and Samadeen, to hospital. He said there may have been few anti-social elements who misbehaved with Kasim on the way. "I enquired from the cops, who are visible in the picture," he said and added further investigation will reveal their version of the story.
Now, accepting inhumane treatment, UP police revealed their side
In its statement, the UP police said the victims were dragged in that manner because of non-availability of an ambulance. "The humane concerns got ignored in the urgency of saving a life and maintaining law and order," the statement said. The three police officers namely SHO Ashwini Kumar and constables Kanhaiya Lal and Ashok Kumar have been transferred to police lines, and a probe has been ordered.
Since victim can't identify assailants, FIR lodged against 25-30 people
The video from the incident showed a frenzied mob attacking the men as they were pleading for their lives. The police said on Thursday that Kasim and Samadeen were walking and hit by bike-borne men. After an argument, 25-30 people came and beat the victims. "The FIR mentions 25-30 unknown men as accused since the complainant cannot recognize them," said Hapur's SP Sankalp Sharma.