Delhi HC pulls up DGCA over Kunal Kamra's airlines ban
Delhi HC pulls up DGCA over Kunal Kamra's airlines ban
Feb 25, 2020, 04:00 pm
2 min read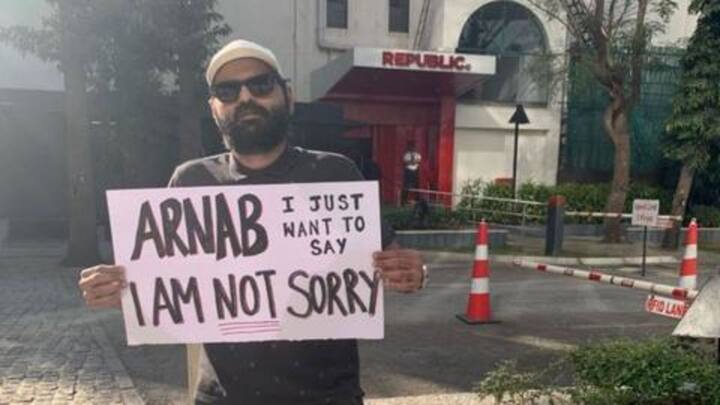 The Directorate General of Civil Aviation (DGCA) should not have asked airlines to put comedian Kunal Kamra on a no-fly list, the Delhi High Court observed on Tuesday while hearing a petition filed by him. Kamra, who heckled journalist Arnab Goswami in an IndiGo flight, was banned by airlines including Air India, GoAir and SpiceJet. He challenged this knee jerk reaction in Delhi HC.
Kamra behaved irresponsibly, airlines were no better
Last month, Kamra, a vocal critic of the current regime, approached Goswami, the founder and editor-in-chief of Republic TV, on a Mumbai to Lucknow flight. He asked Goswami questions about his brand of journalism and later tweeted the clip saying he did it for Rohit Vemula, the Dalit student who died years ago. Soon, IndiGo imposed a ban and other airlines joined the bandwagon.
HC wondered why DGCA passed an order
To note, the action against Kamra was taken on Civil Aviation Minister Hardeep Singh Puri's orders. Delhi HC asked why DGCA issued an order when the inquiry was pending. "This (the ban) is against the Aircraft rules which lays down a complete procedure to deal with unruly behavior in the form of Civil Aviation Regulations," senior counsel Vivek Tankha, who represented Kamra, said.
DGCA was asked to file a response
A single bench of Justice Navin Chawla ordered DGCA to file a response on Kamra's plea. He also allowed Kamra to implead Air India, Spice Jet and Go Air. Since Kamra hadn't requested any relief, HC didn't ponder over it.
Pilot supported Kamra, said he didn't deserve such harsh punishment
Kamra might have been ridiculed by several airlines but he found support from pilot-in-command Rohit Mateti. In a letter, which went viral, Captain Mateti wrote that Kamra's behavior was "unsavory" but it didn't qualify as that of "Level 1 Unruly passenger". He also revealed he was not consulted before the punishment. "This is somewhat unprecedented in my 9 years of airline flying," he said.
I wanted to have a good conversation, claimed Kamra
Speaking on his behavior, Kamra said, "When you get a chance like this, if you do not confront him and try to tell him that what he's doing is really causing damage ... I wanted to actually genuinely have a good conversation with him. He claimed he followed the playbook of quintessential Republic TV reporters — point camera, ask questions, and then upload it.