US-India joint statement: Will protect citizens from radical Islamic terrorism
US-India joint statement: Will protect citizens from radical Islamic terrorism
Feb 25, 2020, 03:14 pm
3 min read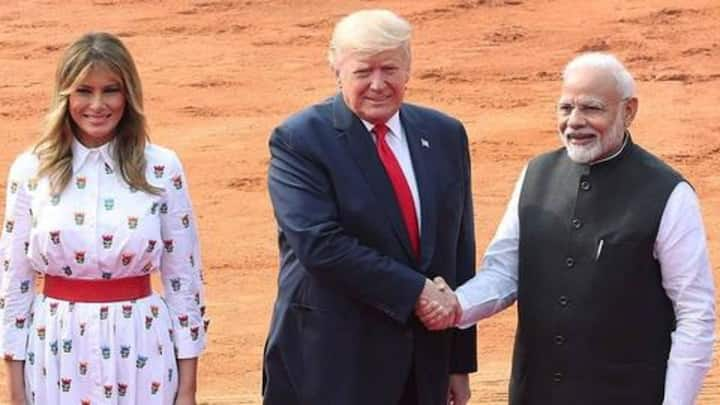 For the second time in 24 hours, United States President Donald Trump asked Pakistan to act against terrorists flourishing on its soil and added his nation was committed to ending radical Islamic terrorism. He made these remarks on Tuesday, as Prime Minister Narendra Modi stood next to him at the press conference in Hyderabad House. Both leaders discussed trade and other pressing matters.
Trump noted PM Modi was hugely popular in India
Earlier in the day, thanking India for giving a memorable welcome, Trump said, "Every time I mentioned you (PM Modi), they cheered more. People love you here." He was referring to the immense crowd that ascended to the Motera Stadium in Ahmedabad for the "Namaste Trump" event. Trump went to Agra, visited the Taj Mahal, before arriving in New Delhi for important discussions.
Pakistan figured in Trump's statement
Yesterday too, Trump mentioned Islamic terrorism in his brief speech and reminded that ISIS Chief Abu Bakr-al Baghdadi was killed by his administration. He had also asked Pakistan to take concrete steps against terrorism. Reiterating the same today, Trump said, "In our discussions, PM Modi and I affirmed our two countries' commitment to protecting our citizens from radical Islamic terrorism."
Pakistan should confront terrorists operating on its soil: Trump
US President Donald Trump: In our discussions, PM Modi and I affirmed our two countries' commitment to protecting our citizens from radical Islamic terrorism. In this effort the US is also working productively with Pakistan to confront terrorists who operate on its soil. pic.twitter.com/DFrZZO8wjR

— ANI (@ANI) February 25, 2020
5G network was discussed, revealed Trump
As expected PM Modi and Trump didn't sign the trade deal, but spoke on other matters. "During our visit we discussed the importance of a secure 5G wireless network & the need for this emerging technology to be a tool for freedom, progress, prosperity, not to do anything with where it could be even conceived as a conduit for suppression & censorship," Trump said.
Defense deals worth $3 billion were finalized: Trump
"Earlier today we expanded our defense cooperation with agreements for India to purchase more than $3 billion of advanced American military equipment, including Apache & MH-60 Romeo Helicopters - finest in the world. These will enhance our joint defense capabilities," the US President went on.
The visit was productive, noted Trump
Heaping praises on the welcome accorded to him, Trump said the last couple of days were very productive. "US-India partnership truly stronger than ever before. The visit was great; We will remember welcome accorded to us," said Trump. While he discussed trade with PM Modi, First Lady Melania attended a "Happiness Class" at Sarvodaya Co-Education Senior Secondary School in Moti Bagh.
Both sides are working on trade deal: PM Modi
Before Trump spoke to media, PM Modi told reporters that talks on a trade deal were progressing. "Our commerce ministers have had positive talks on trade. Both of us have decided that our teams should give legal shape to these trade talks. We also agreed to open negotiations on a big trade deal," he said. He added all aspects of Indo-US ties were discussed.
Ties between India and US are people driven: PM Modi
"It was established again yesterday that relations between India and the US aren't just between two governments, but are people-centric and people-driven. These relations are very important for the most important relationship of the 21st century," the Indian Prime Minister said.