NHRC to oppose government's decision to deport Rohingyas at SC
NHRC to oppose government's decision to deport Rohingyas at SC
Sep 16, 2017, 04:35 pm
2 min read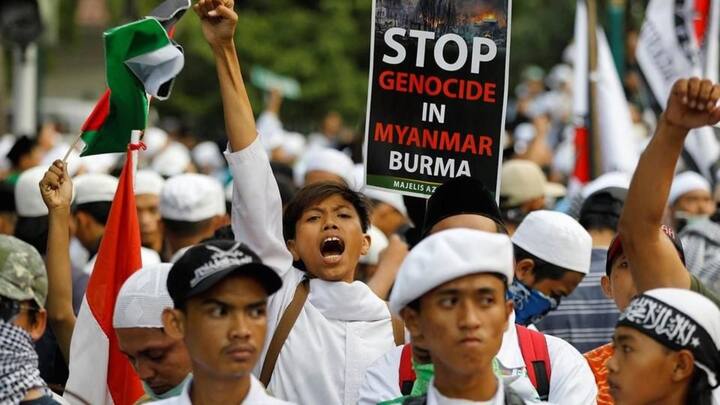 The National Human Rights Commission (NHRC) said it would oppose the Centre's plans to deport an estimated 40,000 Rohingya Muslims living illegally in India. It said it would plead against their deportation when the Centre submits its affidavit to the Supreme Court on the matter on Monday. The NHRC has cited "humanitarian grounds" and fears that the deported Rohingyas would face persecution in Myanmar.
Rohingyas believed to be world's most persecuted minority
The Rohingyas are an ethnic Muslim group who constitute around one million of Myanmar's predominantly Buddhist 50 million population. They speak a Bengali dialect, mainly reside in the country's impoverished northern Rakhine state. Myanmar views them as illegal Bangladeshi immigrants and doesn't officially recognize them as its citizens, rendering them stateless. The Rohingyas have allegedly been subjected to human rights abuses by Myanmar.
Home Ministry considers Rohingyas a security threat
The Union Home Ministry has termed the presence of Rohingyas as "illegal, a security threat and strain on India's resources" and that it will file an affidavit for their deportation. It recently sent an advisory to states to identify Rohingyas and begin their deportation process.
NHRC: Rohingyas in India protected under fundamental right to life
NHRC chairperson and former CJI Justice HL Dattu said: "if these persons (Rohingyas) are deported back to their country, we see it as a violation of human rights." In its plea, the NHRC will cite various SC orders that held that under the Constitution's Article 21, the fundamental right to life and liberty applies to all, regardless of whether or not they're Indian citizens.
NHRC had criticized government's decision to deport Rohingyas
Last month, the NHRC criticized the government's decision to deport the Rohingyas. It had said: "Even though India is not a signatory to the 1951 Convention on Refugees and also the 1967 Protocol, it is a signatory to a number of United Nations and world conventions on human rights." It said India can balance humanitarian obligations with security and national interests.