INS Vikrant case: FIR against BJP leader Kirit Somaiya, son
INS Vikrant case: FIR against BJP leader Kirit Somaiya, son
Written by
Manzoor-ul-Hassan
Edited by
Ramya Patelkhana
Apr 07, 2022, 03:29 pm
3 min read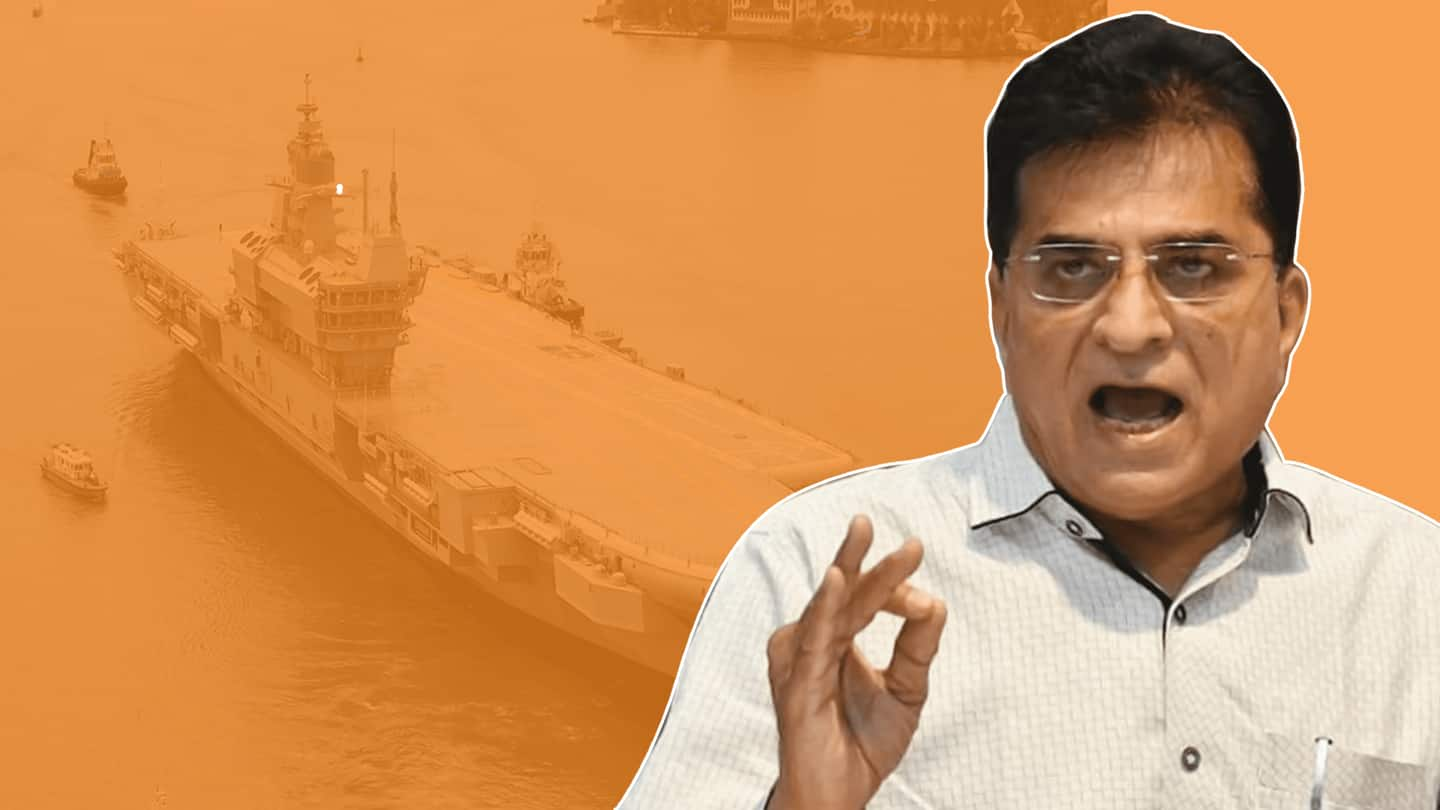 The Mumbai Police has registered an FIR against BJP leader Kirit Somaiya and his son, Neil, for allegedly siphoning off Rs. 57 crore from a campaign he had launched to save INS Vikrant. The development came in the midst of a war between former allies in Maharashtra—Shiv Sena and Bharatiya Janata Party (BJP)—over a crowd-funding drive launched to save the country's first aircraft carrier.
Why does this story matter?
The prestigious INS Vikrant was a Majestic-class aircraft carrier of the Indian Navy commissioned in 1961. Being India's first aircraft carrier, it occupies an important place in the Navy's history.
The latest complaint alleges Somaiya had launched a campaign in 2013-14 to collect funds and save INS Vikrant from being scrapped, but instead of depositing the donations to the authorities, he misappropriated the same.
Case registered on the complaint of ex-military officer
The police filed a case—based on a former military officer's complaint—under IPC Sections 420 (cheating and dishonesty including delivery of property), 406 (punishment for criminal breach of trust), and 34 (common intentions), Hindustan Times reported. The FIR filed in Trombay Police Station on Wednesday said Somaiya—BJP's former MP from Mumbai North-East—collected donations for INS Vikrant but didn't deposit them with the Maharashtra Raj Bhavan.
Allegations by Shiv Sena's Sanjay Raut
Meanwhile, Shiv Sena leader Sanjay Raut—currently being investigated in a land scam case by the Enforcement Directorate (ED)—also accused Somaiya of stealing donations on Wednesday. Raut said the BJP leader had launched a drive in 2013-14 and raised Rs. 57 crore from the public to convert INS Vikrant into a museum. "However, as per an RTI query, the money was never deposited," he alleged.
Here's what Raut tweeted in Marathi about the issue
Mark my words
INS विक्रांत चया नावे 56 कोटी गोळा करून जनतेला देशाला फसवणाऱ्या सोमय्या बाप बेटायाना जेल मध्ये जावेच लागेल. किरीट सोमय्या हा महाराष्ट्र द्रोही तर होताच पण देशद्रोही असल्याचे उघड झाले आहे. लोकांनी आता गप्प बसू नये. जवानांचे शोषण करणाऱ्या bjp ला जाब विचाराच लागेल. pic.twitter.com/juqXvAUa68

— Sanjay Raut (@rautsanjay61) April 7, 2022
Ready to face any action: Somaiya
Reacting to the allegations, Somaiya said he was prepared to face any action. "No scam has taken place, not even worth a rupee in [INS] Vikrant fund collection," he said. "I have not done anything wrong. Raut has been leveling allegations, but has not given proof to substantiate them. I have not received the copy of the FIR filed in the case," he added.
Somaiya refused to answer whether funds were deposited
"I will keep exposing the Uddhav Thackeray government. I am ready to face the investigation," Somaiya told reporters, in response to Raut's allegations against him. However, he refused to answer if he had collected and handed over the donations to the state governor or government.
Important details about INS Vikrant
INS Vikrant, an Indian Navy Majestic-class aircraft carrier, was commissioned in 1961. Notably, during the Indo-Pakistan War of 1971, it had played a crucial role in imposing the naval blockade of East Pakistan. However, the ship was decommissioned in 1997. Later, the aircraft carrier was sold off in an online auction in January 2014 and was demolished in the same year in November.
BJP, Shiv Sena split in 2019
The Shiv Sena-BJP's tussle over the INS Vikrant campaign is the latest in the parties' political rivalry. The parties were once allies in Maharashtra for 25 years but split in 2019 over power-sharing in the state. The latter then joined forces with the NCP and Congress to establish the Maharashtra Vikas Aghadi coalition, which now rules the state with Thackeray as the Chief Minister.