J&K: 17 killed, 16 injured as mini-bus falls into gorge
J&K: 17 killed, 16 injured as mini-bus falls into gorge
Sep 14, 2018, 05:05 pm
2 min read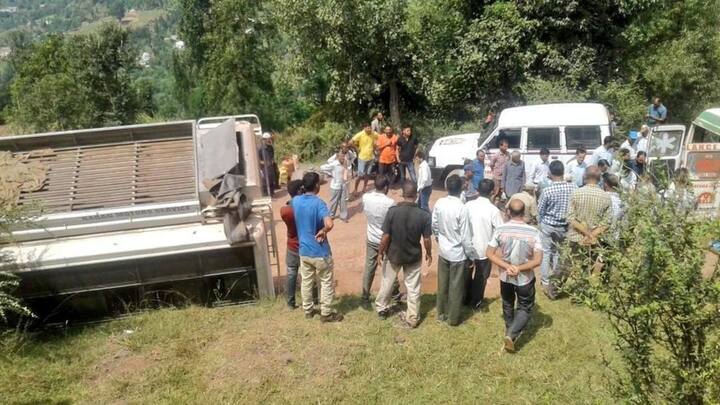 At least 17 passengers were killed and 16 injured when a mini-bus skidded off the road and plunged into a gorge in J&K's Kishtwar district today, officials said. "A total of 17 persons died and 16 others injured in the unfortunate incident," District Development Commissioner (Kishtwar) Angrez Singh Rana said. He said the dead included three women and the driver, Ashraf Hussain. Here's more.
Driver of the bus lost control of the vehicle
The accident occurred at Dandaran, near Thakrai, when the driver of the mini-bus, which was on its way to Kishtwar from the Keshwan area, lost control of it and the vehicle plunged into the over 300-foot gorge, near the Chenab riverbed today morning, officials said. Interestingly, Hussain was fined by the traffic police for overloading yesterday, the officials added.
Next kin of deceased will be given Rs. 5 lakh
District Development Commissioner Rana said most of the victims died on the spot. Rana, who led the operation along with Senior Superintendent of Police Rajinder Gupta, said, "The next of the kin of the deceased will be given an ex gratia relief of Rs. 5 lakh each, while Rs. 50,000 will be given to each of the injured persons."
Bus was carrying over 30 passengers
Officials said the bus was carrying over 30 passengers. They said five of the injured were undergoing treatment at a local hospital and their condition was stated to be "stable". Jammu-based Army spokesman Lt Col Devender Anand said the Indian Air Force had pressed an MI-V5 chopper into service and airlifted eight critically injured victims from Kishtwar to Jammu.
This is the third major accident in Kishtwar district
This is the third major accident in Kishtwar district in last one month. While 13 Machail Yatra devotees were killed when their cab plunged into a gorge on August 21, seven persons were killed when two vehicles were hit by boulders a day earlier.