JNU students march towards Parliament over fee hike; police intervenes
JNU students march towards Parliament over fee hike; police intervenes
Nov 18, 2019, 01:38 pm
2 min read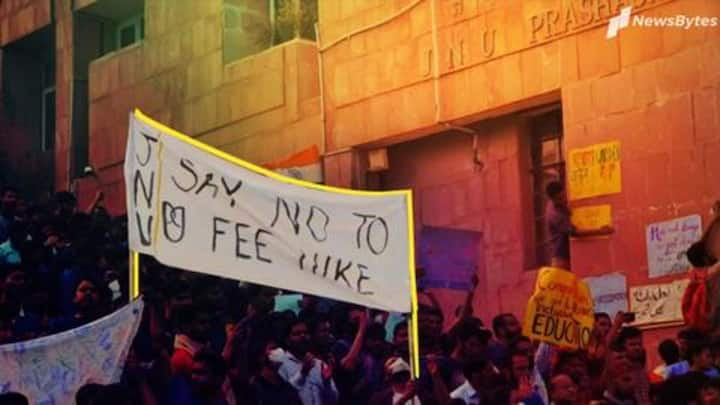 On Monday, students of Delhi's Jawaharlal Nehru University (JNU) marched towards the Parliament over the proposed hostel fee hike at the varsity. However, the protesting students were stopped by the police and barricades were placed to impede the march. The protest comes on the first day of the Parliament's winter session. Earlier in the day, Section 144 was also imposed near Parliament. Here's more.
Barricades, water cannons placed to stop JNU students' protest
JNU students marched towards the Parliament on Monday, however, they were stopped half a kilometer from the varsity's campus. Barricades and water cannons have been placed near Kendriya Vidyalaya, Baba Gangnath Marg, to stop the march. Reportedly, the protesting students broke through the barricades and continued marching towards Ber Sarai. Ahead of the march, security was tightened around the campus.
Several protestors detained by police
As the JNU students continued their march even with all roads around the university barricaded, the police reportedly detained several protestors. The police had warned that the students would face action if they do not disperse. Reportedly, the CRPF is also helping control the situation.
Why are JNU students protesting?
JNU students are protesting against a draft manual that allegedly imposes a steep hostel fee hike, a dress code, curfew timings, restrictions by the administration on entry to the Parthasarathy Rocks, and attempts to lock students' union office. The bone of contention is the hostel fee hike, which was later reduced by the varsity. However, JNU students continued protests, demanding a full roll-back.
HRD Ministry forms committee to address JNU students' concerns
Earlier, the JNU administration had announced a partial roll-back of the hiked fee, which wasn't acceptable to the students. On Monday, the HRD Ministry appointed a three-member committee to recommend ways to restore normal functioning of the university (JNU), officials said. The committee will initiate dialogs with students and administration as well as submit recommendations on the resolution of all issues.
Rahul Gandhi backs tukde-tukde gang: Ramesh Bidhuri
Meanwhile, BJP MP Ramesh Bidhuri said that he will raise the issue of the JNU protest in Parliament. Bidhuri said that the "tukde-tukde gang" has Congress MP Rahul Gandhi's support, adding that he will talk to the DCP concerned on the alleged attack on media.