Kerala journalist, arrested on way to Hathras, granted 5-day bail
Kerala journalist, arrested on way to Hathras, granted 5-day bail
Feb 15, 2021, 07:16 pm
2 min read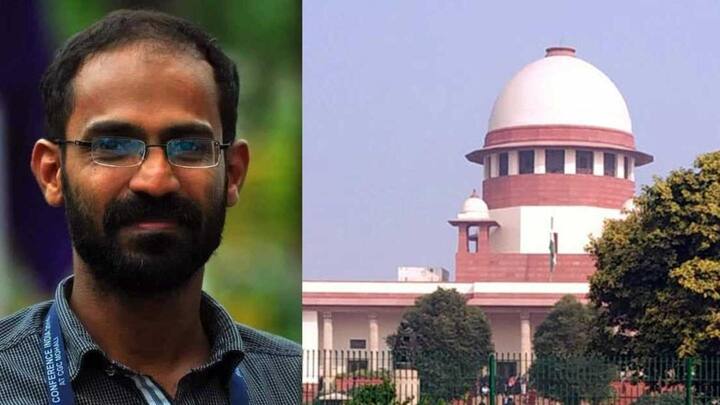 Kerala journalist Siddique Kappan, who was arrested on his way to Hathras in Uttar Pradesh last October, has been granted bail by the Supreme Court for five days to visit his ailing mother. Kappan was arrested while he was on his way to report on the Hathras gang-rape and murder case. He has since been in jail in Mathura. Here are more details.
Court granted Kappan bail to see 90-year-old mother
The apex court granted five-day bail to the journalist as his 90-year-old mother is said to be on her deathbed. He has been allowed to visit Kerala, however, he has been restrained from speaking to the press or posting on social media. He is also restrained from meeting anyone during the visit apart from his relatives, doctors, and anyone connected to his mother's health.
Cops to escort Kappan from UP to Kerala
Kappan will be escorted by cops to Kerala from UP. It will be the responsibility of the UP Police to ensure his travel and return, the court said. Notably, the journalist was allowed to speak to his mother via video call last month, however, he could not speak to her as she was unconscious at a hospital located in his hometown Malappuram.
UP government had opposed Kappan's bail
The bail request had been opposed by the UP government, which accused Kappan of attempting to spark trouble. The government had claimed that investigations into the case had revealed "shocking findings."
Kappan arrested in October from Mathura
Kappan was arrested on October 5, 2020, from a toll plaza in Mathura along with three others. He was on his way to Hathras to report on the gang-rape and murder of a Dalit woman in September. The UP Police had said that they were acting on a tip about "suspicious people." Kappan was later charged under the stringent anti-terror Unlawful Activities (Prevention) Act.
Journalists' union had requested for bail
The Kerala Union of Working Journalists (KUWJ) had requested bail for Kappan. The union has denied the allegations against him and has claimed that the journalist was tortured in jail. Kappan is the Secretary of the KUWJ's Delhi unit.