Soldier, who left militancy for Indian army, gets Ashok Chakra
Soldier, who left militancy for Indian army, gets Ashok Chakra
Jan 26, 2019, 03:47 pm
3 min read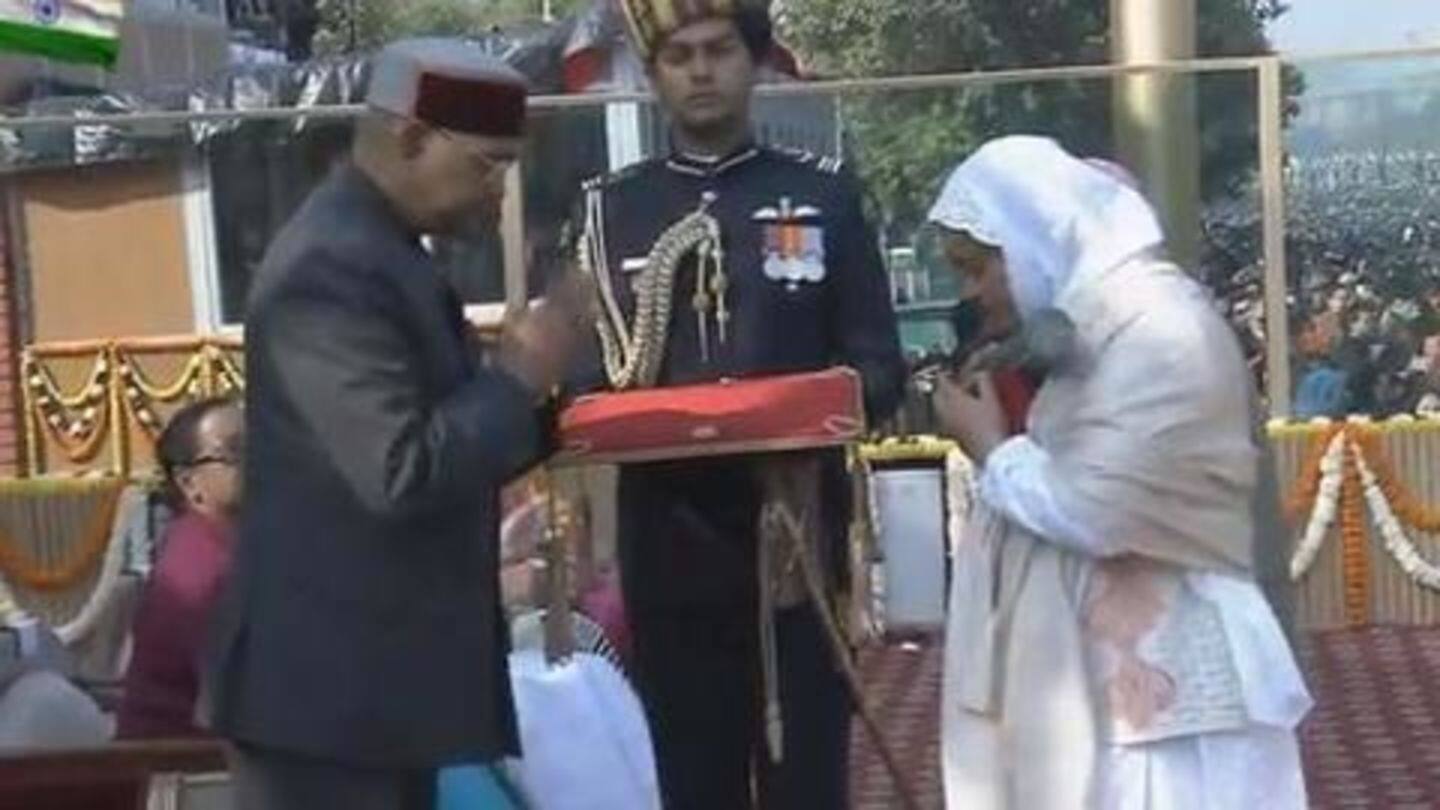 In an emotional moment which filled the hearts of millions of Indians with pride, President Ram Nath Kovind on Saturday conferred the Ashok Chakra to Lance Naik Nazir Ahmad Wani who died fighting terrorists last year. The award, which is the highest peace-time gallantry award, was presented to Mahajabeen, Wani's wife. Wani is the first Kashmiri to be given this honor. Here's his story.
After hoisting flag, President Kovind honored Wani
On the auspicious day, President Kovind hoisted the tricolor in the presence of chief guest Cyril Ramaphosa, his South African counterpart, and Prime Minister Narendra Modi. After flag hoisting, President Kovind gave the Ashok Chakra to Mahajabeen. A teacher and mother of two, Mahajabeen was joined by Wani's mother. The duo, visibly emotional on receiving the honor, thanked President Kovind.
Wani was a misguided youth but later surrendered himself
Wani's story redefines courage and determination for all. A former militant, Wani belongs to Kulgam district. He participated in attacks on security forces in the valley. However, in 2004 he surrendered his weapons and was recruited to 162nd battalion of the Territorial Army - Jammu and Kashmir Light Infantry. Wani, who gathered important intelligence, died on November 25 last year battling Lashkar-e-Taiba terrorists.
Wani eliminated an LeT commander, was hit by bullets
Wani's team was locked in a fierce gun battle with six terrorists in Hirapur village near Batgund in November last year. The brave soldier stormed the house where the terrorists were hiding and managed to kill the LeT commander and another foreign terrorist. He also injured a third terrorist but was hit by several bullets by then. Wani was rushed to the army hospital.
Here's what the award citation read
"Lance Naik Wani prevented the escape of the terrorists from the target house and made a huge contribution in the neutralization of six hardcore terrorists, in the process laying down his life upholding the highest tradition of the Indian Army," the award citation read.
Picture of Wani's inconsolable father dampened many eyes
Wani's body, which was wrapped in tricolor, was handed over to his family the next day. The army gave him a 21-gun salute. A photo of his crying father being consoled by an army officer was widely shared on social media. About Wani, one of his colleagues told PTI he always displayed immense courage and exposed himself to danger in the line of duty.
Wani's wife remembers him, calls him guiding light
Notably, Wani was awarded the Sena Medal twice- in 2007 and 2018. About the honor bestowed on her late husband, Mahajabeen said his immense love is a source of inspiration for her. She revealed on learning about his death, she didn't cry. "There was an inner resolve which did not allow me to cry," she said. She added he was her guiding light.