Anger in Kashmir after terrorists shoot dead cops during Ramzan
Anger in Kashmir after terrorists shoot dead cops during Ramzan
Jun 13, 2018, 05:36 pm
2 min read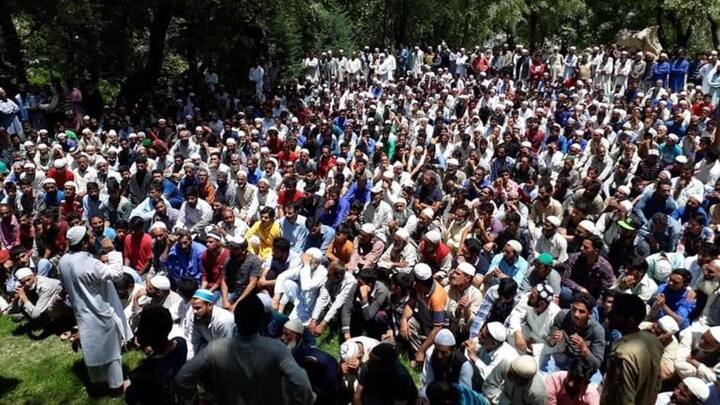 J&K cops rarely get to be home for festivals. But this Eid, head constables Ghulam Hassan Wagay and Ghulam Rasool Lone reached their families. In body-bags. "Why did you break your promise, papa? Didn't you say I'll be home for Eid?" Wagay's son is heard wailing in a video. The timing of the attack in Pulwama which killed them has triggered mass anger.
Our tribute to martyrs SgCt Ghulam Rasool and SgCt Ghulam Hassan whom we lost today in a terror attack at Court Complex Pulwama. We stand by their families support each other at this crucial juncture. RIP. @JmuKmrPolice @ssppul pic.twitter.com/n6dJlekDs0

— Kashmir Zone Police (@KashmirPolice) June 12, 2018
They were targeted when they were guarding a court complex
Wagay and Lone were part of the police picket guarding the district court complex in Pulwama, when terrorists opened fire on them yesterday morning. The cops retaliated, but in the ensuing exchange of gunfire, they were killed. This came amid a Ramzan ceasefire declared by the Home Ministry. However, terrorists have launched continuous attacks on the forces.
"I'll massage you": Wagay's son urges father to return
Both the cops, who had young children, had made plans for Eid this time, but their bodies reached home instead. In the viral video, Wagay's son is heard saying, "Wasn't your neck hurting? Let me massage you," as relatives try to console him. The Baramulla native left behind a wife and three children aged 22, 19 and 13.
Lone had wanted to take his kids home for Eid
Lone too was thinking of going home for Eid. He had talked to his brother-in-law Mohammad Yusuf just the previous evening, and said, "Keep the kids ready, I will take them home." "Who knew we will have to see this in the morning," Yusuf mourned. Lone, who hailed from Lolab Kupwara, also left behind a wife and three children aged 12, nine and seven.
The masses are angry over the way they were killed
Wagay and Lone's funerals were attended by thousands of locals, including women and children. A feeling of anger ran through them: the policemen, who were not even involved in combat, were targeted on Shab-e-Qadr, the night of blessings during Ramzan. "Repeat of shameful lynching of DSP Ayub Pandit on his anniversary. Perpetrators worst enemies of Kashmir, its people, Islam. Silence? @MirwaizKashmir," tweeted PDP's Naeem Akhtar.