Nirbhaya's mother slams Indira Jaising for saying 'forgive the rapists'
Nirbhaya's mother slams Indira Jaising for saying 'forgive the rapists'
Jan 18, 2020, 12:17 pm
2 min read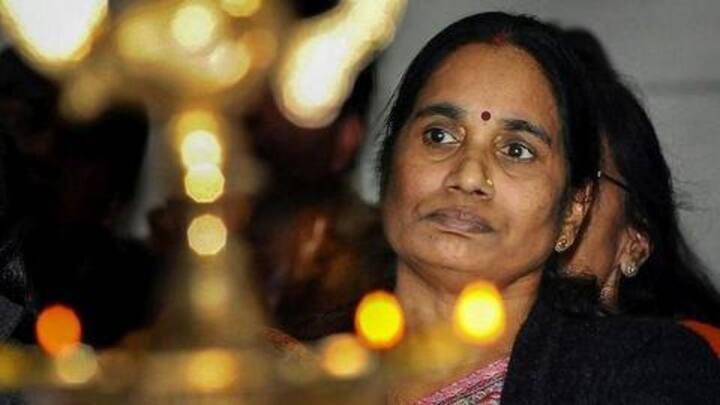 Senior lawyer Indira Jaising made a case for rapists of Nirbhaya saying the mother of the deceased 23-year-old physiotherapy intern should forgive the convicts. Jaising urged Asha Devi, Nirbhaya's mother, to follow Congress leader Sonia Gandhi's example who forgave the assassins of her husband, late Prime Minister Rajiv Gandhi. Furious at this, Asha asked who was Jaising to suggest something like this.
Background: A young woman was brutally raped in national capital
On December 16, 2012, Nirbhaya and a male friend of hers boarded a private bus in South Delhi. She was raped, tortured, and her accomplice thrashed. The duo was then dumped on the street on a chilly night. Thirteen days after the bone-chilling crime, Nirbhaya breathed her last at a Singapore hospital. In India, people came on streets demanding strictest of punishment.
Six men raped Nirbhaya, four are on death row
The heinous crime was committed by six, including a juvenile. The main accused Ram Singh committed suicide before the sentencing and the juvenile was sent to a correction home for three years. After a prolonged legal battle, the remaining four — Mukesh Singh, Pawan Gupta, Vinay Sharma, and Akshay Kumar Singh, will be hanged to death at Tihar jail on February 1.
Delay in convicts' death drove Asha to tears
The convicts were supposed to be sent to gallows on January 22, but it got delayed after Mukesh filed a mercy plea before President Ram Nath Kovind. Eventually, the plea was junked, but the execution date was also delayed. Expressing displeasure at this, Asha said the same people who demanded death for rapists, were now exploiting her daughter's death for politics.
Subsequently, Jaising asked Asha to forgive the convicts
While I fully identify with the pain of Asha Devi I urge her to follow the example of Sonia Gandhi who forgave Nalini and said she didn't not want the death penalty for her . We are with you but against death penalty. https://t.co/VkWNIbiaJp

— Indira Jaising (@IJaising) January 17, 2020
Whole country wants the convicts to be executed: Asha
Reacting to Jaising's suggestion, Asha asked who gave her the authority to suggest something like this. "Who is Indira Jaising to give me such a suggestion? Whole country wants the convicts to be executed. Just because of people like her, justice is not done with rape victims," the bereaved mother was quoted as saying by news agency ANI.
These people earn livelihood by supporting rapists: Asha
"I met her many times over the years in Supreme Court and not once she asked about my well being and today she is speaking for the convicts. Such people earn a livelihood by supporting rapists, hence rape incidents don't stop," Nirbhaya's mother added.