#PulwamaAttack: Politicians unite to condemn attack, Congress slams Modi
#PulwamaAttack: Politicians unite to condemn attack, Congress slams Modi
Feb 15, 2019, 10:55 am
3 min read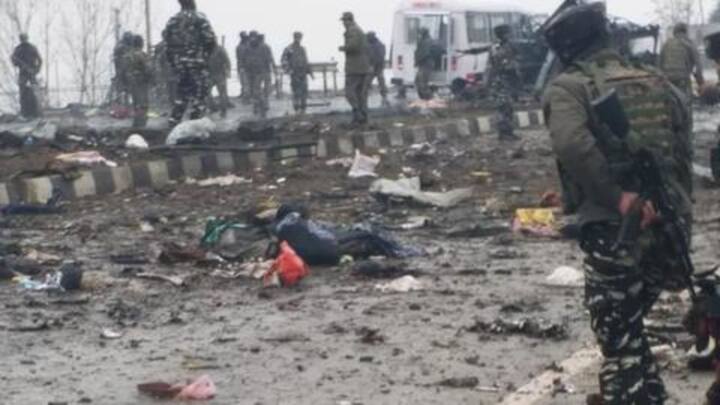 In a horrifying incident, 40 CRPF jawans were martyred on Thursday, after their convoy was attacked in Pulwama district of Jammu and Kashmir. Further, at least 40 soldiers were injured. The terrorist organization Jaish-e-Mohammed took responsibility for the attack and revealed local resident Ahmad alias Waqas carried out the suicide attack. Soon after the news broke, politicians across the spectrum unanimously condemned it.
Convoy was on way to Srinagar, car rammed into bus
A CRPF official said there were 70 buses in the convoy and it was going towards Srinagar. On the Srinagar-Jammu national Highway, an SUV, laden with 350 kg of explosives rammed into the targeted bus triggering a blast. The bus was reduced to shambles in no time. Notably, a car bomb was used for the 2001 attack on J&K Secretariat which killed 38 people.
As expected, Congress slams BJP after attack
The gruesome attack, which is being considered the worst one after Uri camp was attacked in 2016, prompted a lot of reactions from politicians. Congress was quick to berate the ruling BJP for 'compromising national security'. Jaiveer Shergill said BJP leaders were busy asking "How's the josh? (a popular dialogue from Uri movie), but will they explain the continuous onslaught on the army."
Surjewala blames BJP for compromising national security
Condemn the cowardly terror attack on our jawans in Pulwama, JK today.

Our homage to the 18 brave hearts who made the supreme sacrifice condolences to their family.

Uri, Pathankot, Pulwama- the terror list compromise of National Security by Modi Govt continues unabated.

— Randeep Singh Surjewala (@rssurjewala) February 14, 2019
BJP boasts of surgical strikes, hence this happened: Congress leader
"We condemn this attack but I say it again that Modi regime cannot control Kashmir. These people talk about surgical strikes, they tell the world about it because they can't keep it a secret. And that's why this is happening," said Congress' Sushil Kumar Shinde.
Separately, Kejriwal calls for unity
Trinamool Congress chief Mamata Banerjee tweeted she was upset with the news. "We salute our brave jawans and extend our solidarity and condolences to their families. Our prayers for those injured," she added. Meanwhile, Delhi Chief Minister Arvind Kejriwal called for unity in this hour of grief. "I strongly condemn the terror attack on CRPF convoy in which many casualties are feared," he tweeted.
Meanwhile, Governor Satya Pal Mallik asks security to step up
In a statement, the Raj Bhawan of the state revealed Governor Satya Pal Mallik felt militancy forces in J&K were frustrated and wanted to make their "presence felt". He urged all the Security Forces Commanders to enhance surveillance on every front and directed the administration to review security. Separately, Union Home Minister Rajnath Singh is believed to have spoken to DG CRPF RR Bhatnagar.