Arunachal Pradesh: Protesters burn Deputy CM's house; Army deployed
Arunachal Pradesh: Protesters burn Deputy CM's house; Army deployed
Written by
Shiladitya Ray
Feb 24, 2019, 05:23 pm
3 min read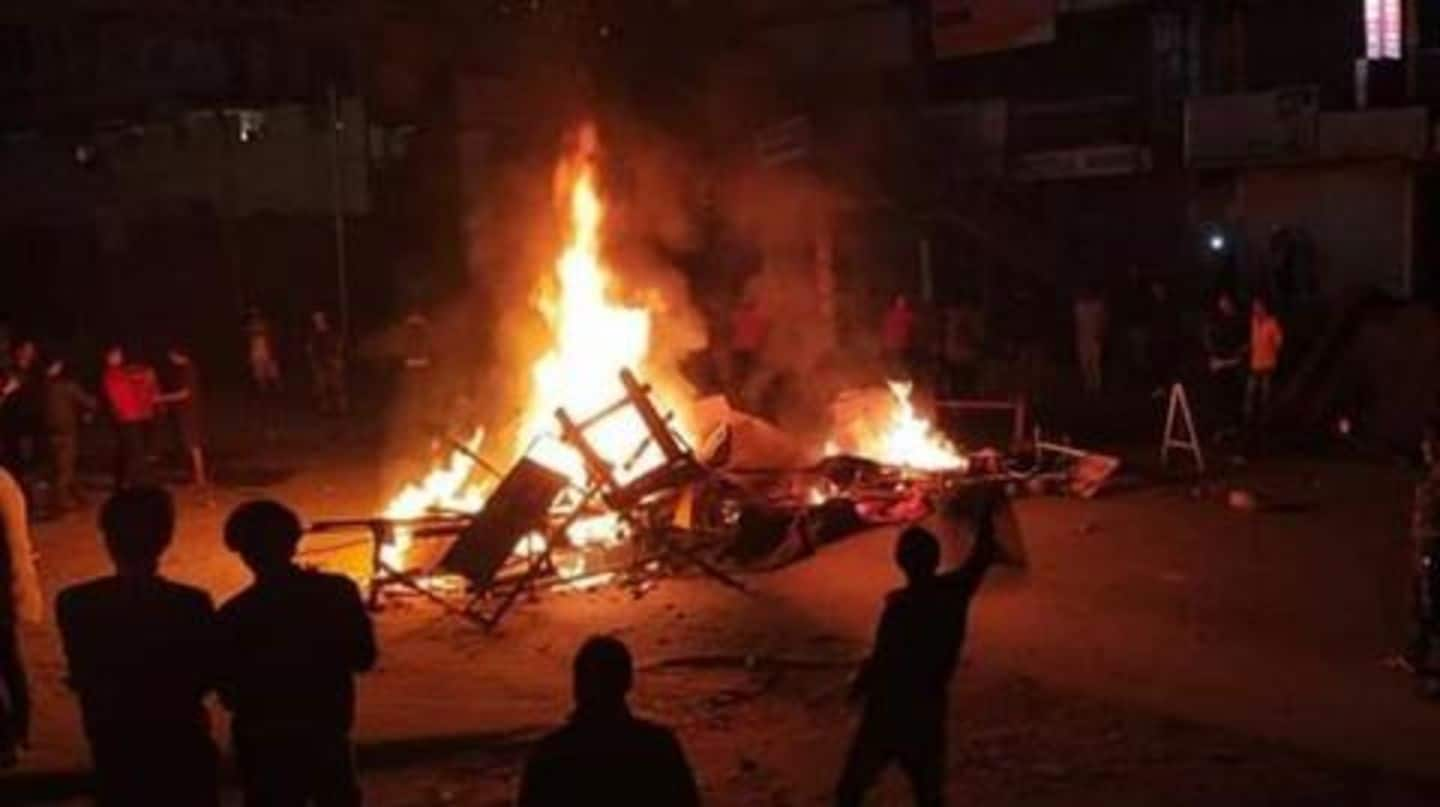 A couple of days after it was reported that one person had been killed in a police firing in Arunachal Pradesh, protesters, on Sunday, burnt down the house of the state's Deputy Chief Minister, Chowna Mein. The protests had erupted on Thursday after the state government decided to grant permanent resident certificates (PRCs) to communities not native to Arunachal Pradesh. Here are the details.
The deputy commissioner's office was also ransacked
As protests intensified over the weekend, Mein was evacuated from his residence in Itanagar and shifted to the Namsai district early on Sunday morning. Meanwhile, protesters, defying curfew, razed Mein's bungalow to the ground and also ransacked the office of the deputy commissioner, as public anger over Friday's police shooting reached a boiling point. Public property was also damaged by protesters.
Army deployed, internet suspended, curfew imposed in Itanagar
With protests intensifying in the state capital Itanagar, the Army has been deployed to maintain law and order, and is currently carrying out flag marches in the city. Internet services have been suspended in Itanagar, and a curfew has been imposed. Meanwhile, Home Minister Rajnath Singh, on Saturday, spoke to Chief Minister Pema Khandu to take stock of the situation.
The protests had begun on Thursday
The protests began on Thursday after a conglomerate of 18 students' bodies and civil society organizations called for a 48-hour strike in Itanagar in light of the state government's decision to grant PRCs to six communities not native to Arunachal Pradesh. While the strike was incident-free and non-violent on Thursday, protesters went on a rampage on Friday, in a bid to stop the government's move.
On Friday, a protester was killed in a police firing
Angry protesters on Friday, burned over 50 cars, and left some 100 more damaged. Five theaters in Itanagar too were gutted in the protests. As protests escalated and started spreading to different parts of the city, police resorted to using tear gas and water cannons, and even opened fire on the protesters. Consequently, one protester was killed and dozens were injured, sparking even more outrage.
The government has shelved the granting of PRCs for now
Meanwhile, taking cognizance of the protests, the Arunachal Pradesh government has decided to not discuss the issue of granting PRCs in the ongoing state assembly session. "Considering the present situation in respect of the matter pertaining to grant PRC to non-APST residents...the state government has decided that no further action shall be taken in respect of grant of PRC," the government has stated.