Pulwama martyr Major Vibhuti Dhoundiyal's wife set to join Army
Pulwama martyr Major Vibhuti Dhoundiyal's wife set to join Army
Written by
Siddhant Pandey
Feb 19, 2020, 11:52 pm
3 min read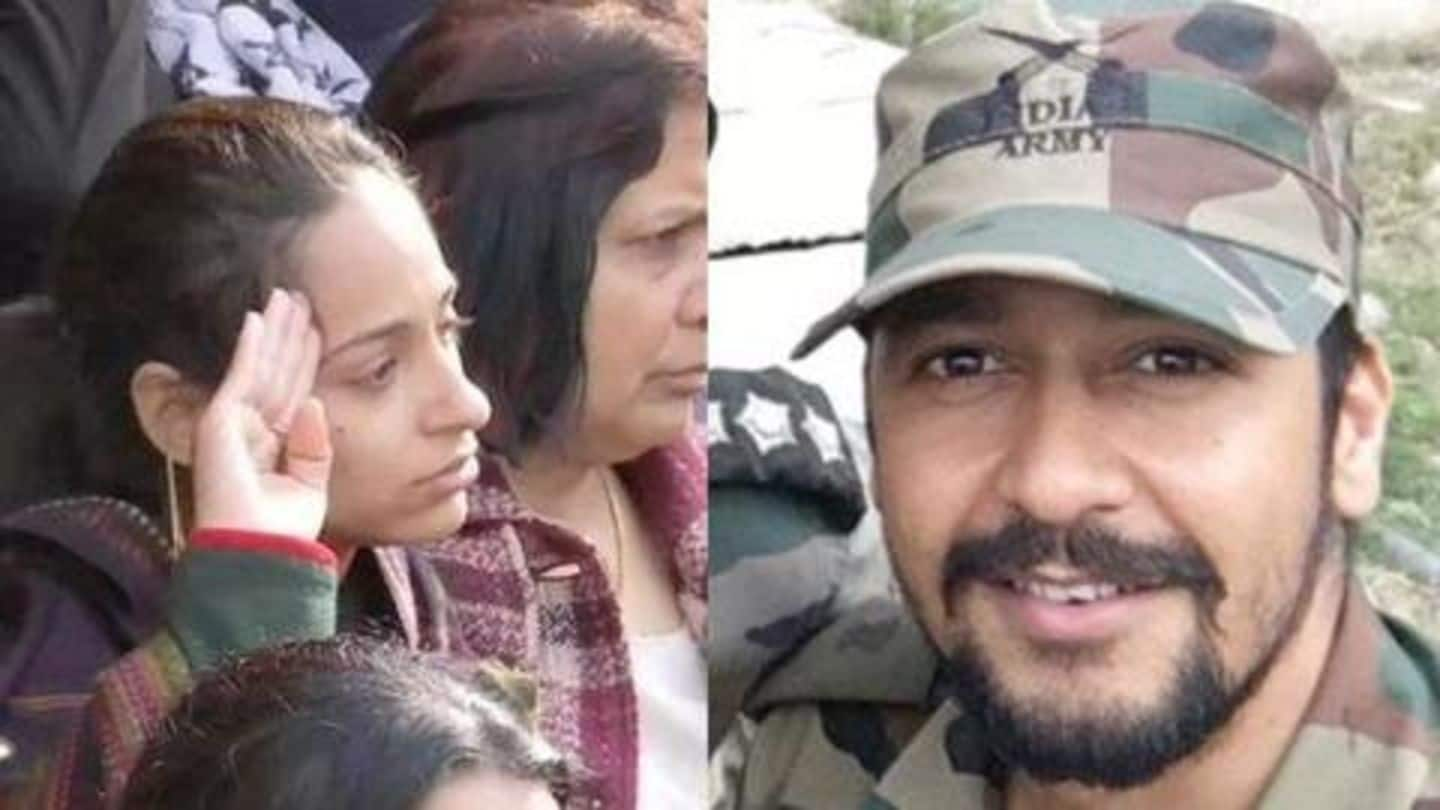 A year after Indian Army Major Vibhuti Dhoundiyal was martyred in an encounter with terrorists in Pulwama, his widow is set to join the Army. Reportedly, Nikita Kaul Dhoundiyal has cleared the Short Service Commission (SSC) exam and the interview. She is now waiting for the merit list to be released and is eager to start her training. Here are more details.
Major Dhoundiyal martyred on February 17 last year
After the Pulwama terror attack on February 14, a day-long encounter with terrorists followed in the region. Major Vibhuti Dhoundiyal (35), posted with the 55 Rashtriya Rifles (RR), was deployed in Pulwama at the time. He was martyred on February 17, along with four other soldiers. He was due to return home in April for his first wedding anniversary with Nikita.
'You loved nation more,' Nikita had said at husband's funeral
At the martyred soldier's funeral, Nikita left a tearful goodbye to her husband. Standing over his coffin, she had said, "You said you loved me, but the fact is you loved the nation more," before blowing him a kiss.
Nikita said giving SSC was her 'way to heal'
Speaking to News 18, Nikita said, "I filled the SSC form six months after Vibhu's martyrdom. It was my way to heal." She added, "When I wrote the exam and gave the interview, I could feel what he would have felt when he wrote his SSC. I connected with him, his fears and his anxiety. Somehow that gave me strength."
'Vibhu isn't here physically; doesn't mean our marriage ended'
Recalling her interview, she added, "The interview board asked me how long I was married. I said, 'Two years.' They said, 'We heard you both were married for nine months.' I said, 'Vibhu is not here physically but that doesn't mean our marriage has ended.'"
Nikita to quit MNC job to start training in Chennai
According to News 18, Nikita currently works at a Noida-based MNC, however, she will soon quit the job to join the Officers Training Academy in Chennai. Notably, the Army relaxes the age limit for war widows. Nikita told the publication that when she leaves for training she will miss her husband's cupboard the most, which still has his toothbrush, lighter, lip balm, and uniform.
'Vibhu was instrumental in my decision to join Army'
Speaking about her decision to join the Army, Nikita said, "I first needed to accept what had happened...[Major Dhoundiyal] wanted me to do better than him." She added, "Whenever I had any anxiety or doubt about my decision to join the Army, I would close my eyes and think about what Vibhu would do. He was instrumental in my decision to join the Army."