Ex-judge assaults daughter-in-law for dowry, in front of her kids
Ex-judge assaults daughter-in-law for dowry, in front of her kids
Sep 21, 2019, 02:30 pm
4 min read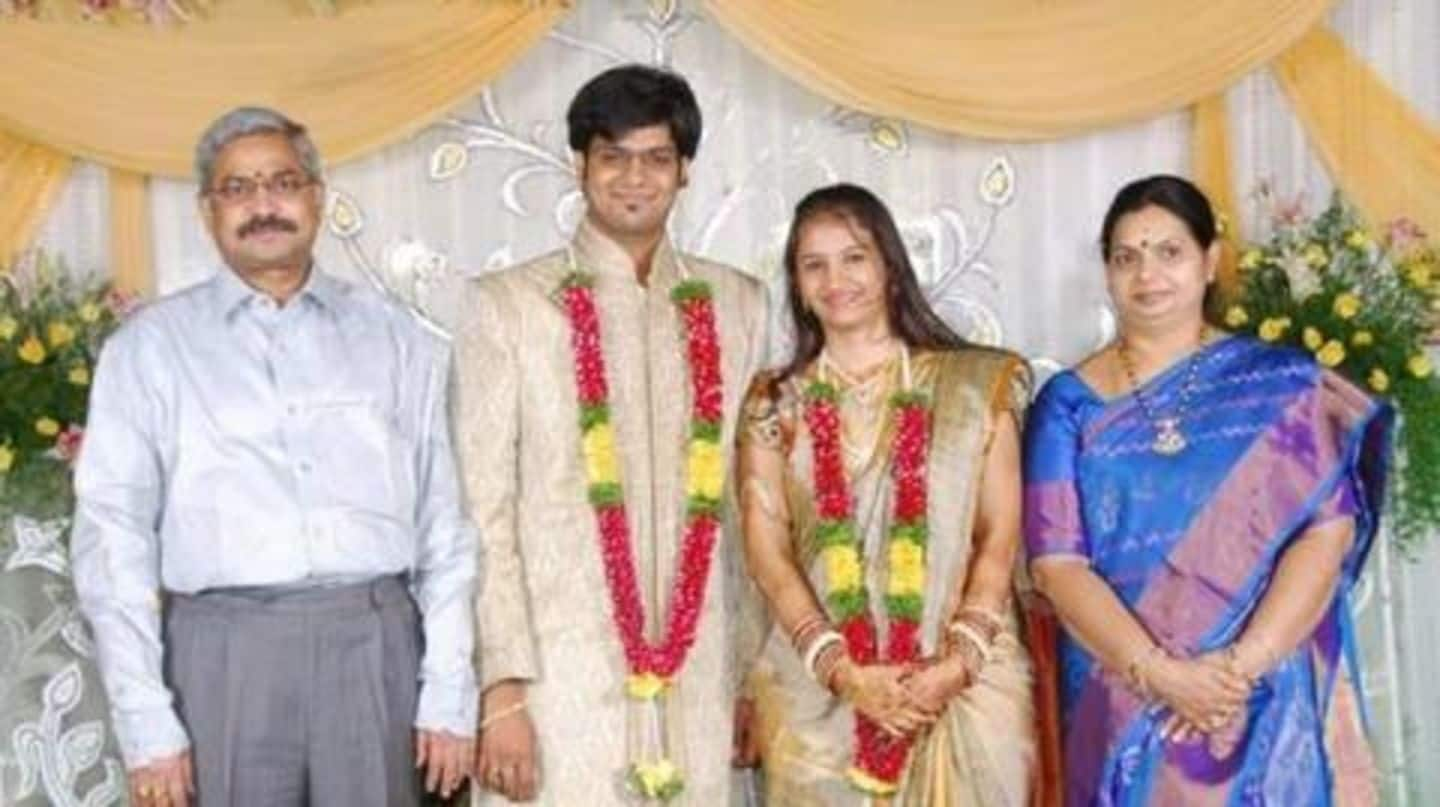 A disturbing video of domestic violence did rounds of social media late on Friday. In the CCTV footage, a woman was seen being assaulted by her husband, mother-in-law, and father-in-law. If the abuse wasn't gut-wrenching, the fact that her father-in-law is a retired judge of the Madras High Court, made it worse. Ironically, the judge has given verdict on several domestic violence cases!
Judge's family pressurized daughter-in-law for dowry
The woman, who was brutally assaulted is Sindhu Sharma. She married Nooty Vasista, the son of retired Justice Nooty Ramamohana Rao and Nooty Durga Jaya Laxmi in 2012. Soon after the marriage, Sindhu's family claimed her in-laws started harassing her for dowry. The ordeal got worse in the last two years when the family took to physical violence.
Sindhu was manhandled, heckled, pushed by her family members
In the clip, whose timestamp says it's from April 20, 2019, is extremely distressing. In it, Vasista can be seen pushing her on a couch and Rao manhandled her. Agitated, when Sindhu tried to leave the house through the main door, another lady, apparently the domestic help, stopped her from doing so. As the in-laws abused her, Sindhu's kids, aged four and two, watched in disbelief.
Sindhu was "assaulted" because her husband "wasn't getting promoted"
According to Sindhu, that day the assault started after her husband and in-laws returned from a movie hall. Her husband was apparently "upset" because he wasn't being promoted. "He barged in and started attacking me. All this - for him not being promoted at work. What do I have to do with his promotion? My mother-in-law was instigating him," she told News18.
They hit me in places I can't reveal: Sindhu
Further, Sindhu said she called the name of her older child-Pandu. She came to rescue her mother, but her in-laws took her away. She added all three "ganged up" for the attack. "It is a nightmare I can never forget. These videos are from April before I managed to get out of the house. They hit me in places I cannot tell you," she added.
Trigger warning: This will send chills down your spine
Later, Sindhu was taken to hospital where doctors helped her
After the brutal assault, Sindhu was taken to a private hospital where only one concern crippled Laxmi-- she didn't want her daughter-in-law to speak up. She wanted doctors to administer sedatives to Sindhu. But doctors didn't pay heed to her requests and helped Sindhu contact her parents. According to reports, she had "abrasions over her left breast and upper lip" and multiple bruises.
Case has been filed but it hasn't made any headway
Soon after she went back to her parents' house, Sindhu lodged a complaint. The case was filed under Sections 498A (cruelty by husband and relatives), 323 (voluntarily causing hurt) and 406 (criminal breach of trust) of the Indian Penal Code and Dowry Prohibition Act. But Sindhu alleged the case hasn't made any progress and claimed Rao's "clout" might have to do something with it.
Ironically, Rao has always spoken about "protecting women"
To note, Rao served in Andhra Pradesh HC for years before retiring from Madras HC in 2017. Merely three months before he exited the office, he attended a two-day conference on judiciary's role in protecting children and women. As a lawyer, he fought for an Indian-American woman who accused her husband of cruelty, way back in 2005. In 2015, he spoke highly of the Domestic Violence Act.
Rao's words and actions don't match one another
Once he had said, "Effective measures are essentially required for protection of the rights of women guaranteed under the Constitution, who are getting victimized due to violence occurring within the family and hence, for putting in place preventive measures and with a view to protecting the rights of women, enacted the Act." "Bravo", Mr. Rao, for speaking about protecting women in court, and abusing them at home!