ND Tiwari's son Rohit's death not natural: Delhi Police
ND Tiwari's son Rohit's death not natural: Delhi Police
Apr 19, 2019, 09:02 pm
2 min read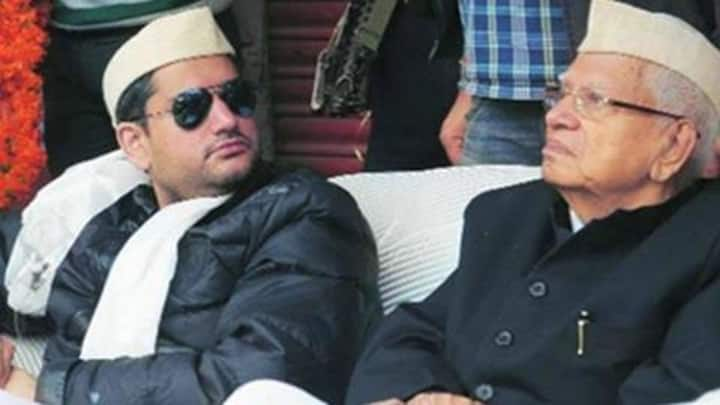 Former UP Chief Minister and Congress leader ND Tiwari's son, Rohit Shekhar Tiwari, was probably smothered to death with a pillow, Delhi Police sources said after the post-mortem. The post-mortem report shows that it was "unnatural death". 40-year-old Rohit Tiwari had reportedly died on Wednesday due to a cardiac arrest. The investigation was transferred to the Crime Branch of the Delhi Police. Here's more.
Officials visited Rohit's residence
Delhi Police's Crime Branch has registered a case of murder. The Crime Branch officials and a forensic team have visited Rohit's house on Friday and questioned his family members and domestic helps too. His wife Apoorva isn't present in Delhi currently.
Rohit was seen walking in an inebriated state
Rohit's house in Delhi's Defence Colony has seven CCTV cameras of which two don't work. Rohit went to Uttarakhand to cast vote and returned on April 15. He was seen on CCTV walking in an inebriated state and taking support of a wall. The next day, his mother Ujjwala Tiwari was in Max Hospital when she got a call that Rohit was unwell.
No external wounds were found on Rohit's body
After receiving the call, Ujjwala took Rohit to the hospital. At the time, however, Rohit's wife Apoorva, cousin Siddharth, and domestic helps were home. He was declared brought dead by the doctors at Max Hospital. Also, no external injuries were there on his body.
Delhi HC declared ND Tiwari was Rohit's father
In 2007, Rohit had filed a paternity suit claiming that the former Uttar Pradesh and Uttarakhand Chief Minister was his biological father. Seven years later, Delhi High Court passed a verdict in Rohit's favor and injuncted Tiwari for not accepting him as his son. Later, Tiwari held a press conference, in which he broke down, and accepted Rohit as his son.
Rohit's cousin said he was planning to join Congress
In 2017, Rohit and his father joined BJP. The senior leader died a year later. Reports claimed Rohit came to Delhi to join Congress. His paternal cousin Deepak Balutia said, "He told me about his talks with senior Congress leaders about joining the party." Notably, Rohit got married last year and was due to celebrate his first marriage anniversary in May this year.