Here is the empowering story of Sabarmati jail's 'Padwomen'
Here is the empowering story of Sabarmati jail's 'Padwomen'
May 13, 2018, 12:19 pm
2 min read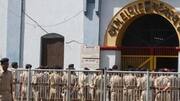 The female prisoners of Sabarmati jail complained of not having a job for a long time but that has changed now. Courtesy an NGO, Karma Foundation, the female-inmates of Gujarat's biggest jail are making sanitary napkins that'll not only help them but others as well. The Navjivan Trust, an organization founded by Mahatma Gandhi, served as a bridge between the NGO and the prison.
The beginning of the novel idea and its outreach
The idea to provide employment to female inmates struck Karma Foundation's managing trustee, Priyanshi Patel when she saw them sitting idle without any work, six months ago on a visit to the jail. "The Navjivan Trust then suggested me to install a sanitary napkins manufacturing unit," Patel said. The pads made by them will be distributed to females in other prisons of Gujarat.
The machine can produce 4,000 biodegradable pads per day
A manufacturing unit was installed inside jail premises and work formally commenced on May 11. 12 female prisoners can work on it at once. The pads are made up of cornstarch and are biodegradable. The machine can produce 4,000 pads per day. The foundation aims to touch lives of females across 14,000 Gujarat villages. However, this will take five to six years.
Women villagers to get pads at subsidized rates
The pads will be sold at a subsidized rate of Rs. 17 per packet (as opposed to Rs. 30) to women in villages across Gujarat. One packet has eight pads. The machine was procured from National Innovation Foundation and cost Rs. 5.5 lakh. Money earned through the initiative will be used to buy more machines. This is what women empowerment looks like!