UP school in trouble for teaching book on Zakir Naik
UP school in trouble for teaching book on Zakir Naik
Feb 04, 2018, 02:33 pm
2 min read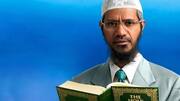 A UP school is in trouble for allegedly teaching students books where controversial Islamic preacher Zakir Naik is hailed as a "hero." The privately-run government-recognized school in Dhaki, Bijnor, was teaching its Class 2 students a book called 'Ilm Un Nafe', which contains chapters on nine Muslim personalities including Naik. Aligarh's Islamic Mission School was in the news recently for teaching the same book.
Naik, his IRF and their alleged irregularities
Naik, founder of the Islamic Research Foundation (IRF), is known for his incendiary speeches, widely believed to be preaching violence. His 'Peace TV,' which once had a viewership of millions, has now been banned in several countries including India and Bangladesh. He's a person of interest in the UK and Canada too. India has accused IRF of laundering money and banned it.
What does the controversial school textbook contain?
The controversial book featuring Naik, authored by Kunen Kausar, was published two years ago. On Page 42, there are nine pictures of "Islamic heroes," authors, preachers and academicians including Naik, Sheikh Ahmad Deedat, Maulana Kaleem Siddiqui, Israr Ahmad, Yusuf Estes and Bilal Philip. "When the book was published two years back, there was no case against Zakir Naik," Kausar explained.
Author has assured the chapter on Naik would be removed
A notice has been sent to the Bijnor school after an education department team found it teaching the book, though no copy was located. The owner was questioned too. "When he came to know about the row, he withdrew the book," an official said. The author has said the chapter on Naik would be removed from the book in the next session.