#NamasteTrump: US President and First Lady land in Ahmedabad
#NamasteTrump: US President and First Lady land in Ahmedabad
Feb 24, 2020, 11:55 am
3 min read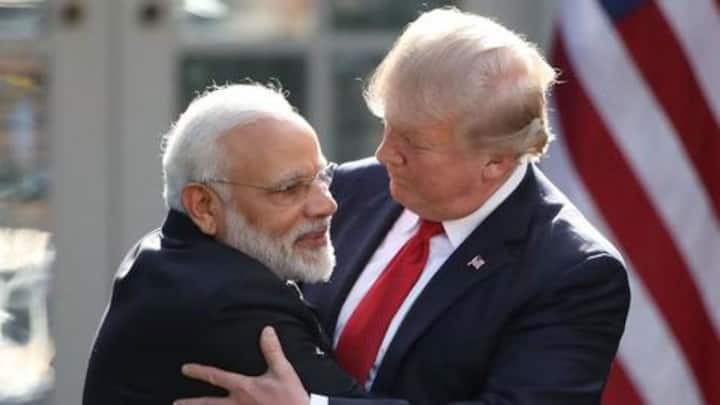 Donald Trump, the President of the United States, has landed in Ahmedabad for his two-day trip to India, the first one since he was elected to office four years ago. He is accompanied by his wife and First Lady Melania, daughter Ivanka, son-in-law Jared Kushner, and other top officials of his administration. Prime Minister Narendra Modi has reached Gujarat to welcome him.
Beautified Ahmedabad is waiting for Trump
Trump will arrive before noon in Ahmedabad, where he will be welcomed by PM Modi. Thereafter, he will visit the world's largest cricket stadium — the Motera stadium, where he will address the "Namaste Trump" event. Giant cut-outs of PM Modi and the American President are adorning Ahmedabad. On the billboards, both leaders have been described as dynamic ones.
We are on our way: Trump tweeted in Hindi
हम भारत आने के लिए तत्पर हैं । हम रास्ते में हैँ, कुछ ही घंटों में हम सबसे मिलेंगे!

— Donald J. Trump (@realDonaldTrump) February 24, 2020
This trip will strengthen Indo-US ties: PM Modi
While leaving for India, Trump made the announcement on Twitter. Re-tweeting his video, PM Modi wrote, "India awaits your arrival @POTUS @realDonaldTrump! Your visit is definitely going to further strengthen the friendship between our nations. See you very soon in Ahmedabad." Yesterday, the Indian leader had said it's an honor to welcome Trump while calling the event in Ahmedabad "historic".
See you soon, PM Modi said this morning
Shah is in Ahmedabad to ensure everything goes seamless
This is the first time First Lady Melania and Trump's daughter Ivanka are traveling together on an official visit to another nation. Considering how high the stakes are, officials have been pulling all-nighters. Foreign Secretary Harsh Vardhan Shringla overlooked the preparations till late last night, and Amit Shah, the Union Home Minister and Number 2 in government, reached Ahmedabad to monitor everything.
India and US' relationship has evolved: Shringla
"The relationship with the US has evolved into one of our most consequential relationships today. It is a strategic partnership based on shared values and geared towards the 21st century," Shringla said. Notably, this will be Trump and PM Modi's fifth meeting in eight months.
Performers will make Trump's path memorable
"Namaste Trump" isn't the only highlight of Trump's brief stay. A roadshow, billed as "India roadshow" has also been planned. Singers and dancers from across India will be putting up a show for the US visitors. A group of 15 students will also perform Mallakhamba, a traditional gymnast sport where the participant stands on a vertical pole and shows mind-blowing moves.
A sneak peek into what awaits Trump
#WATCH Gujarat: A group of school children perform near Ahmedabad airport. They are among the artists who are performing during the road show of US President Donald Trump and First Lady Melania Trump today. pic.twitter.com/D5kKtUhG7H

— ANI (@ANI) February 24, 2020
Thousands of police officers have been deployed for security
The police are also on their toes. According to Ahmedabad police commissioner Ashish Bhatia, 33 DCPs, 75 ACPs, 300 inspectors, 1,000 sub-inspectors, 12,000 jawans, and 2,000 women personnel have been deployed. Further, 15 companies of the State Reserve Police (SRP) and three companies of the Rapid Action Force (RAF) have also been sent to Ahmedabad. The US has also reviewed security arrangements.
Ahmedabad is hosting a memorable event
Tellingly, Trump loves a massive crowd, he was bewildered when he saw lakhs cheering for PM Modi in Houston. And in a foreign country, perhaps no one could have given him such an enormous welcome. As the two leaders will share the stage today, one can expect a lot of hugging, praises, and hand-holding. In the end, a spectacular event is in the offing.