Statue of Unity sculptor contributed in War Memorial's design
Statue of Unity sculptor contributed in War Memorial's design
Feb 26, 2019, 02:32 pm
2 min read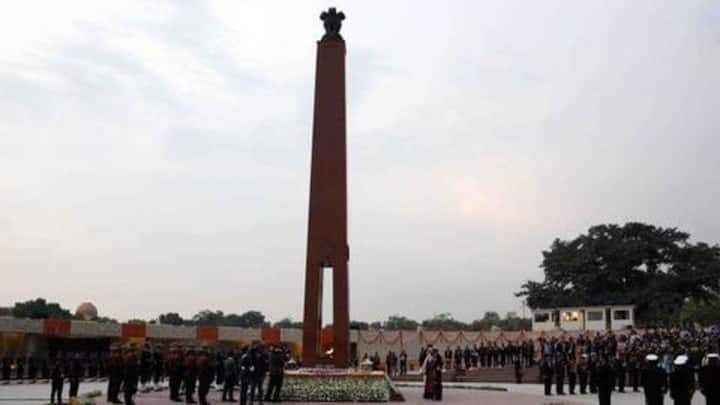 The National War Memorial was inaugurated by Prime Minister Narendra Modi yesterday in New Delhi. The memorial has a Veerta Chakra Zone which comprises six bronze murals depicting iconic battles fought by the armed forces. Reports suggest that the sculptor behind the Zone's design is Ram Sutar, who also designed the 182m-long Statue of Unity in Gujarat. Here's more on this.
Memorial inspired from 'Chakravyuh' formation, has four thematic concentric circles
The memorial's design is inspired from Chakravyuh, a military formation depicted in Mahabharata, and has four thematic concentric circles with a 15.5-meter tall ceremonial obelisk placed at its center carrying the eternal flame. The thematic circles are Amar Chakra or Circle of Immortality, Veerta Chakra or Circle of Bravery, Tyag Chakra or Circle of Sacrifice and Rakshak Chakra or Circle of Protection.
Names of 25,942 battle casualties are inscribed on Memorial's walls
The memorial was built between February 2017 and February 2018 and the names of 25,942 battle casualties are inscribed on its four walls. The memorial reportedly cost Rs. 176 crore and its design was selected through a global competition.
Sutar designed busts of all 21 Param Veer Chakra awardees
Coming back to Sutar, he designed the busts of all 21 awardees of India's highest wartime gallantry medal, the Param Veer Chakra. The busts lie on the Param Yoddha Sthal, situated next to the memorial. "After the 'Statue of Unity' project, this was another project that I'm proud of," he said, adding that he tried to "depict the war scenes to replicate a battlefield."
Sutar created more than 50 sculptures in his 40-year career
Sutar, based in Noida, received a Padma Bhushan in 2016 and a Padma Shri in 1999. Some of the other popular works of the artist include the 70-feet statue of Mahatma Gandhi in Patna. In his forty-year-long career, the artist created over 50 monumental sculptures and has been one of the government's favorite sculptors over the years. His only son is also a sculptor.