PM Modi inaugurates National War Memorial: Details here
PM Modi inaugurates National War Memorial: Details here
Feb 25, 2019, 06:33 pm
2 min read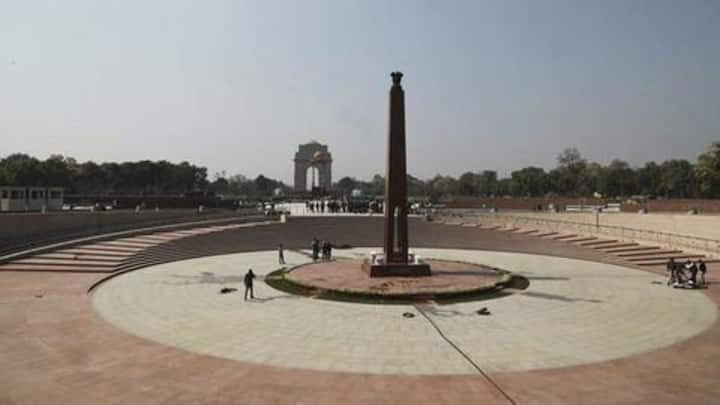 On Monday, Prime Minister Narendra Modi inaugurated the National War Memorial in New Delhi by lighting the flame positioned at the bottom of the stone obelisk. Situated in the India Gate complex, the project was completed at a reported cost of Rs. 176cr, and its design was selected by means of a global competition. Here are the details.
PM Modi hailed the Armed forces; attacked the Congress
While inaugurating the NWM, PM Modi hailed the Indian Armed forces as the "strongest in the world", adding that they had always "risen to every challenge". Reminding everyone present that the war memorial project had initially been conceptualized in 1961, PM Modi attacked the Congress, blaming the decades of delay on their nepotism.
Nehru-Gandhi family put family first, not India: PM Modi
"UPA government failed soldiers. From Bofors to VVIP chopper deal, all the scams are pointing to one family. The long delay in building this war memorial is due to putting a family first and not India," said PM Modi.
The NWM commemorates fallen soldiers in the post-Independence era
The NWM commemorates the valor of personnel of the Armed forces who have laid down their lives in India's service in the post-Independence era. It also pays tribute to Indian soldiers who have lost their lives in UN peace-keeping missions, counter-insurgency operations, Humanitarian Assistance Disaster Relief (HADR) operations, and Low-Intensity Conflict Operations (LICO).
Its design is based on a battle formation from Mahabharata
Spread over 40 acres of land, the NWM has four concentric thematic circles with a 15.5 meter stone obelisk at its center. Built between February 2017 and February 2018, it has the names of 25,942 battle casualties inscribed on its four walls. The design of the NWM is inspired from an ancient Indian battle formation called Chakravyuh, depicted in the epic Mahabharata.
Details about the NWM's themes
The four concentric circles, from inside to outside, are named the ''Amar Chakra'' or Circle of Immortality, ''Veerta Chakra" or Circle of Bravery, ''Tyag Chakra'' or Circle of Sacrifice and ''Rakshak Chakra'' or Circle of Protection. Meanwhile, the obelisk is topped by an Ashokan Capital.
WATCH: The Press Information Bureau's release about the NWM