Preventing sexual abuse is girl's responsibility, teaches Class-8 textbook
Preventing sexual abuse is girl's responsibility, teaches Class-8 textbook
Written by
NewsBytes Desk
Apr 20, 2018, 01:18 pm
2 min read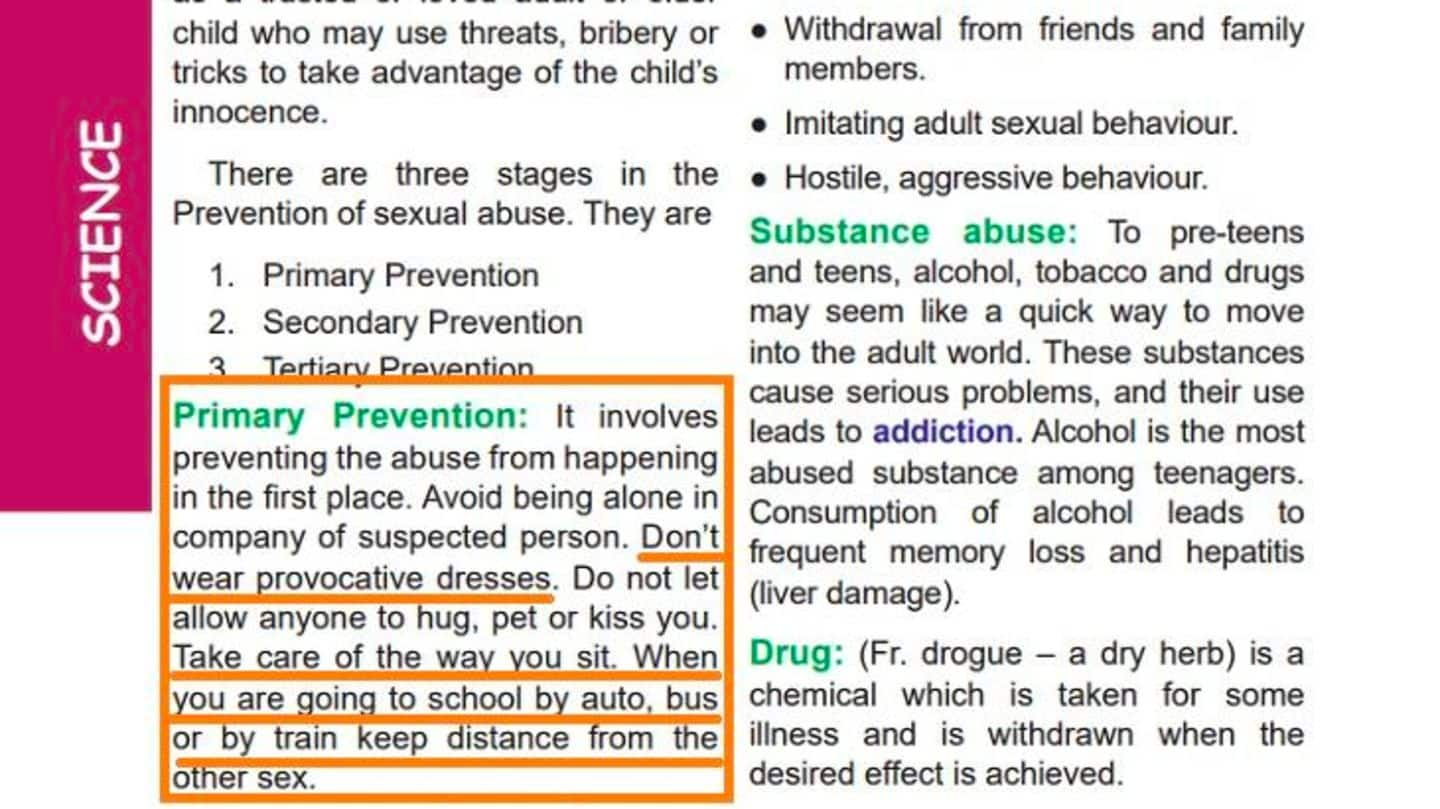 While speaking about the horrific Kathua-Unnao rapes, PM Modi urged all Indians hold boys/men accountable for their actions and stop blaming girls/women for heinous gender crimes. However, the Tamil Nadu government thinks differently. In the Class-8 science textbook that it publishes under Samacheer Kalvi (balanced education) system, it suggests ways for girls to prevent sexual abuse. To call them regressive would be an understatement.
Be mindful of how you sit, don't wear provocative clothes
In a chapter titled, 'Reaching the age of adolescence,' the textbook gives an advisory, listing precautionary steps to be taken by girls to prevent child sexual abuse. Among other things, it asks students to: -Keep a safe distance from the other sex when going to school by auto, bus or train. -Take care of the way you sit. -Don't wear provocative dresses.
To stop sexual crimes, India needs to shift the onus, the blame on boys/men and make them aware of the consequences of their actions. Misinformation like this only deepens misogynist mindsets and reasserts the culture of shame that need to break. Moreover, by telling students that "provocative" clothing or sitting with abandon attracts abuse, we are guilting potential victims into silence.
TN students being fed regressive notions since last 12 years
When asked about this, G Arivoli, the State Council for Educational Research and Training's director, told thenewsminute.com: "This textbook has been in existence for 12 years. Why are you bringing it to our notice now? Nobody has complained till now." But is 'no complaints' a reason good enough for feeding children damnable patriarchy? If at all, the content isn't getting revised before 2020-21.